"A Breathing Time Machine"
(lyrics from Laundry Room-The Avett Brothers)
May It Last: A Portrait of the Avett Brothers—
A Film Review by: Jennifer Parker
September 07, 2017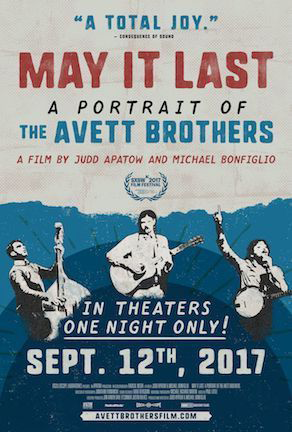 Folk rock is kind of the "not otherwise specified" exception diagnosis for those of us who can't quite stomach the idea of identifying with anything to do with country music. There's a few artists who fall into this category. The greats include Bob Dylan, Joni Mitchell, Tracey Chapman and Leonard Cohen. Then there's the slightly "twangier" but still cool, Indigo Girls and Bonnie Raitt. And now, thanks to Judd Apatow and Michael Bonfiglio we have a documentary introducing those of us who don't know and giving those who do, May It Last: A Portrait of The Avett Brothers. Apatow is the man who brought us Trainwreck, The Forty-Year-Old Virgin and my personal favorite, Freaks and Geeks. Director-Producer Michael Bonfiglio is an Emmy–nominated director, producer, writer, and camera operator who has shot fashion shows to refugee camps, working in over a dozen different countries with people ranging from A–list celebrities to rarely- photographed indigenous tribes.
Scott and Seth Avett, the brothers who are the lead singers, song writers for the band are almost too good to be true. They are as close as brothers can be, best friends, neighbors, live down the road from their parents, devoted to their band, their families, their craft and keeping the sounds of North Carolina alive in their original songs, and stupid cute.
May It Last begins with the band's first appearance at Madison Square Garden capturing the enormity of their accomplishments and thrusts us into the quotidian aspects of their lives. Scott really gathers chicken eggs from the coop he built and cooks breakfast. It's like he happens to be a dad, a husband, a son, and a brother, a work-a-holic but a grounded in reality singer, song-writer and band leader. Seth, the younger of the two is just as much his own person and is all in to being part of the family business while creating his own family as well. The brothers split wood with their dad, work with their hands, clean the chicken coop, cook, drive unpretentious vehicles and live in what appears to be modest homes compared to their fan base.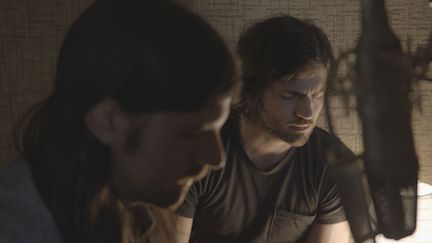 Courtesy of Oscilloscope Laboratories.
You get the idea that The Avett Brothers define what it means to be present. The rawness of their music is sometimes almost too painful or intimate to watch. It makes me have some understanding of why some artists find reality too burdensome to tolerate and their lives ending prematurely—I'm thinking of Janis Joplin and Jim Morrison. These guys take the pain and make it strength and I think that's what Judd Apatow finds even more intriguing than the music itself. Spin Magazine had a quip about the lovely four-hour Grateful Dead Doc, Long Strange Trip, "There's a pretty good chance that anyone who manages to get through it is already a convert." I had never listened to The Avett Brothers before watching Apatow's film. I've now downloaded more than thirty of their songs on Spotify. Kool–Aid anyone?
What's both included and omitted make the film stronger. Apatow and Bonfiglio do a lovely job of eliminating show–business puffery. There are no parties, no crazy hotel rooms, no drugs, no smoking of any sort—maybe a couple of instances of alcohol in the background. These guys are squeaky clean without being square. Since the beginning, they have added on to the band a brilliant basest and lovely individual in his own right, Bob Crawford, as well as Joe Kwon, a dynamic cellist and cook, Paul DeFiglia—a talented keyboardist and backup basest and Tania Elizabeth who plays the fiddle like a concert violinist and of course, Mike Marsh on drums. Throughout their tenure, they've experienced heartbreaking personal issues yet what comes through in their music is what you see in the dynamics of the band. It's harmony without schmaltz, it's gritty but polished, it's practiced but not perfect.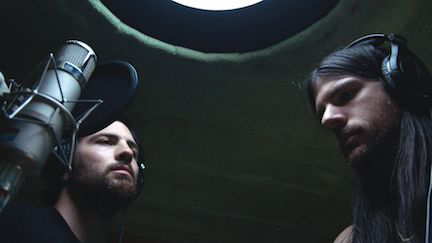 Courtesy of Oscilloscope Laboratories.
Rick Rubin is legendary producer of artists such as Run DMC, Slayer, Tom Petty, Johnny Cash and help catapult their career without taking it over. He's a wizened, not-quite former hippie who believes he has been afforded the opportunity to work with the band rather than the band has been lucky enough to be signed by him. There's a charming scene towards the end of the film where then entire family is visiting Rubin's Malibu home and recording studio to get publicity shots of the band with their number one record. Scott and Seth's parents Jim and Susie, clearly pleased with their son's success are just as concerned that their fame doesn't go to their heads. The title, May It Last: A Portrait of The Avett Brothers is a plea, a command, a question or maybe a blueprint for humanity in 2017.
---
Oscilloscope Laboratories
Run Time: 104 minutes; Not Rated
In Theaters ONE NIGHT ONLY Sept 12, 2017