A Spoonful of Sugar–– Not Saccharine The Big Sick:
A Film Review by Jennifer Parker
June 20, 2017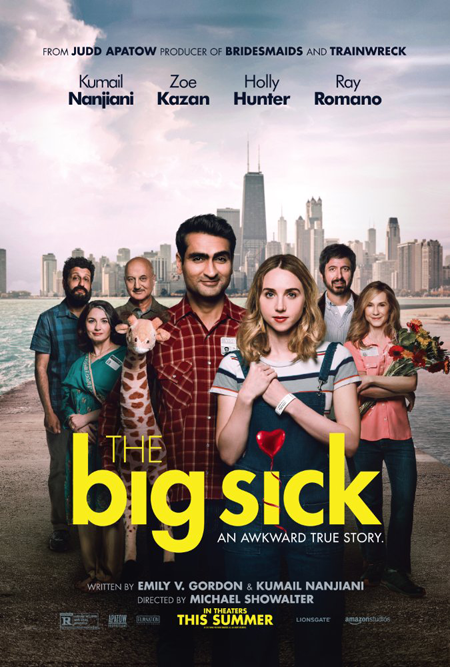 A romantic comedy about Millennials confronting mortality – add a bit of culture clash, and throw Producer, Judd Apatow (This is 40) into the mix and you get a film that is contemporary without being trendy at the same time. The Big Sick, directed by Michael Showalter (Hello, My Name Is Doris) and co-written by Kumail Nanjiani (Silicon Valley) and Emily V. Gordon could also be called "The Big Cast." The film stars Kumail Nanjiani and Zoe Kazan (It's Complicated) captures the angst of cultural differences and traditions without indulging typical rom-com tropes.
The opening sequence introduce us to Nanjiani, an Über driving, stand–up comic in Chicago who's living in a sub-optimal apartment with his not-so-funny roommate, doing late night gigs with the hope of getting into the Montreal Comedy Festival. (It's a real thing.) Sounds like a typical comedy so far? Surprise! Boy meets girl, boy gets girl, boy has strange rules about dating, girl has strange rules too. With me? Boy loses girl. Boy––– does he lose the girl. What makes The Big Sick different than most romantic comedies might be that it is reality based. All of this happens in the first act and reality is hopefully longer than a three-act film.
Nanjiani manages to lovingly poke at his family without lampooning them as cultural stereotypes. The casting of veteran Indian actors, Anupam Kher (Azmat) as his father, Zenobia Shroff (Sharmeen), as his mother and Adeel Akhtar (Naveed) as his brother adds comedic gravitas to the film. There are nuances in their performances that allow us to laugh with them rather than at the actors. I have the feeling we'll be seeing more of them.
A good chunk of the first act is spent setting us up for disappointment. We're rooting for Emily and Kumail but like Emily, we just can't envision a world in which the two of them exist. We understand his mother's efforts to set him up with every eligible Pakistani woman within driving distance of Chicago. Like Kumail, we get that she "means well" and just wants what's best for her son even if we don't like it. We even forgive Kumail for lying to his parents about his relationship with Emily. But being a stand–up–comic–afraid–of commitment–former–boyfriend does not prepare Kumail for rush to the aid of Emily when she is hospitalized with a sudden mysterious and life–threatening illness. Even worse, he has no agency with her parents Beth (Holly Hunter) and Terry (Ray Romano). I'm not sure if it's fair to call this a breakout role for Nanjiani because he has an ever growing IMDb Page (Internet Movie Database). It certainly elevates his status as an actor/writer and solid collaborator. To see Nanjiani hold his own with veteran performers Hunter and Romano who come rushing to the aid of their daughter mid-film is impressive. Holly Hunter is an Academy Award® –winning actress (The Piano) for a reason. She plays the role of a distraught mother with restraint. Emmy®Award –winning Ray Romano is so deadpan as Emily's father that I could forget that he was Ray Romano of Everybody Loves Raymond.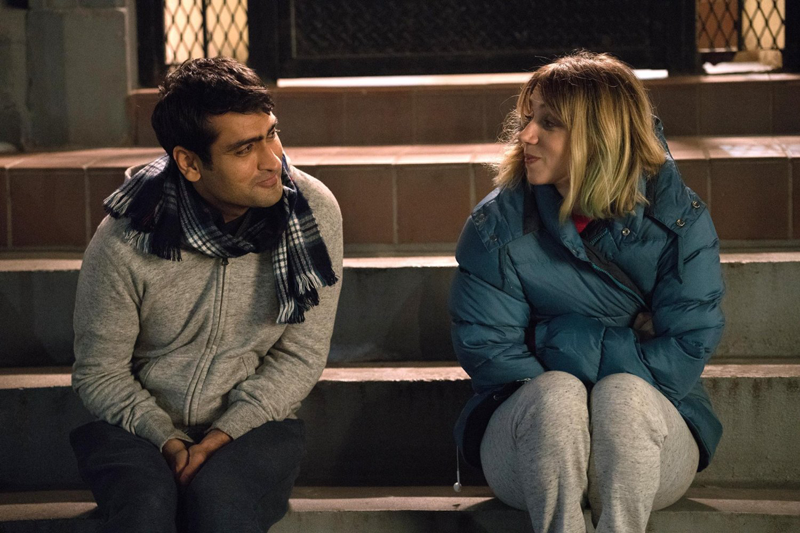 The Big Sick: Kumail and Zoe
The audience suffers as Kumail and Emily's parents suffer. Somehow, the film manages to remain a comedy even while dealing with the very real possibility of death, failed and failing relationships and careers in flux. Fortunately, we know the story has a happy ending. After all, Kumail and the real Emily co–wrote the screenplay together.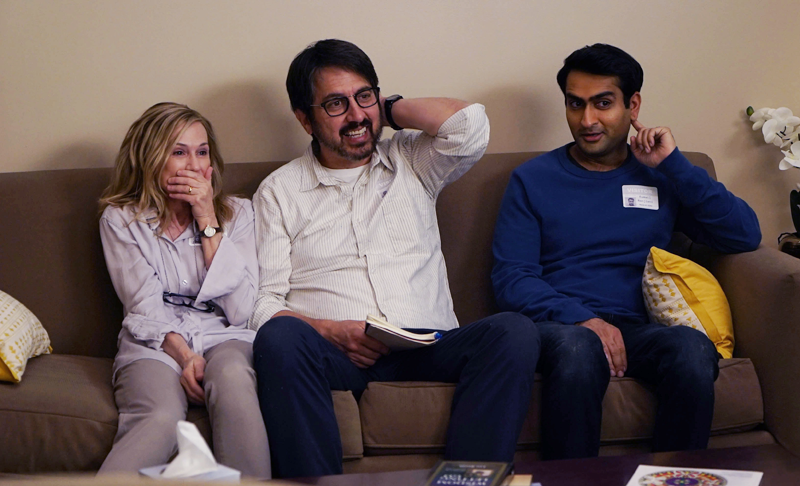 The Big Sick: Holly Hunter, Ray Romano, and Kumail Nanjiani