Basquiat—The Unanswerable Answer to the Art World
Boom for Real: The Late Teenage Years of Jean-Michel Basquiat—
A Film Review by: Jennifer Parker
October 07, 2017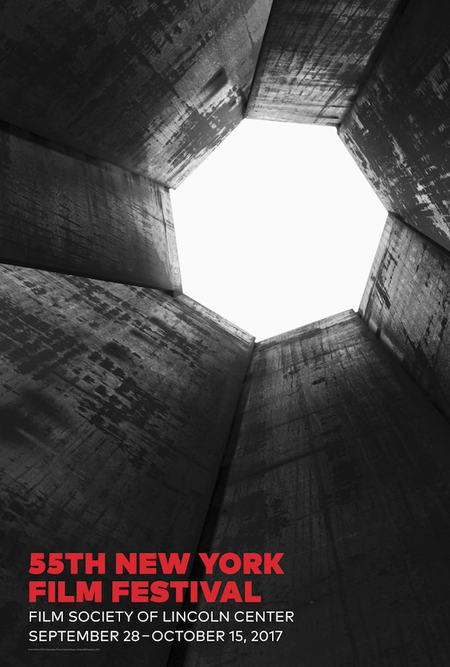 Boom for Real: The Late Teenage Years of Jean-Michel Basquiat is Sara Driver's first feature in almost twenty-five years. She opens with a shot from her husband, Jim Jarmusch's film, Permanent Vacation—a pre Rudy Giuliani Lower Manhattan—dirty, almost abandoned, broken windows, as if all the colors bled in the wash and everyone forgot to care. Driver's portrait of Basquiat exposes a trove of photographic negatives and the memories of his friends. Like all dead, he exists in the space between memory and reality. What remains of the human being, not his art, is what will fade with time. If not rendered permanent in another more reliable medium, the art will exist but not the artist.
Trying to separate Basquiat from the Lower East Side of Manhattan is like attempting to solve a puzzle with missing pieces. Boom for Real honors the artist by realizing that context influenced content. Driver could take the artist out of the Lower East Side but she couldn't take the Lower East Side out of the artist. Club 57 and The Mudd Club are long gone but were the incubators for present day music and art. Without romanticizing him, yet conveying his ceaseless creativity, singularity and intense charisma—the film also acts as another period in the ongoing battle to save Basquiat from his own mythology. It makes a thoughtful contrast to Julian Schnabel's biopic and to Tamra Davis' 2010, Jean-Michel Basquiat: The Radiant Child, which concentrated on his years in the public eye.
Driver joins the life of Basquiat, as this charismatic yet ephemeral figure, during his late adolescence in New York. Piecing together how his artistic vision was externalized not only by the city, but its people and arts culture of the late 1970s and 80s--treating him like a feral being who found his home the Lower East side and began playing with the more open humans in the same zip code. What the filmmaker illuminates is not shocking nor should it be. Her purpose isn't to give us lessons on the state of contemporary art auctions. A 1982 Basquiat skull painting went for $110.5 million at Sotheby's in May of this year. He sold a postcard to Andy Warhol for five dollars before becoming Warhol's contemporary but Driver never succumbs to the documentary temptation of scope creep. She has the directorial sophistication to allow the narrative to lead itself and to stick to what is promised in the title—the late teen years. His story unfolds via archival footage and through the memories of his friends, including Jarmusch, artist Al Diaz and Fab 5 Freddy.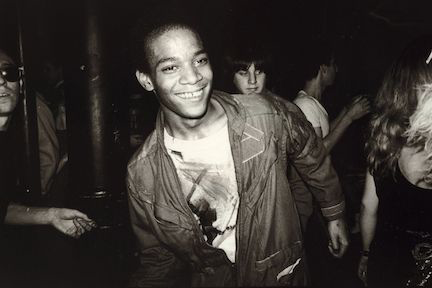 Jean-Michel Basquiat dancing at the Mudd Club, 1979.
credit © NICHOLAS TAYLOR
Chutzpah with women helped the broke Basquiat. He was dreamy looking and immune to the conventions of pre-existing romantic relationships. Driver, who was out with Jarmusch when, as he remembers it, Basquiat appeared out of nowhere, whispered something and disappeared, only to return moments later with a red flower for Driver that Jarmusch was sure that he stole.
The film knocks around with Alexis Adler and Felice Rosser, who often gave the penniless artist a place to stay. Rosser, a singer-songwriter, couldn't handle his erratic hours and finally encouraged him to get his own place. Adler, now a photographer and an embryologist and Basquiat became roommates with benefits. Their entire apartment was his canvas from the floor, to the refrigerator, to Adler's clothing. He produced art like other people made conversation and became the unanswerable answer to the art world.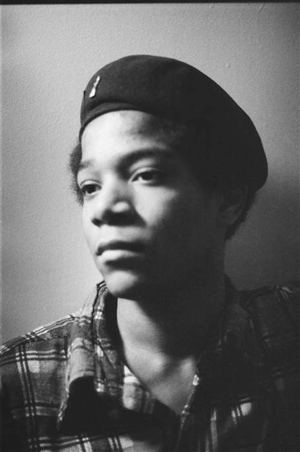 A teenage portrait of Jean-Michel Basquiat.
credit © Al Diaz
By the end, you get the idea that if the kids would lay off the heroin, they'd be alright. The drug was everywhere and it made them stupid. Those that stayed away or got away are still here, still creating. Maybe (not all) their work is worth tens of millions of dollars but at least, like Sara Driver, they're still making art.
---
Magnolia Pictures Acquired the rights to Boom for Real on October 4, 2017.
The film is currently playing at the New York Film Festival with a planned release in 2018.