The Bounteous World by Frederick Smock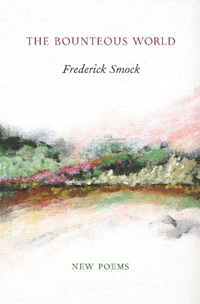 POETRY
The Bounteous World
by Frederick Smock
Broadstone Books, 2013
72 pages
ISBN 978-1937968045
Anthemius of Tralles
by
Jeffrey Hecker
X
About Jeffrey Hecker
Jeffrey Hecker was born in 1977 in Norfolk, Virginia. He's the author of Rumble Seat (San Francisco Bay Press, 2011), the chapbook Hornbook (Horse Less Press, 2012) & the chapbook Instructions for the Orgy (Sunnyoutside Press, 2013). His recent work has appeared in La Reata Review, Mascara Literary Review, Atticus Review, La Fovea, The Waterhouse Review, Zocalo Public Square, The Burning Bush 2, LEVELER, Spittoon & similar peaks. He holds a degree from Old Dominion University. He resides with his wife Robin in Olde Towne Portsmouth, Virginia.
I'm seeking shelter from rain in a random bar where C-SPAN is blaring. I'm writing in an invisible raincoat. The United States Congress is voting whether or not to spit missiles into Syria. An abstention campaign is gaining steam because not having an opinion is chic. I have this lingering theory the Rebel buildings in Star Wars were patterned after the Hagia Sophia, Istanbul's finest architecture, co-designed by ancient Greek professor of geometry Anthemius of Tralles. Nobody entertains my belief except my beagle dreaming back at the house. Maybe I'll switch over to the Dark Side buildings and see if more scholars and family take me seriously. Construction began in 532 A.D., the year Saint Sabbas the Sanctified died, decided to change his name in the afterlife to just John, after his father. Hagia Sophia is currently a museum, but once it was the mosque everybody wanted to pray in, and before that it was the Greek Orthodox patriarchal basilica even atheists wanted to eat in, especially during the patronal feast. Plump quails had the day marked upon tree stump rings. When that day arrived, they tried to hide.
Bellarmine University's 2005 Wyatt Faculty Award-recipient poet Frederick Smock's sixth collection The Bounteous World references Anthemius in the poem "Camera Obscura." The speaker praises a son's choice to undertake a fall-term science fair project that requires more uncertainty than fact. Like Anthemius, Smock conducts intense negotiations between vision versus material. His poems aren't improvisational but blueprinted for our precise pleasures. His work is suggestive of memorized Sufi tales condensed for a world of tablet devices. It's the closest I'm going to come to cashing in my membership to the Osho International Meditation Resort. Smock has taught in the KIIS Denmark Summer Program and I have another theory the 1974-version of Tomas Tranströmer's apparition resides in the Smock family home and plays the piano on Tuesday nights.
"Og Skogen"
Every forest has
a central tree,
one the whole forest
leans on.
You may not
be able to find it.
It lives deep
in the heart.
It may even have
fallen years
ago, but its memory
is that strong.
Smock owes a lot to Babylonian mathematics. We all do. Sparse, objective witness, sometimes jolly, mostly sagacious, direct, sincere, attentive to several Scandinavian landscapes I admit I had to Google, his poetry reminds us in this convoluted time of unnecessary complexity, there's such hunger to take stock of where one is and where one is not in any given moment's breathing cycle. He manages to go deep without waning nostalgic. A poet in cohorts with what nature brings to the table (in my case drizzle) his bounty shouldn't be dismissed as pastoral, delegated to those seeking contentment or emotional satisfaction. I'm not certain I believe in wisdom anymore, but Smock offers a kind of insight into life that I could believe in endowed a modest tract of mountain property, perhaps a hanging triangle I clanged whenever dinner was ready. A pack of wolves or a fling of dunlin might emerge from the scree and make noises that sound like names of vegetables. How many Sumerians might appear out of nowhere when they smelled the chicken? Vote your number. Don't abstain. Smock's knack for writing first lines rings my head like a carved alpenhorn, which is where the term bell curve probably originated. From "Homeric": Hearing is the last sense/to fail when a person goes into/a coma. From "Summer": The sunlight/that the tree soaked up/for all those years/the logs give back/in the hearth. From "Magic": Some said Houdini/escaped from his intricately/made boxes by/simply dematerializing. From "Enough": With the perfection of their art/the ancient goldsmiths/all went blind. The Bounteous World is an invaluable asset to both new and experienced readers. The best device it teaches me is any of the five senses can stop.
"No Smaller"
A polar bear swims a thousand miles.
A seabird flies a thousand miles.
And it isn't too much.
I fear their journeys will only get longer.
What is too much?
What is enough?
As the world contracts
But gets no smaller, no smaller.