There's Something About Brad
Brad's Status—
A Film Review by: Jennifer Parker
September 15, 2017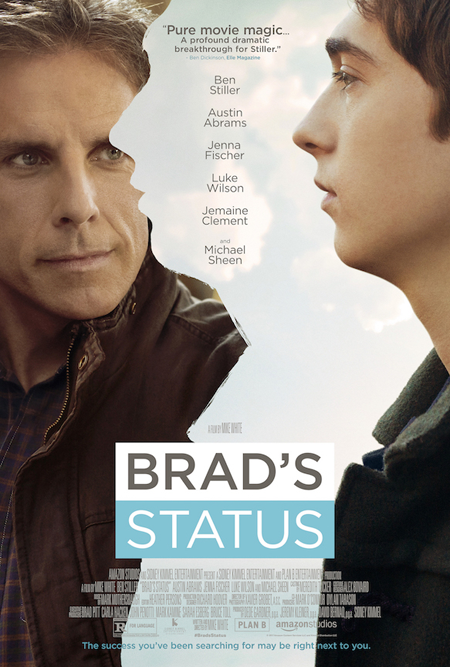 Ben Stiller is all grown up. I mean it. He plays the role of Brad Sloan in Brad's Status with absolute gravitas. It isn't an easy role. Much of the dramedy (gag, someone please come up with a better word!) relies on Brad's interior dialogue. Round shouldered, slow to smile, introspective, self-critical but not self-loathing is a lot to put on a protagonist. Brad is forced to deal with what it means to be managed out of his current position as the parent of a high school senior to the parent of an adult Ivy League college student. It seems like a cliché but kids really do seem to grow-up overnight. When Brad tells his son Troy (Austin Abrams) he has the body of the man, it is like he is seeing him for the first time. It isn't an enviable position for the parent of an only child. It isn't just letting go of a child but the fantasy of control over a delicate familial ecosystem that can send even the most confident parent rock-star into a crisis of anxiety ridden decision making.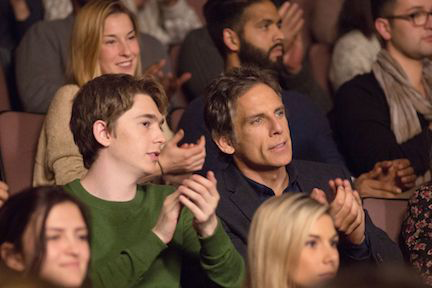 Austin Abrams (left) stars as "Troy" and Ben Stiller (right) stars as "Brad" in director Mike White's BRAD'S STATUS, an Amazon Studios release.
Credit : Jonathan Wenk / Amazon Studios
Stiller is a reasonable blueprint for
Gen-Xers
as they age uncomfortably out of delayed adulthood in films like
Meet the Parents
and
There's Something About Mary
into postponed middle age. Brad is a 47-year-old father who is mistaken for 50 and hates it. He feels like he hasn't accomplished anything with his life yet he has a stable marriage to the delightful Melanie (
Jenna Fischer
) a beautiful home and a son who is whip-smart and adores him. Brad is making the classic mistake that even mediocre parents advise their children not to make. He compares himself to his friends and not to himself. Written and directed by Mike White as a love story to his own father, White wanted to make a film that shows that success is something that cannot be monetized. Success is about living the best possible life. He clearly couldn't have asked for a better father.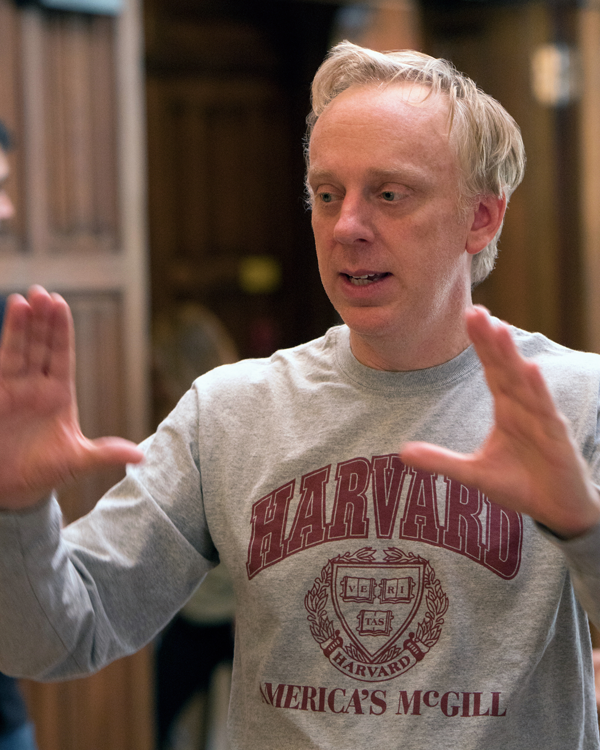 Director Mike White on the set of BRAD'S STATUS, an Amazon Studios release.
Credit : Jonathan Wenk / Amazon Studios
The film speaks to our culture's obsession with keeping up with the latest reality TV Star of the month or with our warped perception of what social media tells us what life could be like. Brad is convinced that his four best friends from college— A famous movie director, a tech entrepreneur, a political pundit and a hedge fund manager are all more successful and happier than he is because they make more money than he does as the director of a non-profit agency. In reality he's the happiest of the five friends. Makes me wonder what happened to the kids from
The Breakfast Club
thirty year's post detention in the library? Sadly, we no longer have
John Hughes
to usher us through awkward transitions but hey, we have Mike White. I hope he
doesn't forget about me
.
---
Amazon Studios
Opening September 15th, 2017 (select cities)
Running time: 101 minutes
MPAA Rating: R for Language