Eve Asks by Christine Redman-Waldeyer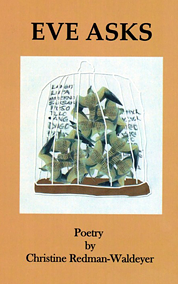 Eve Asks
by Christine Redman-Waldeyer
Passaic, New Jersey. Muse Pie Press.
50 Pages. $10
Reviewed by Christina Francine
Eve Asks is both the title of this collection of 35 poems and the title of a poem from the book. Redman-Waldeyer skillfully articulates, through her poem, Eve's predicament of being caged and profiles women's psyche while inside the cage. Other points come from quick thoughts and poem topics. Redman-Waldeyer skillfully balances complex and simple sentences keeping reader's minds in motion and their senses awake.
In the poem, Eve Asks, Eve asks for Adam's help. She doesn't tell him, beg him, or silently begrudge him. Instead, Eve asks. She needs Adam's help. Readers also learn Eve wants to be first in his life, rather than second or third.
The poet reminds readers that Adam and Eve are God's first children and that God is both mother and father to them: "though Adam's Father/is also mother." Eve reminds Adam to remember that the curves that attract him to her, and the curves that allow her to bare children, also make her strong, the kind of strong that takes more than she realized, more than he realizes.
Adam believes he already knows what Eve needs and sees her as unappreciative. As a result, Adam's inability to translate Eve's words traps her in a cage.
The last two couplets provide insight for the poem as a whole with a dash of humor. Eve asks Adam to "forgo the house making out of dung. / She can't take the smell." Eve makes her point for the reason she inquires in the first place. She wants Adam to stop giving her what he thinks she desires. He works hard to build her a home, but does not listen to her requests. This forces her to go without his help and live in a house she doesn't like. His statement, "it is all he has," demonstrates that he's not listening. Eve isn't worried about what "he has." What he does have is enough.
Jun-Jun Sta Ana enhances Eve Asks with his cover art. Inside a cage of birds face various directions. Behind them, words cannot be read. The idea fits the book's theme perfectly.
Christine Redman-Waldeyer has published various works, is founder and editor of Adanna, is highly educated, and teaches writing and journalism. She spotlights the male-female condition, and then focuses on a common placement for women and how they feel because of it. Eve Asks fuels conversation and elicits passionate debates. If readers expect poetry with obvious understanding upon first reading, this is not the book for them because although the words and lines are simple, the topic is not. This poem challenges readers and seems to ask if anything can be done about the confusion that happens between men and women. Redman-Waldeyer builds a great spring-board for this topic in an artful way. It is absolutely impressive and anything but simple.