The Inner Strength of Joan Didion
The Center Will Not Hold—
A Film Review by: Jennifer Parker
November 07, 2017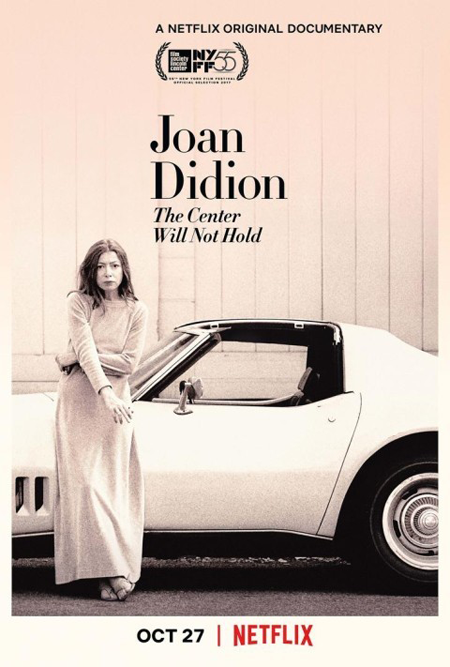 Part chronicle of an iconic American writer, part love story, the new Netflix documentary, The Center Will Not Hold, sketches the literary trajectory of writer, wife, mother and magical thinker Joan Didion with an objective reverence that belies the relationship between her filmmaker nephew, Griffin Dunne and subject. Didion, probably one of the most recognizable of modern American writers, has ridden a wave of personal turbulence and professional success with grace—both a realist and a dreamer, she has been something of a cultural observer while still sustaining a presence that counters her delicate physicality that's proven incomparable during the gloomiest periods of her life.
Initially that's how we observe her in Griffin Dunne's film, a project brought to Netflix by Didion's actor, director, producer nephew. "My only advantage as a reporter is that I am so physically small, so temperamentally unobtrusive, and so neurotically inarticulate that people tend to forget that my presence runs counter to their best interests. And it always does." To be fair, Ms. Didion spoke of herself in Slouching Towards Bethlehem in 1967—about five decades ago.
Half a century later, almost frighteningly thin but not neurotically so, temperamentally observant and hardly inarticulate, she is able to answer her nephew's questions with unflinching equanimity. Dunne asked her what she thought when she saw a six-year-old girl in Haight Ashbury on acid? Didion answered without apology that it was gold. Her fascination with The Doors? "Bad boys."
Didion has had enviable experiences which are juxtaposed with devastating personal loss throughout The Center Will Not Hold. We get a sense of who she is at her center, what it is that has grounded and motivated her throughout sixty plus years career—beyond literary acclaim. After the age of seventy, Didion wrote The Year of Magical Thinking chronicling the year following the loss of her writing partner and husband, John Gregory Dunne, adapted it for Broadway and followed it with Blue Nights, a book about her daughter, Quintana Roo. In the film, she admits to Griffin that Quintana had found her distant as a mother, which had surprised her as she felt that they could not live without her. There's an assured confidence that is well depicted here, I believe, a bygone if not nostalgic American work ethic that expects nothing from anyone. To some, Didion's writing is best explained as "the horror of disorder." To others, it is sublime, economic prose that can make the most banal of subjects thrilling. "Can you evade the dying of the brightness? Or do you evade only its warning? Where are you left if you miss the message the blue nights bring?" --Joan Didion, Blue Nights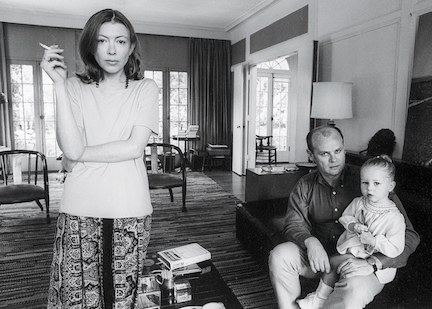 Joan, John, and Quintana, photographed by Julian Wasser in their L.A. home in 1968.
Photograph by Julian Wasser.
---
Griffin Dunne
92 minutes
Premiered New York Film Festival 2017
Now on NETFLIX