Topography of Destruction Kemper Museum
(September 14, 2012-April 21, 2013)
X
About Kayti Doolitle

Kayti Doolitle graduated from Missouri State University with a Bachelor of Fine Arts in Painting and a minor in Creative Writing. She is the Art and Film Reviewer for Fjords Review. Kayti is writing an anthology of essays about the sex industry in countries around the world, while living in South Korea.
"The Map as Art," group show at The Kemper Museum of Contemporary Art includes artists inspired by the origins, intentions, and purposes of maps. Artist Joyce Kozloff's installation is like a walk-in, inside-out globe. The outside of the structure is comprised of wooden panels and the inside is lined with twenty-four maps of countries bombed by the United States. Another artist, Robert Walden, creates compulsive, miniature marks of streets, rivers, boundaries, and residents that when viewed, from a distance, appear more like human stains of tea or coffee.
But then there is Tiffany Chung. Chung, one of Vietnam's most prominent, contemporary artists, creates anthropological maps based on active research. She is a migrating creative educated in California. However, today, Chung has returned to Ho Chi Minh City to live, to work, and to support Vietnamese contemporary art as a co-founder of the organization Sans Art.
Chung's work is informed by her childhood in war-torn Vietnam, where, she learned first-hand how conflict shapes a persons' life. In 1971, Chung's father, a helicopter pilot, was shot down and taken as a prisoner of North Vietnam. Chung remembers watching her mother waiting by the foggy river for his release. This isolated memory has influenced her ideas about boundaries, walls, and wars. Also, this perspective has inspired her to research other untold, heart-wrenching histories of varying countries such as Vietnam, Korea, Cambodia, Germany, Thailand, and Japan.
Upon first glance, Chung's cartographic works look full of bedazzled applications and whimsical doodles. However, don't be fooled by the rhinestones, dainty teal circles, and red thread. Each material has a purpose and functions like a code. For example, buttons signify NATO nations. These codes are littered throughout the canvas and vellum representing treaties, historical tragedies, natural disasters, and the psychological narratives of the inhabitants.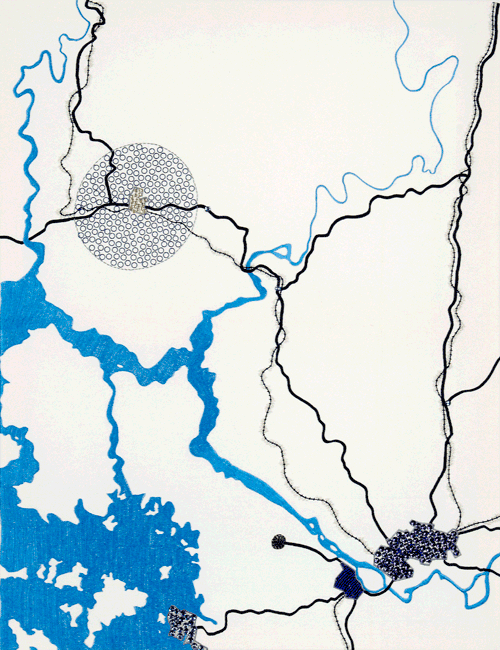 Kaesong Armistice Conference Site 1951(44 X 34 inches)
Kaesong Armistice Conference Site 1951(44 X 34 inches) is like a ghost representing the everlasting effects of the Cold War on Korean History. Even though the Cold War ended for the rest of the world in 1991, it is painfully obvious, on this canvas map encrusted with grommets, rhinestones, and rich embroidery, that some histories, like scars, are still stitched into existence. The punctured grommets, rhinestones, and threads on these sculptural canvases have aspects of war medals or trophies.
The embroidery can also reference the female role in conflict, the waiting, and anxiety that is soothed through the meditative quality of weaving. Zoe Butt, the other co-founder of Sans Art compares Chung's embroidery to the war rugs of Afghanistan. The threads bring some peace in the analytical chaos Chung actualizes.

Iraqi State Railways After Anglo-Iraqi Treaty 1930 & Current Pipelines 2010 (34 X 29 inches)
Another piece Iraqi State Railways After Anglo-Iraqi Treaty 1930 & Current Pipelines 2010 (34 X 29 inches) doesn't have the same three-dimensional quality as the grommet work, but it is sensitively constructed on peach layered vellum. The map appears to consist of microscopic, honeycomb looking holes covered by teal and blue organic designs. Through this delicate design work, red and blue lines crawl up through coded pattern.
Chung's work is gorgeous, especially the vellum drawings, but the most gripping characteristic of the work is her research.
A teacher once told me that history is only a series of stories that have been selectively recreated. Chungs' maps are just this—but her work doesn't start with a history book or maps. Instead, her preliminary analysis starts from another perspective, the victim/community forums of countries throughout the world.
Chung's work transcends the typical role of the contemporary artist. In this show she is not just making objects. Nor is she just an artist. She is a scientist and modern-day historian giving voices to those who have lived the stories. She brings about awareness through her aesthetic and intensive research. This consciousness is what keeps an artists' art relevant, not just today but for years to come.
For more information about San Art check out their website: http://www.san-art.org/index.html