Nir Hod, Once Everything Was Much Better Even the Future
September 11-October 25 2014 at Paul Kasmin
by Heather Zises
January 08, 2015
Israeli artist Nir Hod is known for creating artworks that explore relationships between glamour and loneliness, beauty and death. As a painter, Hod's palette ranges from the old master portraits of Peter Paul Rubens to the photo-realist technique of Gerhard Richter.
His signature portraits feature figures set against inky backgrounds that seem to emerge from darkness and rise like flames. A master of color with his use of subtle variations in tone and shade, Hod delivers sumptuous compositions that are imbued with a shadowy allure.
Once Everything Was Much Better Even the Future, marks Hod's third solo exhibition at Paul Kasmin. Similar to his previous two shows Genius (in 2011) and Mother (in 2012), the new works on view continue to inhabit a world of paradox. Perched on a tall plinth in the center of the gallery is a monumental snow globe (whose namesake is also the show title) containing a moving scale model of a pumpjack encased in amber oil and swirling gold flakes. Like a crystal ball from the Byzantine Empire, the sculptural work reflects an absurdist portrait of an isolated landscape of oil extraction in which production and consumption peacefully coexist.
This untouchable, illusory world encapsulates Hod's practice—one that pushes boundaries by creating slippery juxtapositions between truth and the hyperreal.
The painting series I Always Want to be Remembered in Your Heart is presented as a sweeping triptych that depict haunting compositions of flowers being consumed by flames. Purple petals and perky pistils smolder and burn, alluding to the notions of life and death, beauty and destruction. Thematically, the idea of painting things on fire appeals to Hod because of its implications toward vandalism. However, upon deeper examination, the viewer begins to unpack a myriad of harrowing historical influences that waft in between paint layers. While calamities like the Holocaust, Arab Spring, and September 11 have each left devastating wakes of destruction; Hod's series connotes that compassion is the soft light that is inevitably borne out of darkness. Thoughtful actions like placing flowers upon memorials and lighting candles in remembrance remind the viewer that the flames in I Always Want to be Remembered in Your Heart do not overwhelm the flowers; rather they live in balance.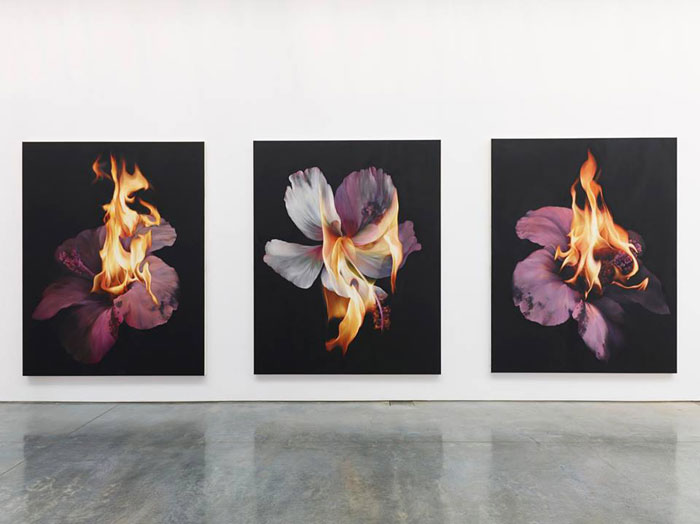 I Always Want to be Remembered in Your Heart
The Back Room and All We Wish For, Let It Be further explore the dichotomy of light shining through darkness. Hod conveys this narrative through a series of abstract canvases that have undergone a chroming process, which are then painted with a layer of matte black acrylic. Collectively, these works make a departure from the representational by activating the space outside of the picture plane through reflective, mirrored surfaces. The Back Room is a sixteen-panel work (each panel is square shaped) with contrasting black and white scratches upon chrome surfaces that emanate light. The title of this series derives from Hod's idea that all of us have a dark "back room" in our minds, towards which we are drawn. As viewers peer into their fragmented reflections that flicker amongst the shiny panels, they are confronted with truths—perhaps inner demons—and must choose to address them or look away. In this new register, Hod ultimately transforms the viewer into the subject matter by reminding them that an inner light is always accessible amidst dark patches. Interestingly, for the current exhibition, The Back Room was reduced to twelve panels, therefore not all of the pieces fit together perfectly. Like broken bones that have healed, the disjointed panel seams reinforce the notion that light and growth continue to exist amongst destruction.
In All We Wish For, Let It Be the artist renders ethereal clouds in the colors of melted brass and shattered glass panels in mystic silver tones, which alludes to the Dionysian cycle of destruction and rebirth. Hod deliberately paired the clouds together with the broken window panels to underscore their contrast with the rest of the darker, more disturbed works within the show. After surveying several monochromatic canvases juxtaposed with compositions of floral flames, it felt as if the gallery had created an enchanting remix of a Frankenthaler-Motherwell modernist narrative with a film noir twist. Overall, the works highlight Hod's pursuit of the sublime as a place of pleasurable fear, forbidden desire, and optical illusion.
Born in Tel Aviv, Hod received his BFA from the Bezalel Academy of Art and Design in Jerusalem. His works, which consist of paintings, sculptures and videos, have been exhibited at top institutions and artfairs worldwide. The artist currently lives and works in New York.
Pictures Courtesy of Paul Kasmin Gallery