Winter on Fire: Ukraine's Fight For Freedom, dir. Evgeniy Afineevsky
by ANYA PROKHORKINA
January 07, 2016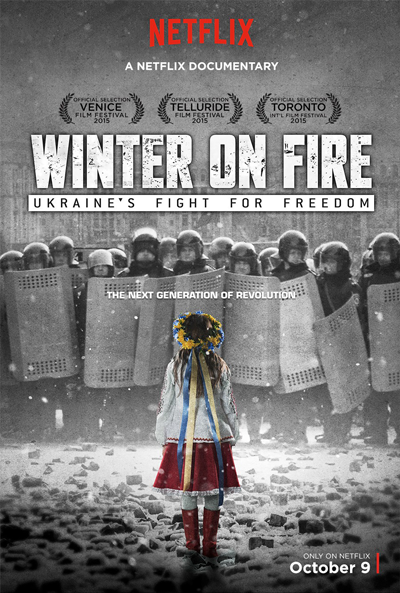 Winter on Fire: Ukraine's Fight for Freedom by Russian-Israeli director Evgeniy Afineevsky features a series of interviews intercut with brutal footage of the protests in Ukraine's Kiev in December 2013 through February 2014. The documentary is a part of a Netflix Original Series and has already been screened at several festivals in Venice, Telluride and Toronto. On December 1st, Winter on Fire made it to the Oscar's shortlist for Best Documentary Feature.
The film is the story of a "revolution in the making." A peaceful student protest on the Maidan Nezalezhnosti (Independence Square) against the actions of President Viktor Yanukovich unfolds into a full-scale war. Interviewees share memories of a police massacre at the protest; they discuss comradery, bravery, and the deaths of friends and family members. The interviewees are people of different age groups and social classes. One of the most remarkable stories is told by a 12-year old boy. The horror of war and despotism is shown through the interviewees' tears and through the brutal footage of the attacking police force. Afineevsky's crew included protesters who gave the director their own footage, making the documentary a true citizen or even partisan-made film.
For the most part, Afineevsky is more interested in capturing dramatic stories than maintaining journalistic objectivity. His rhetoric could probably be accused of idealism and one-sidedness, since the other sides of the conflict are not presented at all. He chose his heroes and sticks to their discourse and their journeys. However, the unfolding of the events is presented with meticulous attention to maps, dates and names.
The first Netflix film about the 'color revolutions' was Square by Jehane Noujaim, which followed the revolution in Egypt. In Winter on Fire, Afineevsky takes us to another country, another square (Maidan) but shows us a story very similar in its drama. Winter on Fire is another Netflix produced documentary about people's revolutions of the last decade. Both Winter on Fire and Square are mostly made for a younger American audience and do not show multiple sides, various opinions, and the overwhelming complexity of the movements and political intrigues. Instead the films show human drama through a clear and easy structure, and the very Hollywood plot of a "fight for freedom." Afineevsky did bring the famous Hollywood editor Will Znidaric on board to work with the footage.
In Winter on Fire, one of the officers fighting with the protesters said the youngsters in Maidan "...were born free. You can't defeat them." Despite some narrowness and naivety in his directorial approach, Afineevsky finds the motives behind all of these revolutions, which should help viewers gain new perspective on the world. That is certainly the point of great art: new perspectives and freedom.