Peter Gerakaris
October 03, 2016
Art Interview with Peter Gerakaris
Interview by Andrew Sullivan
There's been a revitalization of hotel culture in NYC, which started with boutique hotels hiring art curators and commissioning work. And we're all for this—for increased work for artists and greater pedestrian engagement with contemporary art. Similarly, outside of NYC the art world is expanding via hotel culture. I offer you Hotel 21c's institutionalization in smaller cities, which has taken part in revitalizing the downtowns of places like Louisville, Oklahoma City, and Durham.
Enter The Surrey Hotel at 76th and Madison, in New York City, where I perused the significant collection of lobby art with artist Peter Gerakaris before taxying to the penthouse/rooftop bar to see his temporary installation "Floating Garden." We paused in the entranceway at Peter's request and took in the rooftop layout with the installation affecting me immediately. Peter covered three sides of the roof-top shed in a printed acrylic sheet which he was forced to divide into nine sections to cover the forward facing surface and a few others to cover the sides. I asked him about the process and technique and where he conceived and created the treatment for what would later be the installation. A server then took our drink orders. While he described setting up his studio in the penthouse, using paint and collage elements to create the treatment he would later scan and print, I was struck by the color and chaos starkly backgrounded by the southern Manhattan skyline. Our cocktails deposited at a table by the entrance, we neared the work, and as I got closer the chaos morphed into control, the striking color into mood and texture—I began to feel the piece had a voice and the voice, at certain moments throughout the evening, lifted me up with its song.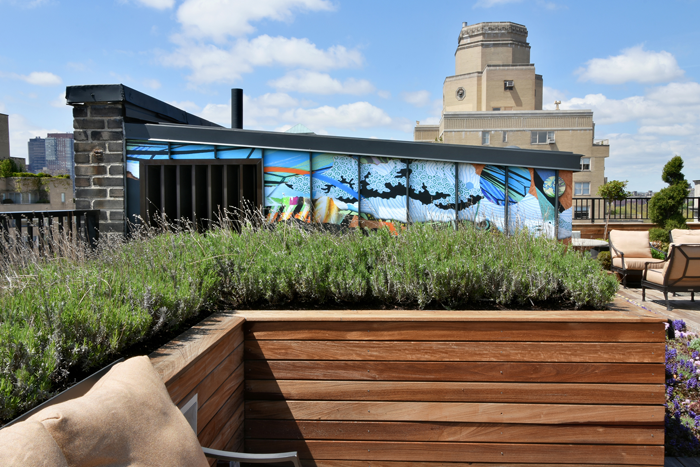 Peter Gerakaris - Floating garden installation
Under the canopied bar, I took everything in once more including the garden space surrounding and communicating with the installation: wood to wood to green, to wood to color and action, to wood and more green, to tar top to building silhouette and sky. Dusk poured in around us and well-placed lights lit up the sides of the shed-cum-installation in a pretty glow that mimicked the aura of an orange sun setting on the cityscape. It was quite lovely and had the art not been there, I feel my experience would have been, not pedestrian—we were on a rooftop bar with stunning views—but less joyous, less invigorating. It would be hard for me to decouple the intelligent and sincere conversation with Peter from my experience with the art. He was able to connect the dots for me that enabled a well-informed emotional response to the integrated symbols and motifs of the installation. But I think someone curious, with a warmed belly and liberated thoughts, could access the narrative and emotion with just a few moments of focus.
For those of us who need more help, I thought of a game to play, a way to gain access through meditation: Picture how the ground of a roof top might flow into a garden bed, into raised ground into an art installation into more wood and more green, into reflection and steel, up and up until the blue and white bleed into an instant of color before blinding. Do that exercise backwards and then forwards one more time, tumbling together Japanese garden motifs, honeycomb shapes, bright oranges and exotic greens. Now, freeze your thoughts, convert them to paper, and then tear the product of your vision into jagged diagonal lengths. Throw away a few of these torn bits and then rearrange the remainder. Your result will be a mind-facsimile of Floating Garden, which introduced a poetic order via frozen animation to the static beauty of the garden and sight-lines. Wood and green and steel and color intermixed to form a whole that reflected the character of the space back to the space and informed the bon vivants that their view contained in it something essential. In other words, I looked at the installation to understand something essential about my surroundings and, between cocktail sips and lively conversation with a thoughtful and erudite artist, examined my environs to know the magic Gerakaris instilled in his Floating Garden.
Later, I caught up with Peter when he returned from creating another hotel installation in the Bahamas and was able to ask him some follow up questions about the meaning in his art, his process, and his youth and maturation. Peter is a warm and open person, exuding an uncommon warmth and sharp mind. He was completely invested in helping me understand his work and, equally, eager to know about me and my perspective, something I found endearing, and wondered if I couldn't have predicted that sort of bonhomie had I been a random acquaintance and simply shaken his hand. Readily, he revealed details about his process and much of his thinking on Floating Garden. We chatted about his family and upbringing, as well, since formative years, for me, are essential to knowing someone and, in particular, their art. Much of this we covered that night when I was introduced to the hotel and installation, but I was too energized by the art and Peter's enthusiasm to bother with notes. I wanted to remember the exchange organically, and so I offer some of our correspondence:
Andrew Sullivan: Tell me specifically about this piece, what inspired it and how that relates to your general philosophy.
Peter Gerakaris: I felt fortunate having the opportunity to engage with a site where Nature and Culture already converge, e.g. a Highline-style rooftop garden cultivated where people can mingle while surrounded by a panoramic view of the Manhattan skyline. My aim was to heighten this confluence, not distract or detract from it. I feel contemporary society has a fractured relationship with the environment, so this project is meaningful to me in how it reunites the two, albeit on a very humble and intimate scale. I also find there's an ironic parallel between gardening and art making: both require sleight of hand tricks and artifice in order to appear "natural." I wanted to offer an experience that is thoroughly grounded to the site while still stimulating our imagination—flowing imagery that uncannily feels as if it had always been part of the site, yet would feel profoundly different if it were absent.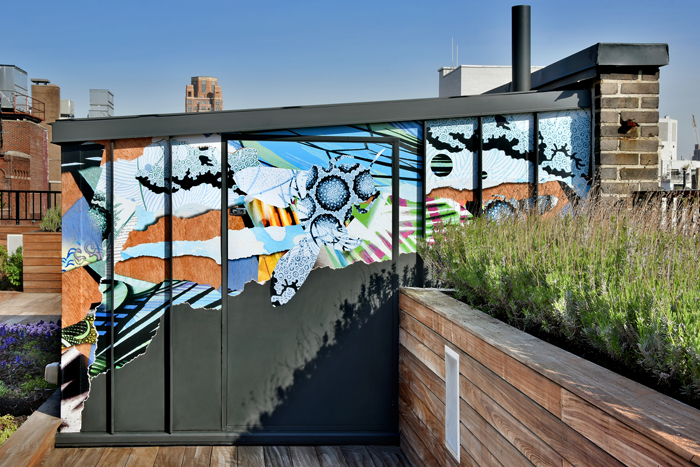 Peter Gerakaris - Floating garden installation
AS: Can you connect that to any influences in the art world, from art school, from NYC?
PG: After having studied art history for many years, I try to purge my mind during the moment of creation—I trust my unconscious and that anything substantive I've internalized will somehow surface in a more fluid expression. When taking a step back from 'Floating Garden,' I was perhaps channeling the vibes of Ogata Korin's folding screens and Frederick Law Olmsted's public park designs I love. I admire too many contemporary artists to list here who employ a collage aesthetic—I am specifically fascinated by the work of James Rosenquist and Lari Pittman whose complex, layered imagery miraculously achieves harmony amidst the chaos. I feel that touches upon the ultimate challenge of our contemporary existence. How do we process this sensory overload?
AS: How about family and your background?
PG: Both of my parents are artists. Yes, I was pretty much doomed from birth!

Peter Gerakaris - Floating garden installation
AS: Speaking of which, would you tell us about your parents and growing up?
PG: My father's an accomplished artist-blacksmith / designer, and my mother's a prolific photographer who also taught therapeutic horseback riding for 20 years. They're renaissance people whose 'object in living is to unite / My avocation and my vocation,' to paraphrase Robert Frost. They still garden avidly at the home they designed and built in NH during the 1970s. Growing up, they took me to as many world-class gardens as museums, so I have an equally profound respect for Nature and Culture. Monet's home at Giverny, which my parents took me to when I was 5, is perhaps the apotheosis of this—or at least I can finally appreciate that some 30 years later!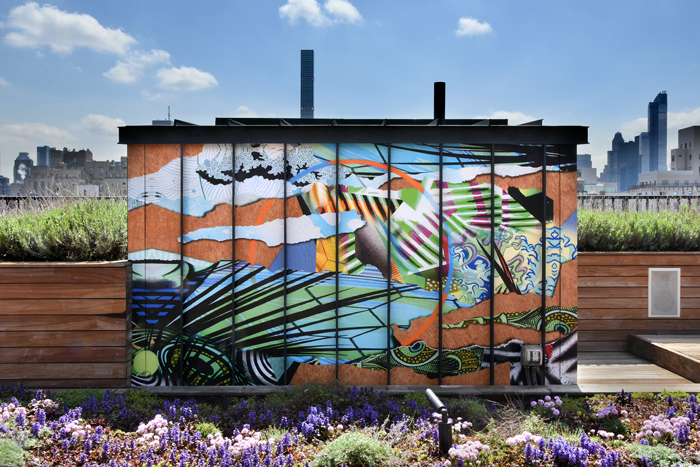 Peter Gerakaris - Floating garden installation
AS: Back to the art world, you're a proponent of commissioned work, of hotels buying up art and creating viewing spaces for the public. Have you been to any other art boutiques? What's your take on them and what they mean for the future of art?
PG: I think it's an exciting movement in contemporary art that brings art to a wider audience without having to dumb it down or underestimate its audience(s). It helps make these environments far less sterile and generic—they become interactive and more real. Until now, "Hotel Art" had a cringe-worthy reputation. But the top hotels who have actually made a point to enlist qualified art curators—such as The Surrey Hotel's Art Expert, Natasha Schlesinger—elevate this idea of the boutique hotel to as relevant an art platform as a gallery, dare I say museum? Additionally, I've observed boutique hotels don't have to rely on the frenetic gallery model of a 9-exhibit rotation per year, nor the constant grind of art fairs—don't get me wrong, the latter two are still quite important. As for other Art Hotels, I've heard great things about what Kyle DeWoody and Laura Dvorkin have done at Eventi, and would also really love to check out 21c (Louisville) in person.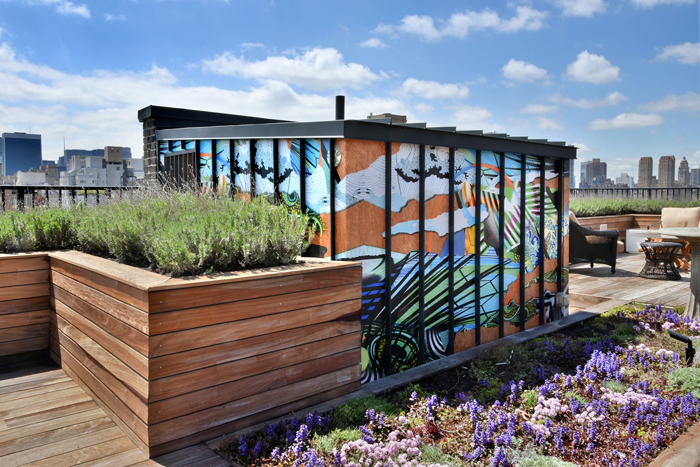 Peter Gerakaris - Floating garden installation
AS: Do you have a few major influences?
PG: Michael Pollan. James Rosenquist. Caravaggio. Frank Stella. Maya Lin. Picasso. Stuart Davis. Werner Herzog. Henry David Thoreau. Frederick Law Olmsted. Ogata Korin. Charles and Ray Eames. Joseph Albers. Julie Mehretu. Thelonious Monk. Bill Frisell. Congolese Masks, etc. Yeah, you could say a 'few;' I could go on and on...
AS: Can you take us behind your process a little, for this piece and in general?
PG: I approach any site-specific installation project like a tabula rasa. I sit and sketch in situ, sometimes even the surrounding landscape as well, to fully internalize the place. Then, when I've got the general proportions down, I respond to the site—like call and response in jazz riffs—and that becomes a painting on paper, wood, etc. I then digitize all that raw material, remix it like a "Visual DJ," ultimately employing industrial printing techniques based on the site that allow me to output the imagery at large-scale in a whole range of media. Then I return to the site, roll up my sleeves, and get my hands directly involved in the installation process—cutting, pasting, collaging and fine-tuning until it feels right. The overall arc is analog to digital back to analog. Although I coordinate with many amazing professionals on these installations, I'd be miserable if I weren't directly involved in the material process, e.g. the physical making of things.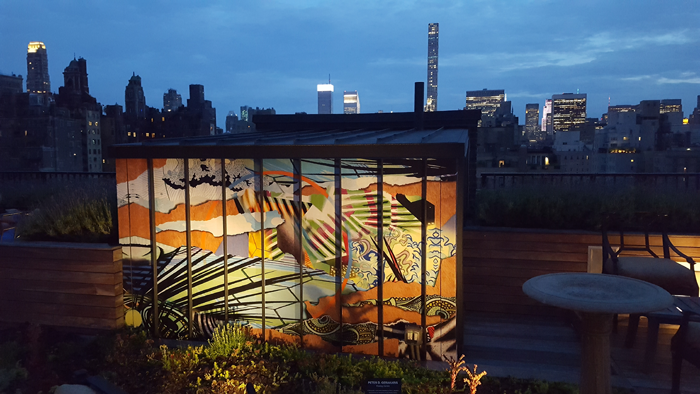 Peter Gerakaris - Floating garden installation
AS: What do you see the role of art and literary magazines being and do you have a relationship with that world?
PG: I think it's a critical part of the art community—it's not only a space that fosters a deeper discourse across artistic fields, but also documents the culture from which art arises. Reading old copies of art journals like October or Art in America are fascinating in that they reveal which previous critical concerns were irrelevant and/or which have stuck or might still be relevant. For instance, arguments about "representation vs. abstraction" in previously "heated" painting debates seem pretty banal now, Post-Gerhard Richter. Hyperallergic and The Brooklyn Rail are always full of fresh material as well.
AS: Do you read? What?
PG: Constantly! It's very eclectic, e.g. so here's a snapshot of my nightstand: The Atlantic; The New Yorker; Bill McKibben's The End of Nature; Edmund Morris' Theodore Rex; the Brooklyn Museum's catalogue for "Disguise: Masks and Global African Art"; Arthur Miller; etc.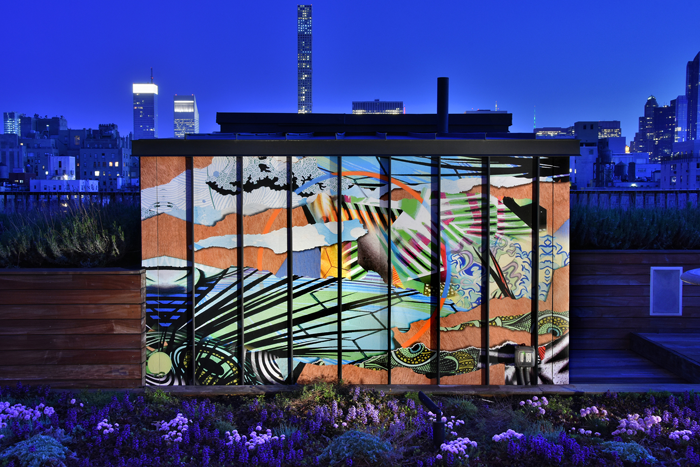 Peter Gerakaris - Floating garden installation
AS: Do you have a favorite hotel? Space in the city?
PG: I love Central park, Wave Hill, the New York Botanical Garden, and the old-industrial waterfront in Red Hook, Brooklyn. There are too many cool hotels to name and they're constantly evolving!
AS: What do you see that normal people might not that you wouldn't mind sharing with our readers such that they might take on a new-to-them perspective?
PG: Never expect to "get anything" out of a piece of music, architecture, or artwork. Good art is not a passive experience and requires investing real energy as a participant. Use your imagination—never be afraid to sketch, write, or record your ideas. Many of my creative ideas are ultimately absurd, but I listen to them and record them. I'm a prolific idea person and if only 30% of these ideas manifest as artworks I'd be pleased; that's certainly a good average for a major league batter. As Mr. Rogers said, 'You can grow ideas. In the garden of your mind.'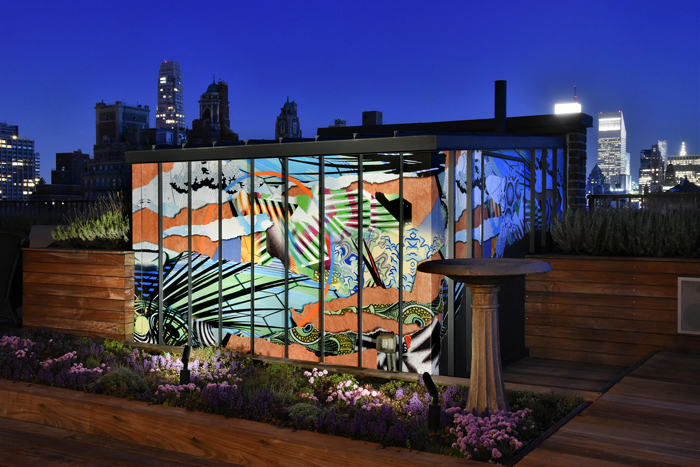 Peter Gerakaris - Floating garden installation
AS: How do you cultivate such thoughts or do you at all? Is it natural?
PG: I'm naturally curious about many things. I always begin by asking the toughest question: 'What if?' And then it's just a matter of auditioning the ideas one by one.
AS: The most underwhelmed reaction to your piece and the most ecstatic:
PG: Zero response is the worst! As for the most ecstatic? Right after I completed the installation in late-April on a beautiful spring day, an energetic woman from Mexico, who identified herself as a 'return guest' of the Surrey, wandered onto the roof and offered her unbidden thoughts. She relayed how, 'the piece is all about where the City and Nature meet,' and how, 'you must have a version of this on the Highline one day!' She even excitedly pointed to various biomorphic forms, such as areas she likened to 'reptiles, bees, and pollinators,' which I did intentionally conceal as a layer of the imagery to connote the alarming disappearance of the worker bee. She added, 'and it's so fitting because we are losing our honey bees; they're disappearing!' As we spoke, many real bees were pollinating and buzzing amidst the lavender flanking my rooftop installation. Then the woman finally reflected, 'I really feel as if this piece has always been here and I want it to be here every time I return to this hotel!' I couldn't have asked for a better response.
AS: What's on the horizon for you? Projects, career goals. 20 years from now?
PG: I'm concurrently exhibiting a tondo painting in a separate show at The Surrey called "Fashioning Art" curated by ArtMuse, an "Origami Sculpture" at Cluster Gallery, and have also contributed a canvas from my "Mask Series" to the Baryshnikov Art Center's Fall Gala. Quite fortunately, I was also awarded a permanent commission for the new Warwick Hotel launching this fall in the Bahamas on Paradise Island. The artwork, entitled "Junkanoo Masquerade" is an 11-foot mural-scaled canvas inspired by travels in the Bahamas. The imagery fuses indigenous flora, fauna, and Bahamian culture such as the Junkanoo Carnival. It also relates directly to my ongoing "Mask Series" and features two enormous Mask Heads in a sort of ecstatic exchange. I was also just awarded a large-scale public art commission to be permanently installed at PS101 (Brooklyn) through the NYC Department of Cultural Affairs Percent for Art Program, slated for 2018. Since Carl Sagan attended this school, the work pays homage to Cosmos, while referencing the area's maritime history. In terms of 20 years from now? I aspire to actualize a number of works from my Origami Sculpture Series on a grand, architectural scale—as immersive pavilions that transport the audience to a place where art, performance, and architecture are fused. I'm ready to go Baroque!
PETER D. GERAKARIS
www.petergerakaris.com
@petergerakaris (instagram)