Art Paris Art Fair 2013 Review
(July 1, 2013)
by Erik Matiny
X
About Erik Martiny

Erik Martiny's reviews have appeared in London Magazine and The Times Literary Supplement. He lives in France.
This year's contemporary art fair in Paris held March 28-31 displayed a dizzying array of 144 of the world's high-quality galleries. If just over half of the galleries present were Paris-based, there were others from 20 countries including Europe, China, the United Arab Emirates, Lebanon and last but not least Russia since it was the honoured guest. The art fair has had a policy of extending its invitations eastwards to lesser-known art worlds. This is also a way of differentiating itself from the older FIAC (Foire internationale de l'art contemporain) which tends to look towards America.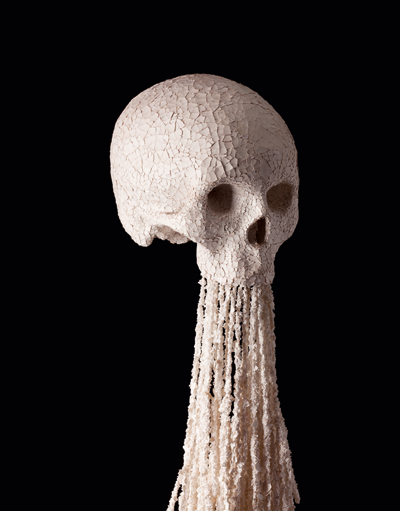 Jim Coquille
Of the Parisian galleries exhibiting, the most memorable was a new-fledged outlet called Galerie Da End. It greeted the visitor with a sleeping child-shaped figure covered in white bird wings. This phantasmagoric tone was sustained in other works by the artist known as Kim: she is able to string glass into shapes you wouldn't believe if you didn't see them in front of you. The delicacy of the structures makes you scared of breathing lest the wind of your breath should topple the elaborate architectural glass cobwebs. Le crepuscule des âmes depicts a burgeoning tree of spun crystal; from the roots of the tree rise little bubbles of blown glass. Jim Skull's ethereal, magical skulls made an appearance here as well. His papier mâché structure entitled Renaître portrays a skull whose teeth make up a curtain of beads; the skull is entirely covered in tiny bits of eggshell lending both beauty and poignancy to the tradition of the memento mori. To the beautifying tendencies in contemporary vanitas depictions, it adds the egg-shaped optimism of rebirth. One of the gallery owners, the photographer Satoshi Saïkusa, contributed an intriguingly effective collage entitled Insect Woman which sustained the oneiric atmosphere further still: it is entirely composed of cut out circles mounted on pins and raised at different levels.
Opened in 2007, the Galerie Pierre-Alain Challier is also noteable and offers another dream-like world, albeit in a different, slightly more disturbing register. Entering the gallery stand felt like being enveloped by a surreal jungle. You were greeted by all manner of hybrid creatures fusing animals and minerals: turtles were born out of rocks, barracuda heads loomed out towards your ankles, a rock with antlers threatened to impale you. The gallery poster showed a gigantic nest in the thick of a forest capable of holding a dozen elephant eggs.
Galerie Taïss displayed some interesting Russian and Ukrainian photographers. These depicted female astronauts decked out in jewels or a woman in army surplus breast-feeding ostentatiously. Galerie Suanne Tarasiève also featured Russian artists known as the Recycle Group braving other taboos: photographs revealed grannies in erotic poses or a dead man lying next to a tub full of floating flowers.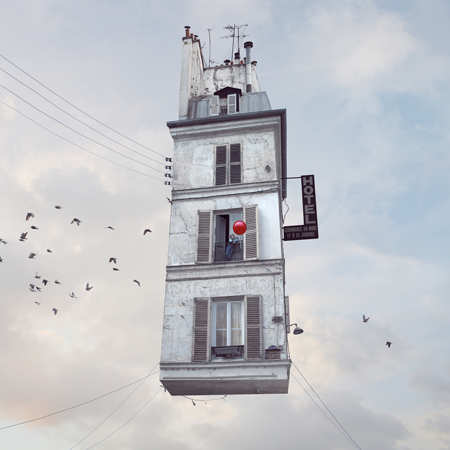 Flying Houses 17 by L.Chehere Ballon Rouge
Erarta Galleries presented Russian artists too. Their exhibition, called I Believe in Angels, featured a massive, lightly-clad Slavic damsel with the wings of an airplane by the artist Dmitry Shorin: it evoked the somewhat demonic angels of Socialist Realism in modernist garb. There was something intimidatingly Stalinist about this angel and it was more disturbing than erotic. Shorin's stated intention is to debate "the concept of progress and the limits of the human body in the digital age".
Another East European gallery from Budapest called Inda Galeria provided a pleasingly large sampling of Laurent Chehere's photoshopped pictures of buildings floating up like balloons. Artist Pista Horror's Rony Loves You series depicted McDonald's culinary culture in bitingly ironic terms. A series of miniature Ronalds were shown cutting up calves in a bloodbath with chainsaws.
The most touching and intriguing of the East European galleries was Ljubjana's Galeria Fotografija. Its star artist Roberto Kusterle was writ large providing a number of his signature hybrids. One sepia-tinted portrait showed a furry naked woman with hedgehog hair; another displayed a bent body carrying a huge nest head containing dozens of chirping goslings.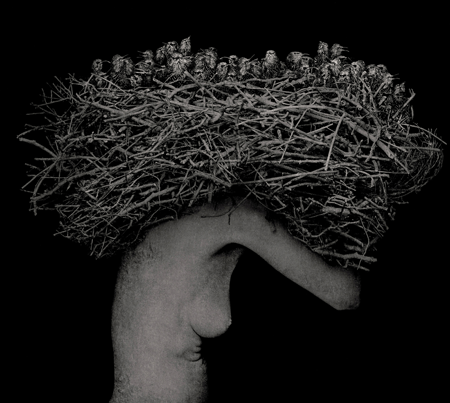 Il Coro Choir Dialogues of Nature by Roberto Kusterle
Two of the Italian galleries present were also memorable. Galleria Giuseppe Pero from Milan featured Andrea Mastrovito's car crash sculptures made of folded paper. Federico Pietrella's still life canvases were realized using nothing more than a date stamp printed obsessively to obtain shadowing effects. Turin's Gagliardi Art System provided one of the most seductive collections, offering works by J&Peg, Aurore Valade and Glaser /Kunz. J&Peg's iconic figures, covered in eerie grey fabric from head to foot were somewhat disquietingly thrilling, but it was the Glaser / Kunz installation that came off as the Art Fair's most compelling and unsettling artwork. Perched atop a series of wooden boxes was a human head chirping nonsensical noises. It really got under your skin. The head was nothing more than an oval shape but its slightly separated halves contained projections of the two sides of an actress's face taped at different moments but emitting all sorts of strange noises and singing simultaneously. It was more surprising and life-like than any static hyperrealist sculpture can hope to achieve.
Of the middle-eastern galleries, the most innovative was the Galerie Mark Hachem present in both Paris and Beyrouth. A series of sculptures by artist Nacer entitled Fleurs du mal featured a rifle covered in gun thorns suggesting its potential to inflict pain and but also rendering it impossible to use. Shadi Ghadirian's White Square displayed a grenade with a ribbon around it. Simin Keramati's works show Arab women spewing razor blades.
After such harrowing, albeit thought-provoking, imagery it came as a relief to come across the Dutch counter with the Flatland Gallery based in Amsterdam and Utrecht. The showcase piece drew both smiles and embarrassed silence from viewers. Hans Van Bentem's Dickrider represents a young woman gleefully astride a winged porcelain penis breasting the creaming waves of the Atlantic.