Do Ho Suh
Drawings, at Lehmann Maupin
September 11-October 25, 2014
by Heather Zises
January 23, 2015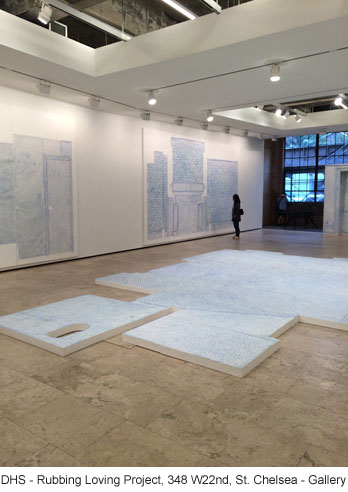 Known for his elegant sculptural installations that are volumetric shells of his past homes, Korean artist Do Ho Suh creates exquisitely detailed portraits of spaces in a variety of media. Born in 1962 in Seoul, the artist moved to the United States in 1991 to earn his BFA in painting at the Rhode Island School of Design, and an MFA in sculpture from Yale University. Suh settled in New York in 1997, where he lived and worked until relocating to London in 2010.
Currently showing at Lehmann Maupin is an extensive, two part show of new artwork by Suh. The exhibition features a dense range of works on paper in various scales, including drawings rendered in pencil, pen, ink, and watercolor, the artist's signature "thread" drawings, and a large compendium of labor-intensive rubbings that create full-scale impressions of architectural spaces. Suh's multifaceted practice—which includes fabric installations, figurative sculptures, a vast array of drawings and one-to-one scale rubbings—explores notions of home, physical space, displacement, identity and memory.
In his recent rubbing series, Suh takes the tools and techniques of drawing into an expanded field. For the three different works on view, Rubbing/Loving Project: 348 West 22nd Street, Apt. A, New York, NY 10011; Rubbing/Loving Project: Company Housing of Gwangju Theater; and Rubbing/Loving Project: Gwangju Catholic University Lifelong Institute; Suh made massive, architectural drawings first by covering walls and three dimensional fixtures of the interior and exterior of select spaces with large sheets of tracing paper, and then rubbing the surfaces with graphite or colored pencils. After carefully removing the handmade imprints, Suh reassembled the drawings to recreate versions of spaces that hold great personal, cultural or historic significance to him. This meditative process—which could be regarded as a form of "skinning"—generates works that are in constant tension between sculpture and form. While realistic in scale and proportion, Suh's rubbings are materially ghostly, based upon potent tactile memories that transcend and embody physical parameters of space.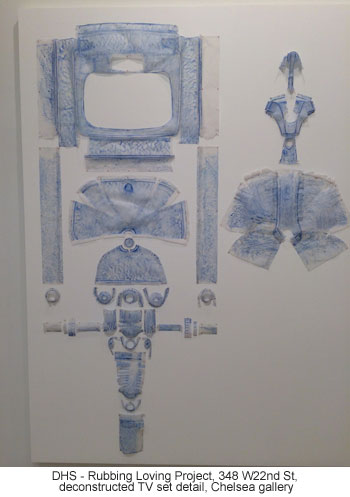 Installed at the Chelsea location is an elaborate, large-scale recreation of Suh's former New York apartment (Rubbing/Loving Project: 348 West 22nd Street, Apt. A, New York, NY 10011). At the entrance of the gallery stands a white, life-scale model of the brick and mortar exterior of the artist's former dwelling. Like a gateway to the artist's memory bank, the structure leads viewers into the main gallery space where hundreds of individual rubbings of floors, walls, and appliances have been meticulously documented and fastened to blank canvases with pushpins. Rendered in blue pencil on vellum, many three-dimensional objects from the interior—such as a television or a sink—have been deconstructed and reconfigured like diagrammatic renderings that hover between the empirical and the expressive.
On view at the back of the Chelsea gallery are a series of video documentaries that accompany Suh's extensive, multi-city Rubbing/Loving Project. The most compelling video shows the artist and his studio team making rubbings of the Company Housing of Gwangju Theater while blindfolded. Created in response to the city of Gwangju and the 1980 "Gwangju Uprising", the piece conveys Suh's sense of "blindness" due to the blatant media censorship about the political conditions available at the time. By rubbing dark charcoal on interiors of abandoned spaces once inhabited by people who survived the massacre, Suh activates a multi-sensorial way of seeing that allows one to read beyond the surface. Interestingly, in Korean, there are no distinguishing sounds between the letters L and R or between the letters B and V; therefore the pronunciation of the English word "rubbing" sounds uncannily similar to that of "loving". This curious confusion of mispronunciation creates a connection that is important for Suh, such that "rubbing" becomes an act of "loving", an act he employs to excavate spaces by gently stroking surfaces to unveil meaning.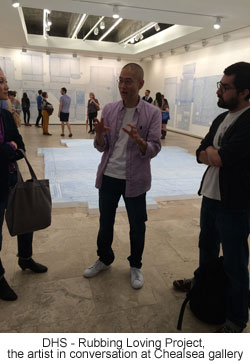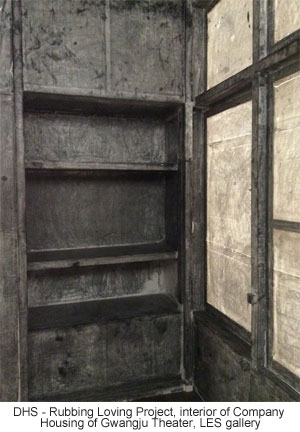 Originally commissioned by the 2012 Gwangju Biennial, Rubbing/Loving Project: Company Housing of Gwangju Theater and Rubbing/Loving Project: Gwangju Catholic University Lifelong Institute are two works on view at the Lower East Side gallery space. The two freestanding structures resemble oversized, displaced tree houses that are wallpapered with memories (more rubbings) and function as emotional blueprints (a modest speaker system streams the irregular sounds of pencils rubbing against paper). By turning private spaces into public ones, Suh continually explores the importance of one's home or dwelling as a physical and emotional anchor point, as well as the concept of placelessness.