Fiona and the Tramp
Lost in Paris- a review
by Jennifer Parker
June 16, 2017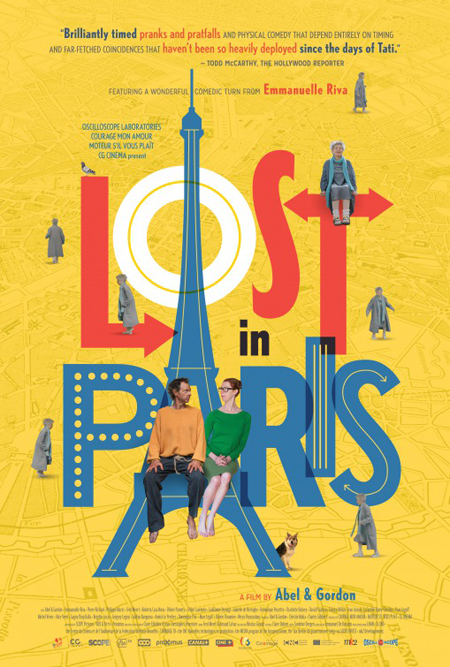 Who hasn't fantasized about living in Paris? I mean, not to knock the climate in Northern Canada but considering all that Paris offers, it isn't much of a contest. Lost in Paris (Oscilloscope Laboratories) opens with eight–year–old Fiona (Emmy Boissard Paumelle) and her Aunt Martha standing on a snowy vista overlooking their North Pole like village with Martha's confession that she has always wanted to live in Paris and she is leaving forever. Of course, little bespectacled, red haired, teddy–bear–bun head Fiona says she has always wanted to live there too. Flash forward forty–eight years and spinster, librarian Fiona still bespectacled, and still rocking the teddy–bear–buns gets an SOS letter from her Aunt because she has been ordered to move out of her apartment into a retirement home. Martha is one independent cookie and she wants no part of this plan. Filmmaking duo Fiona Gordon and Dominque Abel call their latest effort a burlesque film but when I think of burlesque I think Cabaret or All that Jazz but I'm only partially correct. You don't have to be bawdy to be burlesque. You just need to caricature, travesty or parody tropes within a genre with a certain degree of earnestness—that is if you want to do it well. Charlie Chaplin and Jacques Tati were famous for it. Gordon and Abel nail it. The real-life couple combine nimble shticks and heaps of pathos to deliver a romance that pleases even the most hardened cynic. They can easily be forgiven the storybook images of the Canadian Village that only seems to be missing Santa's workshop.
Emmanuelle Riva, plays Aunt Martha, the impetus for the sojourn to Paris. Riva, the legendary Academy Award®–nominated actress (Amour) sadly died on January 27, 2017. Her role may be supporting but she steals every scene that she is in. With integrity, Riva vacillates from a dumpster diving, senile, latter octogenarian, to a woman not adverse to a little hanky–panky, to a bottle of champagne drinking, cigarette smoking, police evading fugitive of a life in a retirement home character. Her career spanned decades and she will be missed.
Pierre Richard (La Chèvre) makes an appearance as her former lover, Norman. I'm not sure that he advances the story but he is delightful. Riva and Richard share a scene that borders on precious but somehow does not tip into the realm of saccharine.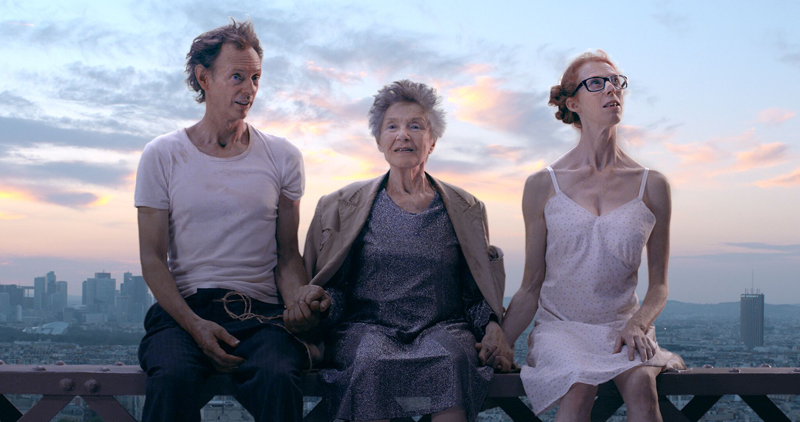 Lost in Paris: Dom, Martha and Fiona
Burlesque works best when it is highly physical. Form is the raison d'être and plot is secondary. Fiona (the filmmakers use their real names) at the outset is in a remote region of northern Canada that is in permanent blizzard state. We meet adult Fiona and her fellow townspeople in the library. These Canadians are scrappy and not easily daunted, they know to hang onto their papers and books when the door opens and even the furniture starts to blow across the room. They don't notice it but we do, which makes it all the funnier. It's at the library where Fiona gets the letter from her Aunt Martha asking her to come to her rescue. Aunt Martha is certainly a woman of faith because she has a lot at stake considering Fiona has never seemingly left Northern Canada and can't seem to find her way out of a paper bag, never mind the Paris Metro Station, legitimizing the title, Lost in Paris.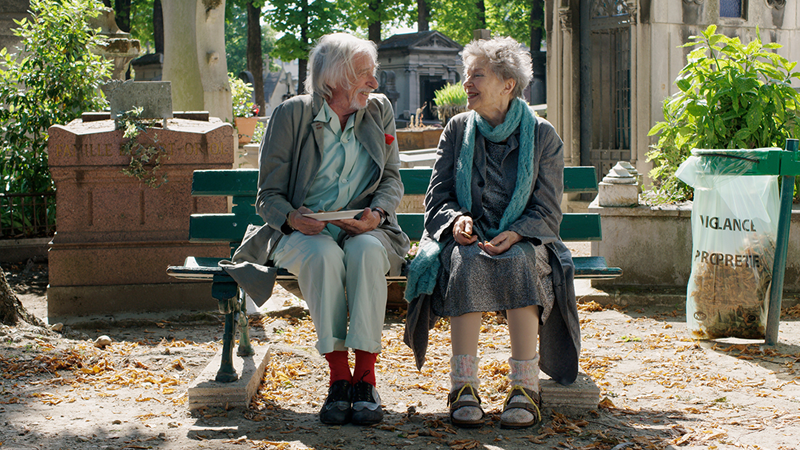 Lost in Paris: Norman and Martha
From the moment Fiona steps foot into the tunnel of the Metro she is a permanent adolescent–bodied awkward gem of physical comedy. Aided by props (her trusty enormous red backpack–– yes, the backpacking kind) proudly displaying the Canadian flag, she bumbles through the metro and to her aunt's apartment only to find her not home of course. Discouraged but not daunted, Fiona goes for a walk and things go south in a screaming confluence of unfortunate events that include but are not limited to multiple falls into the Seine, the loss of all her belongings including her passport and cash, and the unwelcome advances of a local homeless man, Dom, turned Fiona worshiper played by her real–life husband, Dominique Abel. We forgive any resemblance to Dom being a stalker in favor of homage to Chaplin's tramp. He's all that Fiona has when it comes to finding her way around the "City of Love". She certainly doesn't want him and she can't seem to survive without him. The film is also oddly a detective story, or one big game of "Clue," sans murder with a romantic twist, and enough physical comedy to keep us wondering, can you climb the Eiffel Tower via a nearby tree branch?
---
In limited release June 16, 2017 http://lostinparis.oscilloscope.net/