The Dog Days of Summer—Two Ways to Beat the Heat
Lemon and Logan Lucky-
Film Reviews by: Jennifer Parker
August 18, 2017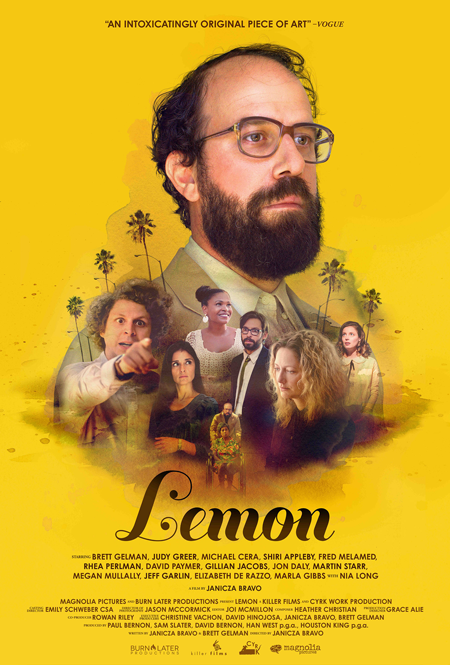 It's August 2017. The news is no fun no matter what side of the political spectrum you find yourself on—but we're in the good ole U.S of A and Americans have a long tradition of going to the movies when times are tough. Just look at all the fantastic Depression Era movies and the films that came out of WWII: All Quiet on the Western Front (1930), The Public Enemy (1931), Casablanca (1941) and Meet Me in St. Louis (1944) are just a few examples. So, I invite you to turn off your phone, put down your tablet, shut your laptop and skidoo on over to a nice air–conditioned movie theater and just escape. Two films: Lemon and Logan Lucky may never make it into the canon of Great American Cinema but they both are pretty much guaranteed to make you laugh or at least stop worrying about the bomb for a couple of hours.
For the higher brow, there's Lemon—particularly if you need to feel better about yourself and derive pleasure (secret or otherwise) in seeing some poor nebbish existentially worse off than you could ever possibly be. Besides, if you have a pulse and thus love Rhea Perlman, Lemon is worth watching even though her role as Isaac's mother isn't large and well, neither is Ms. Perlman. Isaac Lachmann played by Brett Gelman (Twin Peaks) stars and shares a writing credit with his wife and director, Janicza Bravo (Eat). For an actor to pull off a morose, bordering on unlikable character while keeping the audience deftly on his side the entire film is a feat. Think Eeyore without a filter and a hearty sex drive.
There are three things that make Lemon highly watchable even though the material is difficult to swallow. The first is the cast. Michael Cera (Person to Person) is fantastic in the supporting role as Alex, an acting student prodigy with hair that deserves its own Instagram account. Judy Greer (Married) who plays Ramona, Isaac's blind girlfriend manages ironically to look disappointed in Isaac even though she can't see. Megan Mullally (Will & Grace) may only have one scene and like Perlman, her comedic timing is legendary.
The second is the deft use of Original Music by Heather Christian—the score almost seems to be a character and the third is the playful editing by Joi Mcmillon (Moonlight). It isn't exactly breaking the fourth wall but it draws attention to the fact that it is only a movie, which allows us to get on board knowing that we're going to get through it—If only to find out what terrible choice, social faux–pas or foible is going to besmirch Isaac next.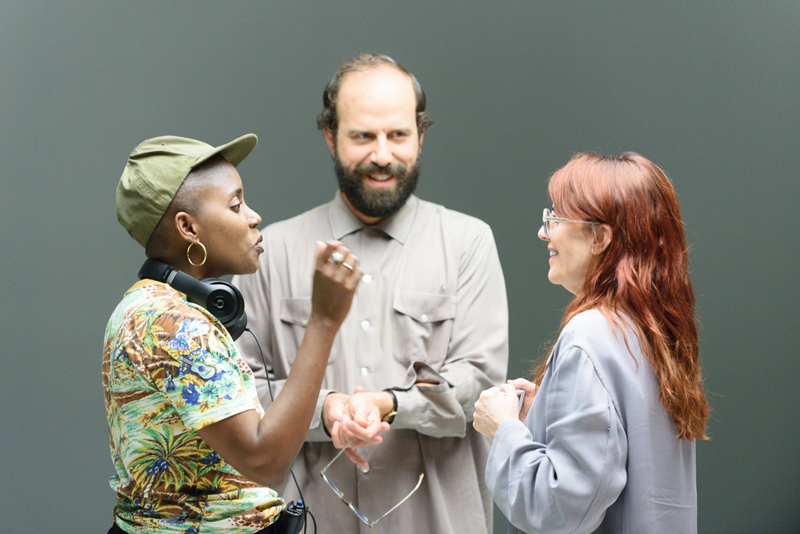 Director Janicza Bravo, Brett Gelman and Megan Mullally on the set of LEMON, a Magnolia Pictures release.
Photo courtesy of Magnolia Pictures.
There is something missing in terms of plot. At times, the film seems like a series of unfortunate tropes rather than a cohesive narrative. The cowriters make it so clear that all the whiteness that a politically correct person possesses comes out spewing verbal diarrhea when they are in a social situation with a person of color. In the end, Isaac is no more enlightened than he was at the beginning of the film, he's learned absolutely nothing but somehow, it doesn't matter. I found myself laughing, maybe inappropriately at times but maybe that's what we need to do right now considering what's in the news.
---
LEMON
In Theaters, on Demand, on Amazon Video and on iTunes August 18
Runtime: 83 min
Rated: R
LOGAN LUCKY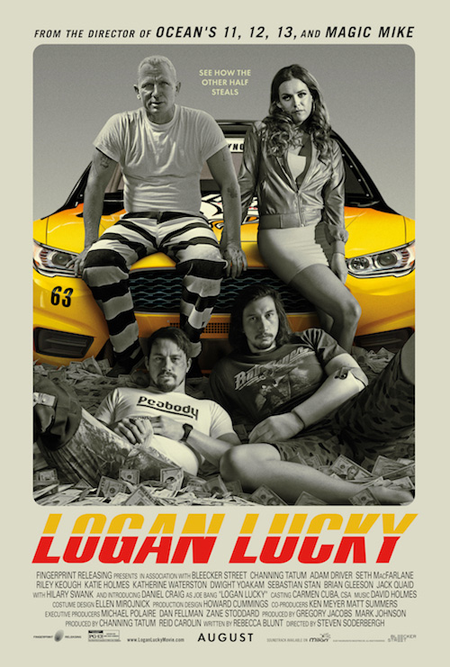 James Bond, Darth Vader's Grandson and Little Miss Sunshine walk into a bar... No seriously, I did a double take seeing the oft custom suited, expertly quaffed 007 all tatted up, with a bleached blond crew cut, in a prison onesie, topped with a hillbilly accent Daniel Craig. No wonder, the filmmakers had to introduce Mr. Craig as Joe Bang. He's about as far away from James Bond as a high stakes poker game in Monte Carlo is from a NASCAR race in Middle America. Adam Driver (Girls) returns to non–villain status post his Star Wars role as Kylo Ren. And, I'm a shameless sucker for little girls and their beauty pageant crazed parents—bonus points for JonBenét Ramsey clones.
Logan Lucky is the elusive and possibly non–existent, first time screenwriter "Rebecca Blunt's" star filled ensemble movie that just screams franchise à la Oceans 7-11. Like it's heist predecessors before them, you have a man with a plan—a robbery to do list. What makes this film different is the master mind isn't motivated by greed. None of the partners in crime use guns, light sabers, or automatic weapons of any sort and all of them have some sense of ethics and a moral compass.
Oceans 11 Franchise and Academy Award® winning director Steven Soderbergh (Traffic) knows how to get a PG–13 rating by keeping the language toned down, the violence, somewhere between satirical and campy and absolutely nothing more than innocent flirting, a few pairs of "Daisy Duke" shorts and briefly bare chested men in terms of skin. But here's the thing: Mr. Soderbergh thinks it's distracting when a director has a writing and directing credit. He's been known to write under the pseudonym Sam Lowry and thus far, no one has been able to interview the lucky "first time screenwriter," Ms. Blunt. Logan Lucky is the archetypical summer movie. It is full of big named stars who aren't taking themselves too seriously but give the material integrity so the audience is all in.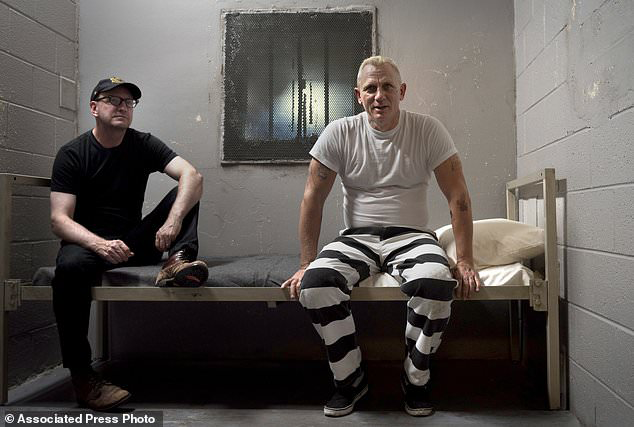 Director Steven Soderbergh, left, and actor Daniel Craig on the set of
Logan Lucky
. (Claudette Barius/Fingerprint Releasing/Bleecker Street via AP)
It has almost a calendar's worth of men between Daniel Craig, Adam Driver, Brian Gleeson, Seth Macfarlane, Jack Quaid, Sebastian Stan, Channing Tatum and Dwight Yoakam. The women including young Farah Mackenzie are all as smart as they are beautiful. Mellie Logan (Riley Keogh) works as a hairdresser, is a dutiful Aunt and is the brains in the Logan family. Katie Holmes (Ray Donovan) rocks it as the not–quite–over–her–ex but seemingly comfortable with her social climbing decisions as Bobbie Jo Logan Chapman. A small but solid performance by Katherine Waterson (Steve Jobs) as Sylvia Harrison rounds out the first three acts of the film. Just to keep us wanting more, in waltzes Hilary Swank (Million Dollar Baby). Somehow, they fit one more Oscar caliber star into a hillbilly heist movie. Ms. Swank as FBI agent Sarah Grayson has the last word and if Soderbergh is true to form, with a little luck, Logan Lucky will be back with another whack–a–do plan.
---
Logan Lucky
Rated PG-13 for language
Runtime: 119 min
Release Date: 18 August 2017 (USA)