Only in New York
Person to Person——
A Film Review by: Jennifer Parker
July 31, 2017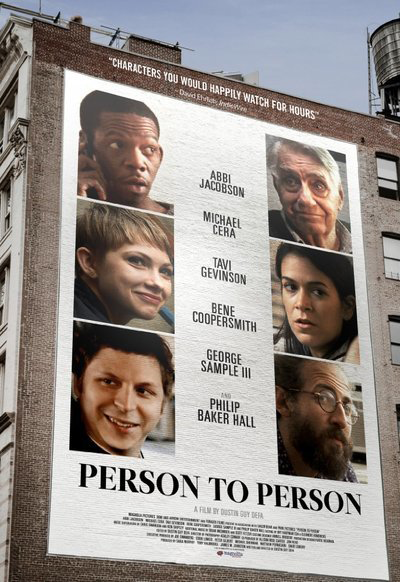 You must have a lot of chutzpah to make a movie about a slice of life in New York City when there is a legacy of iconic films that come before yours. Off the top of my head I can name (in no particular order) Manhattan, Midnight Cowboy, On the Town, Annie Hall, Breakfast at Tiffany's, Taxi Driver, Dog Day Afternoon, West Side Story, My Dinner with Andre and The Muppets Take Manhattan—you get the idea. I love all the aforementioned films plus countless others. None of them would make sense if set anywhere but in New York, which is as much a character as it is a place. Enter into the trove, Person to Person, a day in the life film about disparate characters, human connections and personal struggles.
As an ensemble film shot in 16mm, writer and director Dustin Guy Defa manages to give Person to Person an Indie film feel dappled in sunlight with a nostalgic soundtrack.
Some of the threads work better than others, not because of the actors but because the material was either not consistent or fully developed.
Music collector, Bene (Bene Coopersmith) makes a bad record purchase that sends him on a bike chase tour de New York. His best friend, Ray (George Sample III) is camping on his couch hiding from his ex-girlfriend's family because he moronically posted revenge porn after their breakup for which he is remorseful. Socially awkward teen, Wendy (Tavi Gevinson) finds herself having a "terrible, horrible, no good, very bad day, 1" which we glean is de rigueur for Wendy but this time she's pimped into an unwanted double date. Claire (Abbi Jacobson) is a novice journalist on her first day, investigating a possible homicide under the tutelage of experienced hack Phil (Michael Cera). The pair encounter a watchmaker (Philip Baker Hall) whose work is suddenly under examination by homicide detectives but mostly, his store seems akin to the neighborhood barbershop where elderly characters come to kibitz.
In the context of a workday, we tag along with New Yorkers as they battle internal and external crises both real and imagined. Defa doesn't have enough time to develop dramatic conflict with so many separate stories because he seems to be trying to find a way to weave at least a couple of them together to justify so many being in the same film.
Abbi Jacobson and Michael Cera in
Person to Person
Though the dialogue errs on the overwritten, particularly in the scenes between teenagers, I must shout out to Tavi Gevinson for playing the quintessential angsty yet impossibly chic teenager with a haircut that only she and Mia Farrow circa Rosemary's Baby can pull off. I believed every word she said.
With a lean running time of 84 minutes, it is easy to forgive most of the films foibles because the casting is so strong and the soundtrack of soul and funk provides momentum. Person to Person would be dynamic with fewer stories and a smaller ensemble. Seeing Abbi Jacobson (Broad City) play a non-comedic if somewhat passive role opposite Michael Cera (Arrested Development), made me wish for a movie with half the number of characters with double the amount of plot. Jacobson still manages to find the funny by not trying to be funny. Probably my favorite member of the ensemble is Sample. He is such a delightful actor to watch. His plot line could have been the other half of the film.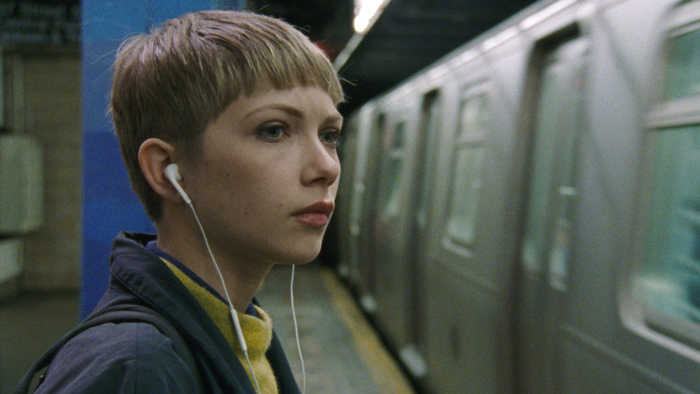 Tavi Gevinson in
Person to Person
Ultimately, Person to Person is a love letter to New York starring a cast of characters who make up "the greatest city in the world." Not all love letters are final drafts but that doesn't mean we shouldn't read them.
---
1. https://books.google.com/books/about/Alexander_and_the_Terrible_Horrible_No_G.html?id=ga7xBKh7q2QC&source=kp_cover