Beatriz at Dinner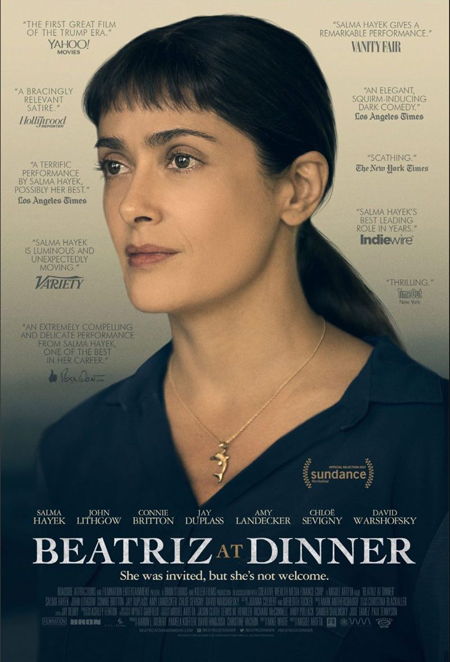 Beatriz at Dinner might appear on the surface like a comedy of manners, a simple and familiar fish-out-of-water tale; but it's also the rare film that feels not just comedic but provocative. Written by Mike White (School of Rock), there are some funny lines of dialogue though this isn't a laugh a minute comedy. It pushes the sub-genre of social realism into deliciously unresolved terrain. It's like when you laugh when you don't know what else to do in an uncomfortable situation.
How does an unassuming and spiritual immigrant, healer by day, massage therapist on the side, from Mexico get invited to a tony Newport Beach residence for dinner and hold her own against the likes of John Lithgow? Enter prolific actress, director, producer, and Academy Award nominee, Salma Hayek. Unadorned by make–up and costumed in less than flattering clothing, Hayek plays Beatriz with integrity. We feel her ambivalence when her car breaks down and she is "invited" to dinner. Beatriz knows it is almost impossible to go from being the help to being a welcome dinner companion and we see it with every camera angle, every sip of wine and every awkward attempt at small-talk under the restrained direction of Miguel Arteta (The Good Girl).
At the dinner, Beatriz is introduced to Doug Strutt (John Lithgow), a Trump-like billionaire real-estate developer who is the antithesis of Beatriz. As the dinner progresses from cocktails to the main course, the alcohol lowers the guest's inhibitions. "Buzzed", Beatriz confronts the conspicuous external lives of the dinner guests and her own internal world as a healer. The most relatable characters are Alex and Shannon, Doug's Attorney and his wife, Jay Duplass (Transparent) and Chloë Sevigny (Boys Don't Cry). Like the audience, they are overwhelmed by their surroundings, don't know quite how to comport themselves and laugh at the wrong times; functioning somewhat as a super attractive Greek Chorus. Amy Landecker (Transparent) as Doug's latest trophy wife delivers caustic and cringe worthy lines rationalizing the killing of large game in Africa aptly setting the tone for the latter half of the film. Landecker's performance is pivotal in provoking Beatriz to believably decompensate.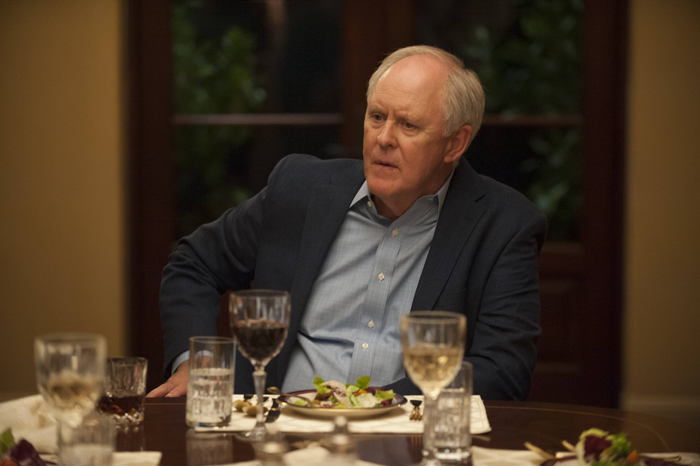 John Lithgow
Lithgow who is a veteran of over 40 films and several television series imparts gravitas to the character that is as alluring as his words are loathsome. Kathy the party hostess as played by Connie Britton (Me and Earl and the Dying Girl) elicits both compassion and embarrassment as her character tries to keep the dinner from imploding and her husband Grant (David Warshofsky of Now You See Me) from forcing Beatriz to leave. Britton's character is trapped in a vacuum of privilege that hinders her from comprehending that her liaison with Beatriz isn't a legitimate friendship. Connie loves Beatriz, but she is too myopic to see it's a business arrangement. We're not sure how to judge her alliance with Kathy, or the animosity between them. Has Beatriz acquiesced to the severing of a relationship, or is she waiting to pounce? As it bifurcates two worlds, juxtaposing the present with flashbacks or are they flash-forwards?) to Beatriz's beloved, Mexico, Beatriz at Dinner though a tight 83 minutes loses its narrative muscle. In the last act, the film comes oh so close to repeatedly climaxing but the underlying tension never subsides. We remain an earnest audience to the final scene.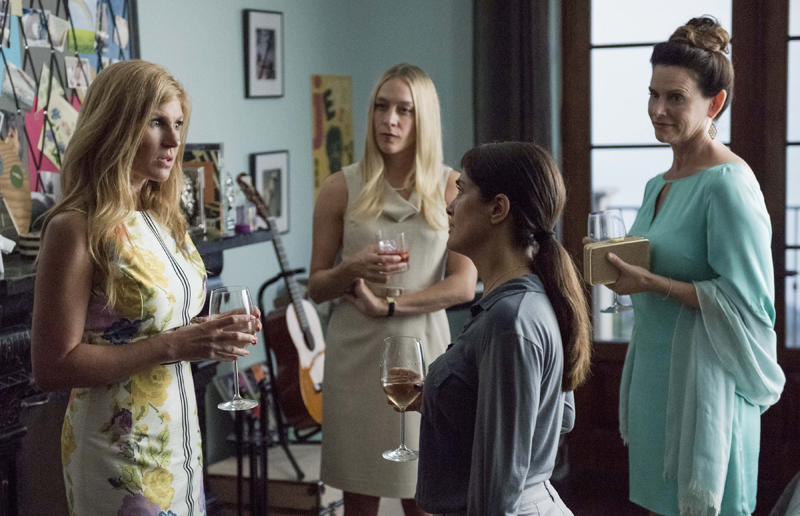 Beatriz at Dinner: Connie Britton, Chloë Sevigny, Salma Hayek, Amy Landecker