The Mistress, the Publisher, His Son & His Mother
The Only Living Boy in New York
A Film Review by Jennifer Parker
August 05, 2017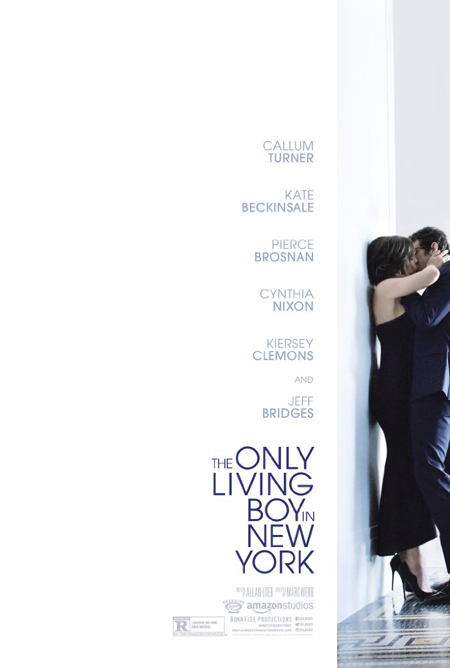 Thomas Webb (Callum Turner) is one part Holden Caulfield, one part Benjamin Braddock, one teensy part Ferris Bueller and one part William S. Burroughs all folded into a good looking, angsty and almost but not quite, impossibly handsome millennial package. His strength is capturing the essence of the guy who is floundering and directionless but striving to work himself to a reasonable place. He possesses the acting chops to drop his native British accent convincingly enough to play a native New Yorker from the Upper West Side now slumming it below East Houston Street (for those of you not in the know, it isn't pronounced like Houston, Texas, rather like how-stin) to the horror of his social status conscious literati father, Ethan Webb played by none other than four-time former Bond alum, Pierce Brosnan.
Unlike most directionless men in coming of age love stories, Turner's Thomas Webb gets the girl, loses the girl, breaks up an affair, gets invited to fabulous parties, gains a mentor and is the inspiration for a novel. He does it all with a certain amount of humility as the poor shmuck is aware of his status as the son of a famous publisher and artist and darn it, he wants to make it on his own though he'd rather do it with a little help from his best friend, the beautiful and brilliant NYU Student, Mimi Pastori (Kiersey Clemons of Transparent).
The problem with The Only Living Boy in New York isn't the casting or the acting. I can't imagine that they could have had a better cast. We're talking seven–time Academy Award® nominee––Jeff Bridges, Cynthia Nixon a veteran Broadway actress since the age of fourteen but probably most recognized for her role as Miranda Hobbes in Sex in the City, Kate Beckinsale (Absolutely Anything with Robin Williams) in addition to Brosnan and Turner. The problem wasn't Stuart Dryburgh's gorgeous 35mm cinematography that gave the film a timeless sort of a feel. The script by Allan Loeb that he spent more than a decade bringing to life was tight with a running time of eighty–eight minutes. So, here's the thing, if you like New York stories, see TOLBINY. If you love Jeff Bridges, ditto. If you want to see one of the most benignly adorable stalker scenes ever, ditto again (hardly a spoiler when it's in every trailer). The already delightful original music which is by Rob Simonsen (Foxcatcher, Gifted) probably shines brightest in this scene.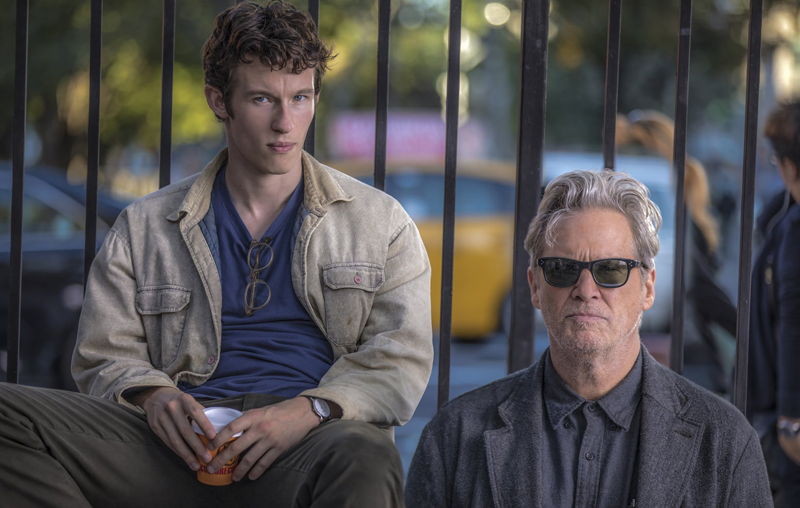 Callum Turner and Jeff Bridges in The Only Living Boy in New York
Photo credit: Niko Tavernise
Courtesy of Amazon Studios and Roadsid Attractions
Call me cynical but I just can't be convinced that director Marc Webb needed to reprise what was clearly necessary in his last foray into romantic movie making with 500 Days of Summer by employing a third-person narrator. To the unfamiliar, 500 Days of Summer is a rom-com that time dashes over a 500-day period. We need a little help to stay oriented. While the latter film has an omniscient narrator who never appears in the film, TOLBINY has the occasional interruption of Jeff Bridges' distinctive voice explaining what needs no clarification. We get it—young Thomas is going to make some mistakes because that is what young people do, he's going to regret some of them but enjoy himself in the process. He's going to learn that his parents are human beings in their own right and that things aren't always exactly what they seem.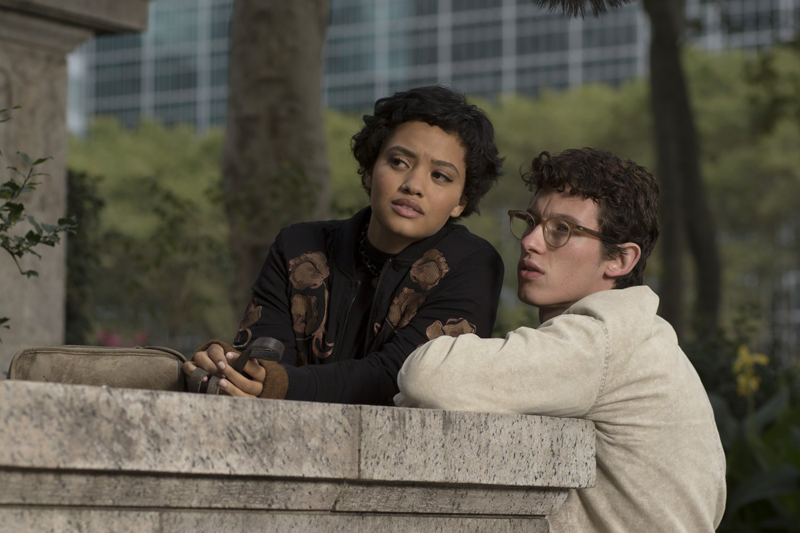 Kiersey Clemons and Callum Turner in The Only Living Boy in New York
Photo credit: Niko Tavernise
Courtesy of Amazon Studios and Roadsid Attractions