The Big Picture
Faces Places—
by Jennifer Parker
October 03, 2017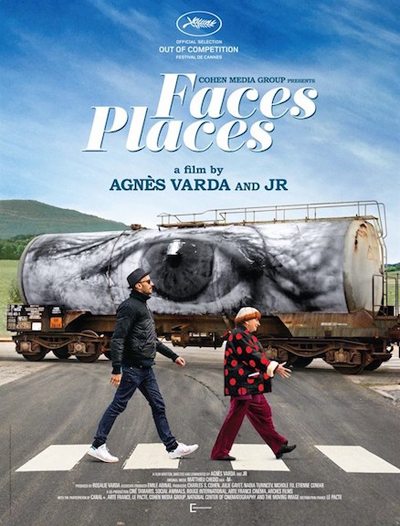 Faces Places transforms the quotidian into objects of fascination. The meta documentary is a film about the process of making art yet the subjects are so lacking in narcissism that it's a delight to watch. JR and Agnès Varda explore the French countryside in his van that is decorated like a gigantic camera. Inside is a telephone-booth size studio and large format prints extrude out the side. But really, the film is full of gems of great life advice or at least things to think about. I found myself going back to Varda saying she likes her feet planted firmly on the ground though she thinks her feet are too small. She wants to take pictures so faces don't fall through holes in her memory. The film opens with animated titles imagining how the two artists in crime meet. They go through a series of hilarious scenarios like a disco, and bumping into each other randomly on a country road.
"Chance has always been my best assistant," Agnès Varda tells JR. What seems clear is that Varda befriended the young art scene celebrity in the last few years. Their plan is to drive from one rustic European village to another, invite the townspeople to pose in the tricked-out van that JR has transformed into a mobile studio and paste the resulting immense five second prints onto any vertical surface in their village where they will enhance the landscape and tell a story. "We're aiming for the power of imagination" said Varda.
Chemistry: Humphry Bogart and Lauren Bacall had it. Paul Newman and Joanne Woodward had it and Agnes Varda and JR have it--but not in a creepy Harold and Maude sort of way. They just get each other. If this is Varda's last film, it isn't because she is out of ideas. It's clear that underneath her less than five-foot frame and two toned head of red and white hair (why have one when you can have two she says), the avant garde film maker of the 1970s still has plenty to say. Ah, but she has always had difficulty financing her work for reasons that seem to vex women directors. It's just that much harder to get funding. She has seen 88 spring times, her eyesight is failing and she has taken on a co-director for the first time, the semi-anonymous street photographer and installation artist, JR. The 34-year-old Frenchman manages to wear sunglasses and a fedora in a non-ironic way and has more than a passing resemblance to a young Jean-Luc Godard.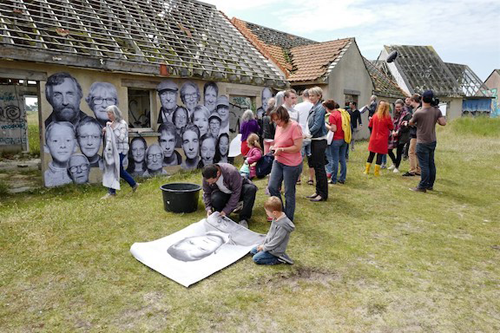 Faces Places - Cohen Media Group
From time to time, the two bicker like an old married couple. He won't take his sunglasses off, even at night. It drives her crazy. She has opinions about certain things. Cooped up together in JR's van for days at a time can't always be fun. There's a scene teetering on precious but a reminder that disco never dies when the pair rock out to Anita Ward's 1979 hit Ring My Bell. They set the land speed record for crossing the Louvre with the aid of a wheelchair and JR running and dancing behind it while recreating the classic sequence from Godard's 1964 film, Bande à Part. The pair dream up art where it is least expected from water towers to shipping containers to the side of a barn and dilapidated buildings. The prints are on paper, not photo stock. There's an ephemeral quality to them, some last for weeks or longer, some for hours. One of the subjects says the work is surprising and "art is meant to surprise us." Amen.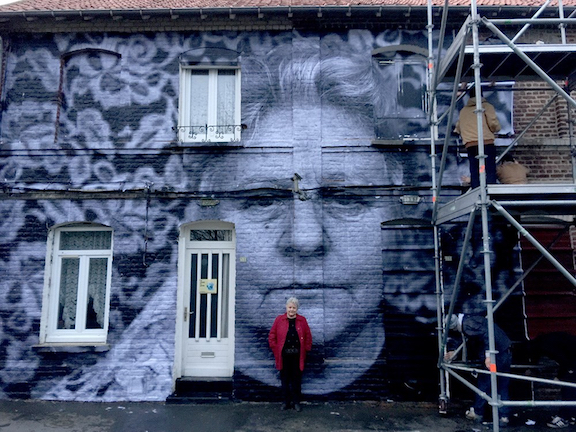 Faces Places - Cohen Media Group
---
Directed by Agnes Varda & JR
Release Date: October 2017
Runtime: 89 minutes
Cohen Media Group