Review of The Day Judge Spencer Learned the Power of Metaphor
by Winnie Khaw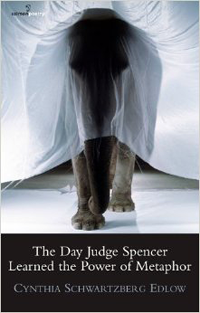 The Day Judge Spencer Learned the Power of Metaphor
by Cynthia Schwartzberg Edlow
Poetry
Salmon Poetry
Pages 94
ISBN 9781907056963
Review of The Day Judge Spencer Learned the Power of Metaphor
by Winnie Khaw
X
About Winnie Khaw
Winnie Khaw aspires to create quality literary work, whether in poetry, creative nonfiction, or more questionably, fiction, and incidentally become astonishingly wealthy and adored by the world. Her work is featured in Magic Lantern Review, Empty Mirror Books, Passages North, Palooka Journal, The Philadelphia Review, Eclectica, The Daily Satire, etc. But mostly, Winnie spends her free time being silly...
From the opening poem the reader proceeds to unpack the morbidly entertaining contents of the "long, leathery, mottled man-luggage" ("Autopsy: Upon the Tamis Table"), a frightfully delicious description of a dead body about to autopsied by experts. Thankfully, Edlow's actual work is lively and bright, evincing innovative humor and a keen imagination that blithely interrogates the essence of human behavior in reaction to everyday situations. Positive energy flows throughout the work on subjects ranging from a "naked attorney in the ladies' room" to "ants." The titles read like a whimsical shopping list for an imp on a holiday rampage, "When Academia Took Me to Lunch Then Fed Me the Bull," "The Persimmon Can See You," and many other entertaining headliners.
The eponymous poem "The Day Judge Spencer Learned the Power of Metaphor" is frequently food-spurting and startlingly comical. In it the "classically round, pointless" face of "lady attorney for plaintiff" is creatively compared to "the courthouse sink" whose "handwritten line[s] ris[e] ... flying like bats unstuck." If Judge Spencer didn't learn how excellently Edlow could apply poetic imagery and metaphor to page that day, this amused reader certainly did. Yet, even in this overall vivid piece there are lines that obscure instead of illuminate, bewilder instead of clarify, and tilt between sense and nonsense: out of context, "The feeling is soil but where to put his finger to it," among others.
In another poem, "Skateland," the 11-year-old speaker matter-of-factly relates that she was "pretty old" when she "got that [her] mother hadn't taught her proper hygiene," and then follows with a detailed account of her feelings when she comes upon naked boys. While this piece offers some light on the "weird aroused repulsion" the speaker experiences, the prose lines sound neither quite like a child nor an adult looking back to the time of childhood, but rather something oddly in-between and a bit unpolished. Other poems, as well, could have benefited from some pruning, not of image and metaphor, but of the language used in evocation of the above. That being said, in the bulk of the poems Edlow skillfully uses a prose-ish form that well offsets the quirkiness of her quick wit, words and ideas.
The celebration of the privilege of living, of life, is often well expressed even within usually mundane circumstances. However, many a poem wanders off into a sort of theme park which, though undoubtedly full of fun rides and amusements, gets lost in its own ingenious metaphor, as though confused as to which activity to do first and trying to do them all. The reader certainly experiences Edlow's words with pleasure, a world, as Edlow says, is "permeated with a sense of wonder" to an admirable extent. However, seeming randomness in organization, even if intentional, and unevenness in lucidity, flow, and originality of lines, somewhat detracts from unadulterated enjoyment of The Day Judge Spencer Learned the Power of Metaphor.