Fireflies by John Leland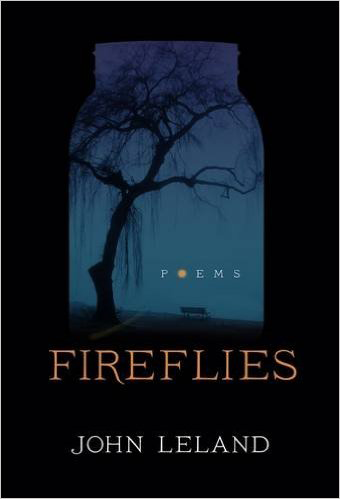 March 25, 2016
Poetry
Fireflies
by John Leland
Mercer University Press, 2015
56 pages
ISBN 978-0-88146-550-1
by
Brennan Burnside
X
About Brennan Burnside
Brennan Burnside's work most recently appears in Word Riot, Maudlin House and Loud Zoo. His chapbook, Room Studies, is available from Dink Press.
When I read John Leland's Fireflies, I felt the guttural tug of Samuel Coleridge's definition of elegy: that "the poet…presents everything as lost and gone or absent and future." In Leland's poems, the "lost and gone," and "the absent and future" are speakers lavishing and languishing in the irresolution of the present moment.
Leland captures long panoramic journeys, lives and generations in short metered verses. His characters dip their heads toward the future and drown in the present. In "On Song," Leland follows a bullfrog's long trek toward a distant, unnamed (and perhaps nonexistent) destination: "Grown old jug-jugarumping/ to a bog indifferent to your song/ you chant half-heartedly your requiem/ out more of habit than of hope, and quit,/ resigned tonight to personal extinction." The poem is one of many that express the loneliness and futility of the future, the restlessness of the present and the necessity of hope for hope's sake.
Despite the sardonic tone Leland takes toward more imaginative gestures (i.e. "hope"), he never dismisses them. In "Casting," a character tries to reconcile an idyllic memory of his father fishing with the reality of what might've been beneath that moment so long ago: "red in the vague tug of twined thread/ the terrors of the trapped/ then draw them, slowly/ towards the sunlight and death." The poem encapsulates a binary Leland will bring forth again and again, that of realization versus imagination. The poem asks if viewing the world cynically (a particular form of "the real") is of any greater worth than the notion that life is an imaginative landscape.
Leland doesn't seem to take one side or the other. His poems simultaneously praise the joy of imaginative perception but also languish in the bitter "reality" of the sullen emotions underlying them. In "Cocktails," he notes "how disappointed one is/ when middle age's lowering clouds/ close in on one's horizons, how preferable to strike at those around one rather than oneself." The issue is not whether the world is fundamentally materialist or not. Rather, our responsibility, according to Leland, is to be a self-actualizing agent in the present moment. In other words: compromise.
Coleridge's definition of elegy as either conveying the "lost and gone" or "absent and future" is something Leland plays with by putting the two ideas in conversation with the equally troublesome binaries of imagination and realization. In "Fireflies," Leland describes the child-like capturing of fireflies with the gruesome discovery of a "jam jar filled with light/ grasped tight in fingers green with gore" and soberly relates "How you rose the morrow morn/ to a jam jar dark and dead/ and overheard your life's lid turn/and caught your breath on air gone stale?" We create sorrow for ourselves and others in our search for beauty and in our desire for order. But this, Leland's verse implies, is the price of trying to straddle the binary of real and imaginary worlds.
In "Conjugating Verbs" Leland notes how the self is stretched between the imaginary and the real "like the deceptions we all play upon/ ourselves, remembering as in a film/ ourselves outside ourselves, driving a car/ or eating lunch, or this: kissing, eyes closed." We imagine ourselves as part of a landscape trapped within our imagination. But time disrupts our tender fancies. We protest, but, Leland notes, we also willingly participate and make compromises in order to enjoy our fantasies. We live an unreconciled life but are amused by its awkwardness. We welcome life's mysteries, destructiveness and eventually, its interruptions.