Someone's Trying To Find You by Marc Augé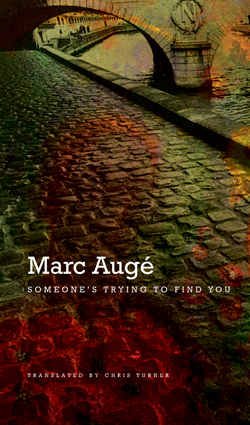 January 21, 2015
Someone's Trying To Find You
Marc Augé
Seagull Books-University of Chicago Press, 2015
152 pages
ISBN 9780857422439
by
Charles Ross
If a mysterious stranger approached you and said that someone was looking for you, what would you do? Most people would turn and walk away, but in Marc Augé's novel, protagonist Julian Arnauld is intrigued. Perhaps it's because he genuinely curious about the stranger's intentions–a young woman named Claire—or it's simply because he finds her to be stunningly beautiful and his masculine drive can't say no to her. Julian doesn't seem to know which it is either, but he chooses to trust her, and throughout the novel a curious sense of mystery develops.
Claire is a narrative psychologist, which is a real area of study, but the way she goes about her profession is all her own. A client who is interested in reconnecting with an old acquaintance will hire her, then she interviews both the client and the other person and tells them whether or not they should meet. Claire can't reveal the identity of the person looking for Julian, but he must recount various stories from his past if he wants a chance of finding out whom it could be. Unable to resist the possibilities, Julian agrees to meet with Claire and discuss his life. In some ways, this novel is a mystery story, since Julian is trying to figure out who could possibly want to see him. There's Julian's ex-wife, who he hasn't spoken to in years and couldn't imagine a reason she'd want to see him. Then there's another woman who he had a brief, but passionate love affair with in his younger days while in Berlin. She's the one he'd like to see. At the same time though, there lingers the question of what Claire's true intentions are, and why she is so interested in 1968?
Marc Augé's background as an anthropologist made me expect Someone's Trying to Find You to be interesting in an academic sense, which was certainly the case, but I was surprised by how engrossing the narrative was. The mysteries surrounding Claire and the person looking for Julian made it hard to stop reading, and it helps that both Claire and Julian are so endearing. Claire is young and still fairly innocent, though she's frustrated with her career. Julian on the other hand is in his sixties and retired from teaching, and he seems rather content with how things have turned out. Much of the novel involves Julian revisiting the past, but the novel doesn't fall into the cliché of an old man sadly looking back at his failures. Julian does feel slight regret that a brief romance in Berlin never amounted to anything, and that his life has become a bit too routine. That's why he seems so welcome to Claire's entrance into his life–she adds something new and exciting, as well as the possibility of revisiting a past love.
A little more than halfway through the book the mystery behind Claire is revealed, and at first I felt that Augé might have pulled the trigger too soon. I wondered what the point of reading on was, since there wasn't a great deal pulling it forward for a bit afterwards. Quickly though, I realized that the mystery surrounding Claire was yet to be finished, and then characters from Julian's youth appear to make for a surprising, yet believable, ending.
Someone's Trying to Find You is more than just a mystery novel. At one point in the book, Claire says about all of our pasts, "Quite often they come to nothing...They don't have an ending. We feel crippled and hurt by them, because we can't really manage to shake them off." The real heart of this story is that Julian is trying to make sense of his own past, "to shake it off" and find meaning in the present. With this novel, Marc Augé poignantly shows what it's like to be a man nearing the end of his life.