Put Your Hands In by Chris Hosea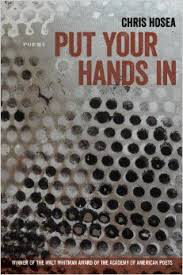 Poetry
Put Your Hands In
by Chris Hosea
Louisiana State University Press
194 pages
ISBN: 978 0 8071 5585 1
by
Christina M. Rau
John Ashbery judged the 2013 Walt Whitman Award for the Academy of American Poets and it's no wonder why he selected Chris Hosea's collection as the winner. The poems create a different way of looking at people and things, infusing the New York School vibe of anti- and alternative-narrative throughout. The pieces confuse and delight and reveal in a mostly successful way.
With little punctuation and a lot of enjambment in the first verse poems, specific sensory detail builds colorful worlds that may seem confusing at first. In "Choose Stutter Brie" lurk "a few cultured girls (not many, it's true) / swirled cocktails with red swizzles / / made listless by the clanging air." Beginning there and in "One Of These Girls," he traces through family (grandmother, wife, sister, mother), former dates and "vacuum women." The female appears subtly through verse and prose poems and verse again. The observations are genuine and mostly kind.
A group of prose poems shifts the focus to relatives, each one a dossier concerning character, revealing a specific moment, conflict, or object that represents the whole, a type of synecdoche with the inanimate and abstract. "Granddaddy Old Grand Dad" begins, "In a pickle jar. Designed to grow molds. . . On wheels without wheels within them" (a reference to Seamus Heaney). It ends "Tendrils furled in parlors. Inky. Wait for the mood to lift. No, lift it." Though not a narrative, this box of poetry uses details that others may ignore and allusion to define character. Hosea develops cadence through fragments within this prose poetry.
While these poems are distinctive, some poems in the second half (pp. 44–51) meld into each other using lists of images. This blur is not necessarily purposeful or positive. Instead of the success found in the prose poems, these become words on words on words and lead to getting lost, not in the good way. Also distracting are the references to hyper-contemporary technology that simply does not seem to fit: iPhones, Facebook, Uggs, Instagram, and Yelp take away from the surrealist-like scenes.
In "Roof Garden Heritage Site," Hosea mentions Gertrude Stein to no surprise as her influence becomes apparent. He shows their love of words further: from "The Barn Party:" I am going to / welcome … plaints, / pleats, ripped faces, / … so I made lists / and lost in the fall;" from "Hard Drive Scrub:" "what's hidden in fat slacks power dons" and "subtropical fairly spread / . . . blooms fairy of death." From here to the end, the poems grow fast, using a lack of punctuation again to crush forward with no time for actual emotion except perhaps anxiety about the need to include all words and all influences (Carver, Plath, Eliot), kind of like Whitman but with shorter lines and fewer-ing verbs.
"Across Boss Desk," a poem that crosses the page with indents, breaks, and caesurae, and "Purple Snow Purple Snow," a Whitmanian-Ashberian sprawl, both draw together all motifs in this collection: women, travel, sound, drugs, protest, music, family, and city. That's the world. That's life. All at once from all angles.