Swimming by Karl Luntt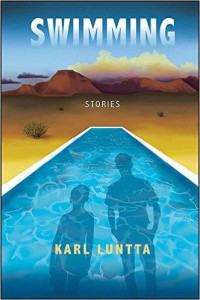 Fiction
Swimming
by Karl Luntt
SUNY Press, 2015
180 Pages
ISBN13: 978-1-4384-5872-4
Paperback $16.95
Review by
Jonathan Crecelius
June 30, 2016
Karl Luntta's Swimming offers readers a global view of modern life. With settings in Africa, America and Europe, Luntta shows how finding real relationships among intracultural backgrounds is still possible. Although there are shared locations and plot points in many of Luntta's stories; they are all distinct, connected only by the theme of human interaction. Through humor, kindness, or similarity, Luntta's characters learn to find their place and purpose.
There is a large cast of characters in Swimming's eight stories, from a Danish teacher in Botswana to a young South African girl visiting her father in New England. A young Southie boy deals with the death of his father and a Peace Corp worker tries to tell a colleague about his mother's death. The one distinct similarity among all of the main characters' stories is that they are experiencing some kind of confusion or frustration with what they see around them. For example, in the first story "A Virgin Twice," the main character is an American teaching in Botswana, trying to figure out why the village is settling an assault the way that it is.
Overall, the characters come off as believable. Although their struggles might not be immediately relatable to the reader, they show a sense of true humanity with the way they are presented. You can feel Maag the Dane's sense of urgency in trying to finish his pool before he dies. You can understand the New Englander Kevin trying to make a genuine connection with his South African raised daughter. The stories Luntta presents are highly relatable, which is perhaps why the characters are three-dimensional and engaging.
Still, don't expect any life changing revelations after reading these stories. Instead, expect to read a collection of simple and effective, if not lasting stories.
Karl Luntta's "Swimming" is, overall, an enjoyable read. It is a story collection that details what living in a widespread, global, and multicultural society is like through the lens of everyday people and events. Each piece also illuminates the lives of Luntta's characters, and should speak to the reader personally. It is up to the reader to figure out what bits of everyday wisdom they can take from the characters and use in their own daily life.