Phoning Home: Essays by Jacob M. Appel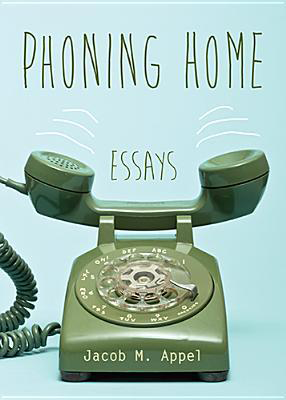 Nonfiction
PHONING HOME: ESSAYS
by Jacob M. Appel
University of South Carolina Press
2014
177 pages
ISBN-13: 978-1611173710
Hardcover $24.95
Review by
Beth Gilstrap
In these thirteen essays, Jacob M. Appel applies his sardonic wit and intellectual scrutiny to all aspects of his life, from his first days as a medical resident to his "private apocalypse" at losing his beloved childhood rubber cats, whom he referred to as merely, "Fat and Thin." The book weaves humor and a level of inquiry that could only belong to someone who seems to have studied and thought about many aspects of import to the modern age, from assisted suicide to the Holocaust to friendship in old age. Appel is a multi-genre author (his story collection Scouting for the Reaper won Black Lawrence Press's Hudson Prize in 2012 and his first novel The Man Who Wouldn't Stand Up won the Dundee International Book Award in 2012). He is also a bioethicist, physician, lawyer, and social critic. Looking at his bio, I wonder if Appel ever sleeps. I sometimes doubt authors who seem to do so many things so well, (really, that's just jealousy because, damn, it if he can do all that, I should be able to be an anthropologist and chef, but I digress) but Appel's lucid, sharp prose speaks for itself.
In the first and title essay, "Phoning Home," Appel reels us in with what he claims is one of his deepest secrets. He was the crank caller who terrorized his family during the summer after he turned seven. These calls "ranged in frequency from once in an afternoon to many times in an hour..." (1). At first, it seems the essay is the sort of analysis and puzzlement of an earlier self that comes in therapy: "What's most remarkable about my career as a deranged lunatic is that it started and stopped at the age of seven, an isolated incident without precursor or follow-up" (7). But the moment is used to attempt to decipher the nature of deception and how it clouds relationships. Should we always confess or is confession, at its core, a selfish act? A confession is the shifting of weight from one to another.
Another standout essays include the previously mentioned "Fat and Thin" in which Appel explores the politics and ethics of wealth and poverty. How none of that matters when childhood attachment is involved. One of my favorite lines in the whole collection comes when his parents have explained to him that they suspect the hotel maid took his toys for her impoverished child. He exclaims, "Did I really want to yank Fat and Thin from his deprived little hands? YES, I DID!" (19)
He moves through moments of transformation in his own life, as one would expect from a seasoned short story writer. "Mr. Odd and Mr. Even" explores the differences between his maternal and paternal grandfathers and how much one can be influenced by the survivors and victims in one's own family: "Maybe that is the greatest of wonders: that we can be shaped so much by those we've known closely, and equally by those we've never known at all –and that we, too can change the world long after we've left it" (43).
In "The Man Who Was Not My Grandfather" Appel delves deeper into his family's Holocaust story when he discovers that his otherwise "gold-hearted grandmother" would not marry her cousin during prewar Nazi-occupied Europe, thus not allowing them refuge in America. When asked what happened to her father's family, his grandmother looked at him "as if the earth were flat. 'I imagine they all died in the war,' she said, matter-of-fact" (48).
Later essays have more of a bioethicist's lens to them. He infuses his own experience as a new resident, as a witness to his grandfather's slow decline and death, and tend toward a pragmatic, unapologetic view toward assisted suicide and other controversial issues in modern medical discourse. He makes compelling arguments, but I admit I am probably his best audience in this regard. Like him, I have witnessed moments near the end of loved ones' lives I have no intention of duplicating. I love bearing witness to Appel's arguments with himself most of all. In "Charming and Devoted," we see him grapple with the truth that in the modern age, "a narrow chasm separates health care from torture" (130). We see the importance of "lifelong connection" and "transient intimacy" particularly in old age. We see how most stories don't get the luxury of closure. We get to see inside the mind of a bioethicist physician psychiatrist lawyer–and it is a truly engaging place to be. I won't enter the care of another physician without his words echoing in my mind (I plan to pen an advanced directive and carry it with me). Each of the thirteen essays in Phoning Home spurs us to ponder who we are, who we carry with us and why, and the great calamitous miracle of it all.