Knuckleball by Tom Pitts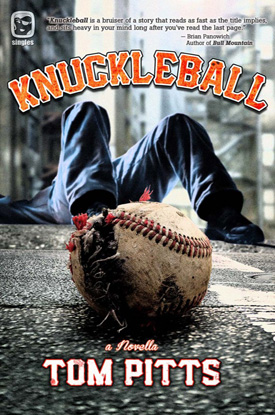 August 13, 2015
Fiction
Knuckleball
by Tom Pitts
One Eye Press, 2015
128 pages
ISBN: 978-0692370773
by
Hector Duarte Jr.
Tom Pitts's latest noir novella, Knuckleball is about small town passion for baseball and a vicious murder that caps off the start of the season. The setting, however, is not a small town but the major metropolitan city of San Francisco. Pitts cleverly makes the city read like a small town by mapping it in a deft, tight-knit fashion that inevitably clashes the main characters together head on.
Knuckleball is a nostalgic story etched in a contemporary setting, which is a noir tenant: someone still trying to forge at least a little bit of good when such values have been long left behind. The tragedy lies in the fact the reader knows it will ultimately be for naught.
Enter Hugh Patterson: "old school, a throwback to another era. He was concerned with justice, helping old ladies across the street, and all that other stuff that seemed like a joke to the people of San Francisco."
Patterson leads through example to a generation that stopped paying attention long ago. He knows every bodega owner and street dealer by name, understands the strange, sometimes stifling pecking order prominent in even the smallest Hispanic family; even speaks in embarrassingly broken Spanish in an attempt to connect a bit better with the regulars on his beat. Unlike the generation of cops after him, Patterson's first priority is to protect and serve. He is proud of his city and just as proud of the Giants, begging his partner Vince Alvarez to join him at the end of their shift for "burritos, beer, and baseball. As near to nirvana as Hugh could ever get." Patterson patrols opening day with a beaming smile and engaging sports talk with whomever will listen.
Vince Alvarez is tired of hearing it. Patterson's new school partner can't waste time with such small trivialities because as we learn later—for issues that are his own—he obsessively mistrusts his wife. Alvarez steps out of the taqueria to call her the afternoon of opening pitch and, Blam! Patterson is shot point blank in cold blood. Pitts balances a gruesome scene with a very moving image when Alvarez notices, "the little gold SF Giants logo that was pinned to the uniform, not permitted by regulation." Thus the Giants season begins tainted in Patterson's blood.
Mirroring Patterson's love for baseball is teenaged Oscar Flores who, "hated his brother. He knew it may even be a sin, to hate your own brother the way he did, but the way he saw things, it could be no worse than the sins his brother committed." Oscar came to love baseball after spending long hours locked in his room with it as a way to avoid his brother Ramon's vicious ridicule and taunting. He is watching the opening game when he hears the gunshots just outside his bedroom window and spots the shooter. Convinced about the assailant's identity, Oscar sets off a series of intersecting alibis and just enough red herrings to fill a baseball season.
Having left his partner suddenly alone, Vince Alvarez comes under suspicion from the force while grappling with the suspicions raised by his wife. He takes it upon himself to figure out whose story is the one that most accurately jigs. The irony being that he is not Hugh Patterson. Unfamiliar with his beat and its cast of characters, Vince starts realizing he should have paid more attention to his partner whilst he had the chance. Where Hugh might have started piecing this one together by the seventh inning stretch, Vince is out of his league.
It's intriguing when an author uses setting as character and Knuckleball is just as much about the city of San Francisco, the life beating through it, and the life it beats inside these characters. Tom Pitts knows and loves San Francisco. The tight map he plots out is much like Ian Rankin's Edinburgh: well drawn, easily navigated. He takes a big city and makes it read small and claustrophobic enough to have characters intersecting and missing one another by mere seconds. The baseball metaphor adds to this suspense by giving those involved a time clock by which to adhere to. It's not a rosy ending by any means. Is there resolution? Sure, but it comes at a disturbing price.
With Knuckleball, Pitts uncompromisingly delivers a quick, punchy story that—like a baseball to the ribs—leaves the reader gulping for air, wondering where the hit came from and when it will stop hurting.