Midnight in Siberia by David Greene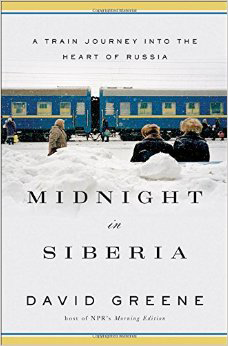 Midnight in Siberia
by David Greene
New York: W. W. Norton & Co. 2014.
292 pages
ISBN-13: 9780393239959
Reviewed by
Alexandra Grabbe
NPR's Morning Edition host David Greene invites anyone curious about modern-day Russia to join him on a 6000-mile journey through a snowy landscape, from Yaroslav to Vladivostok, in his first book, Midnight in Siberia. Having covered Russia as a foreign correspondent in 2011, Greene knew that tourists who visit Moscow or St. Petersburg encounter only the urban elite and barely get an inkling of what real Russians are like, so he returned a couple years later, on assignment for NPR, and explored the heartland, interviewing people, randomly chosen or not, at the various stops along the Trans-Siberian Railway.
Greene reports that, at first, even buying train tickets was a challenge and expresses gratitude to his colleague Sergei, who agreed to be come along and explain the system. Train travel itself in Russia seems daunting. Greene succeeds in giving readers the impression that they are right there with him, checking out fellow passengers and trying to adapt to the foods available en route. His description of gaining access to the two upper berths in one sleeper car is especially funny.
Most of the chapters are named after people encountered along the way. It doesn't take much to get Russians talking. Readers meet Svetlana, an entrepreneur who runs a small hotel in Ishim, struggling with corrupt layers of bureaucracy every day. Greene spends a joyous evening with a group of babushkas, who made international headlines as runners-up at the Eurovision singing competition. They sing Beatles covers, as well as traditional songs, finding that music and companionship can heal wounds from the past. In Novosibirsk, Greene has tea with Alexei, who runs the carpet company his mother launched after the Soviet collapse and has mixed feelings about the new government, despite the fact that his own family was able to take advantage of the opportunities it created. And in Chelyabinsk, a hunt for space debris after a meteorite landing leads Greene to a young man orphaned as a teenager, forced into military service, and now figuring out if any of his dreams can come true.
Most of the interviewees are resigned to their fate. I was particularly moved by the story of another Alexei, a victim of the system who was wrongly accused of a crime and, to escape from local authorities, jumped out a window, shattering his spine. With no recourse and no money, he must now crawl down four flights of stairs to get outside. I also felt amazed at the stoicism shown by Liubov, the mother of a hockey player who died in a fiery air crash: she blames unsafe infrastructure for her son's death, rejecting the idea that the district staged the crash as a pre-election distraction while Putin was in town. The book is full of such chilling anecdotal life stories. Greene shares them without sitting in judgment on those responsible, more often than not, the state itself.
Readers learn what wine to order in Russia (Chilean Merlot) and why the word "plan" is frightening in the mouth of a tour guide. They gain insight on Putin and discover Gorbachev wasn't as popular in his homeland as one might have thought. Greene does ask probing questions, to the extent such questions will not jeopardize his book project, and modern-day Russians do not hesitate to confide in him. Before reading Midnight in Siberia, I wondered why no one in Russia seemed ready to protest the situation. Green reveals there's a general fear of greater chaos, reason enough not to make waves, let alone consider staging a revolution.
At the front of the book, Greene includes a map showing the Trans-Siberian Railroad route. Although photos are included, they are of inferior quality and do nothing to increase the reader's enjoyment. While in Yaroslav, Greene trekked through the snow to view a memorial plaque to victims of the Gulag, erected in Rybinsk, but, in Ekaterinburg, he did not bother to search out the church built over the site where the imperial family was murdered, a choice that will disappoint some Russophiles.
I did, however, enjoy this book and recommend it to anyone interested in Russia. Midnight in Siberia is a lively travel narrative filled with humor, adventure, and insight. It opens a window onto that country's complicated relationship with democracy and offers a rare look into the soul of twenty-first-century Russia.