Maze of Blood by Marly Youmans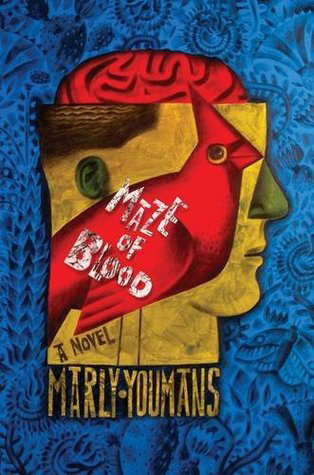 Novel
Maze of Blood
By Marly Youmans
Mercer University Press, 2015
Hardcover Fiction, $24
ISBN: 978-0881465365
Reviewed by
Joe Manning
March 12, 2016
In her fourteenth and most recent book, poet and novelist Marly Youmans reconfigures the life of pulp fiction author, and creator of Conan the Barbarian, Robert E. Howard into an exploration of the creative impulse, and a pilgrimage into the labyrinthine heart of Story itself.
The novel is preluded by an epigraph from Borges, and while the book nods at the maestro and magical realism, Youman's book, which straddles the line between genre and literary fiction with, we think, the express aim of validating and problematizing both, is perhaps best shelved within the somewhat ambiguous contemporary field of fabulist fiction. It is a thoughtful, sometimes clever book whose aim is to explore the Ur-source of creativity and whether we tell stories or they tell us.
Connel Weaver is the son of a perennially absent Texas boomtown doctor and a consumptive Irish matron who has been dying in a slow, continuous hailstorm of blood soaked TB coughing fits for the entirety of Connell's life. She dominates and smothers Connell who escapes and heals himself by spinning yarns and writing stories. His work eventually succeeds in the world of pulps like "Weird Tales" where the real life Robert Howard found resounding success but was misunderstood and unrecognized, to the point of mental instability, at home. "Maze of Blood" follows this trajectory of escape and return, recollection, invention, and exploration of the membrane between fantasy and reality, ever the fiefdom of the creative mind.
The narrative of Weaver's life in the colorful, stinking, sinful, morass of oil-boom Texas is constantly interrupted by and overlaid with visions that terrify and thrill him, visions which become the stuff of the stories he writes. We see Connel Weaver read, imagine, and steal stories which he then grants onto his own narrative. We see as monsters and apparitions rise up before his eyes only to disappear at the sound of his mother's cough or the bark of a dog. The reader must acclimatize to these transitions which arise as if from no where, like sudden shifts in the light resulting from unseen clouds in the oft-described Texas sky, and learn by touch how the novel will proceed—from suicide by side arm back to childhood—in a spliced and reconfigured pastiche that explores the life of a man strung up between ambition and obligation, vision and reality.
Youman's recurrent allusions to Coleridge and the high diction of literary nostalgia slam against the local color of the American southwest. The resulting dissonance sometimes hijacks and other times highlights the books thematic agenda: demonstrating the multiplicity of narratives that humans place in orbit with one another, and the endless chain of association that results. This agenda is discovered in a vast warren of extended, recurring archetypal tableaus. A melange of motifs and fables swirl around the reader like a lovemaking session between Joseph Campbell and Alan Moore overlaid on top of the beer, sweat, jizz and blood of early twentieth century rural Texas. The mono-myth bubbles up from the ground of Youman's book: The mother, the father, The Word, king, warrior, lover, mage, labyrinth, harlot, witch, ice giant, Kublah Kahn and Timogen too: a shooting star illuminates a Texas town in electric blue light, wakes a sleeping child and inoculates him with The Primordial Story whose endless chain of narrative association, hardwired into human genetic memory, become his charge, his burden, and his release.
The result is disorienting, even dissociative; it's engaging and, sometimes, it is instructive. But For a book that concerns itself explicitly with storytelling, and the impulses that lead to, and issue forth as consequences of the creative act, "Maze of Blood" sometimes shies away from its own narrative. Some pieces of Weaver's story are alluded to only briefly, terminate in a cul-de-sac, are laid aside, or are transmogrified into an incomplete mythology which does not fully yield its riches inside the covers of this book. But perhaps what is longed for, what is thought to be missing, is in fact a type of slippery mimesis which the book frequently and valiantly succeeds in delivering: a demonstration of the fluid, overlapping folds between fantasy, reality, mania, and genius that are alternately and eternally obscured in every story worth telling.