The Darling by Lorraine M. López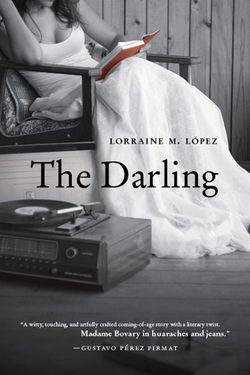 October 29, 2015
Fiction
The Darling
by Lorraine M. López
University of Arizona Press, 2015
264 pages
ISBN 978-0-8165-3183-7
Review by
Kaulie Lewis
X
About Kaulie Lewis
Kaulie Lewis is a writer from the great plains of West Texas. She holds a BA in English and Creative Nonfiction Writing from the University of Missouri, where she worked as part of the Missouri Review's staff for two years. She is now a staff writer for The Millions, an unrepentant caffeine addict and an accomplished solitaire player.
Half the fun of stories is in the retelling, and there's a long and productive tradition of creative adaptation. There are retellings-as-critique, as in Jean Rhy's Wide Sargasso Sea, and modernizing-retellings-because-they're-fun, as Jane Austen's Elizabeth Bennet becomes Bridget Jones. Now the University of Arizona press has released a loose reworking of a classic text hat aims to be both: Lorraine M. López's The Darling.
While The Darling isn't a direct adaptation, it is a novel heavily interested in literary models, most particularly Chekhov's "The Darling." Taking it's epigraph from the Russian doctor's much older story - "She was always fond of someone, and could not exist without loving" - The Darling then explores the obvious question: what kind of existence is that?
The "she" of López's Darling is Caridad Delgado, and the novel opens on her wedding day. She is 18 years old and in love with Anton Chekhov, dead some 70 years. The man she marries is less impressive, and she walks down the aisle at her wedding with her sister's words ringing in her ear: "there's always divorce." Caridad takes that out a few chapters later, and the next 260 pages see her move through about ten years and roughly as many relationships. Though not a direct retelling of Chekhov's story, it's tempting to draw the easy connection. Here is a woman who needs to be in love.
But The Darling is more subtle than that, and more challenging. Though Caridad loves a few of these men, her relationships are frequently driven by other concerns. She needs someone to pay the rent, to drive her to work, and to show her affection, but mostly to let her be, and unlike Chekhov's darling, she doesn't parrot the opinions of the men in her life. Though Caridad's reactions to her lovers range from obsession to tolerance to outright derision, she remains herself.
That is not to say that her self is constant, or easily defined. In fact, Caridad is frequently influenced, even overwhelmed, but it is her romances with reading, not men, that change her. From the novel's first sentence to its last, Caridad's emotional involvement in and dependence on the books she compulsively devours and the white men who wrote them is made clear. Once she's finished with Chekhov and has forgotten all about Olenka Plemyannikova, the woman who needed to love, Caridad moves on to the Shakespeare of the sonnets, then to Flaubert, D.H. Lawrence, Theodore Dreiser and Daniel Defoe. Her reading frequently overlaps with her life - she reads Lady Chatterly's Lover in the middle of a passionate affair, for example - and as she progresses through her books and relationships Caridad slowly develops a better sense of herself, her direction and her desires.
In theory, this reads as an empowering inversion of a classic text. Here's a woman who isn't dominated by her need for men but who instead slowly carves a life for herself, driven by the literary models she loves! But The Darling falls short of its intentions, and is enabled in these failings by exactly the dependence on classic texts that could distinguish it. Caridad feels lightly sketched, too easily dominated by the strong women from the novels she reads, and the characters that move around her are even more simplified. Though she hails from a Hispanic family in Southern California, Caridad's ethnicity is largely ignored, a narrative choice that allows numerous opportunities to further explore her Latina identity and community to slip away. This omission is made more noticeable, and more regrettable, by the novel's publication as part of the University of Arizona's Camino del Sol, a Latina and Latino literary series. And Caridad's Hispanic roots are not the only identifying detail treated too lightly. There is also a trans character, and though I wish I could laud this as a brave motion towards greater representation, she is rendered so shallowly that her presence is at best a failed attempt at empathy, at worst a grab at cultural relevance.
The Darling attempts to overcome these flaws by leaning on the classic works that pepper its pages, but this literary framework isn't enough to support the novel. Though fun reading for fellow bibliophiles who can relate to Caridad's literary loves, The Darling is ultimately an interesting but misaimed stab at adaptation - a brilliant concept that gets bogged down with an overabundance of under-realized personalities, plot events, and, ironically, literary idols.