Find Me by Laura Van Den Berg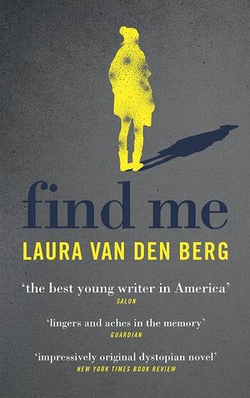 August 20, 2015
Find Me
by Laura Van Den Berg
Farrar, Straus and Giroux, February 2015
288 pp, $26
ISBN-13: 978-0374154714
by
Natalie Sypolt
In this age of Ebola and super-flus, the terrifying world that Laura Van Den Berg creates in her new novel, Find Me, is easy to imagine. The country has been wrecked by a mysterious sickness that first takes the memory and then the lives of those it infects. Some, like Joy (the nineteen year old narrator) are immune, but why is unknown. Through Joy's journey, the reader learns about the fragility of memory, and that sometimes surviving means knowing what to remember, and deciding what to forget.
Find Me is a book in two parts: First, we find Joy and other patients in the Hospital, a converted psychiatric facility in Kansas, where they are being monitored and examined by Dr. Bek, a mad scientist who believes he can cure the sickness by convincing patients that they are not sick. The book really takes off and digs in with Part Two, which comes after Joy has escaped from the Hospital and is setting out on a tragic road trip to find her mother, who she is convinced is living on a key in Florida.
What becomes clear as the reader continues on with Joy is that nothing is clear. What we think we know, maybe don't, and perhaps Bek is right: If you believe something hard enough it might be true. Joy is the very definition of an unreliable narrator. Eventually, she doesn't even believe herself; this, however, is where Van Den Berg's mastery as a writer shines through. In what could have been a confusing, disjointed mess, Van Den Berg crafts a narrative intricately interwoven with past and present. The book becomes memory, and we all know that memory is often questionable, fallible, and unreliable.
"A theory on why we stop remembering," Joy says. "There is a part of our story that we do not know how to tell to ourselves and we will away its existence for so long that finally our brain agrees to a trade: I will let you forget this, but you will never feel whole. What is a memory but the telling of a story?" In this way, isn't every memory possibly a lie, and every person possibly an unreliable narrator?
Most of the book does revolve around the ideas of memory (as well as memory's connection to trauma and survival); however, Find Me also pushes into the arena of foster care and what it might feel like to be a forgotten or unwanted child. Joy's story began on a doorstep, left in a basket and abandoned by her mother. She bounced around foster homes and girls' homes for most of her young life, including to the home of the Psychiatrist (the adult son of Joy's foster parents) who performed experiments on her while his parents were at work. Joy tells us how she once envied a missing girl when she saw a flyer because that girl's parents were looking for her; someone wanted her. Joy says, "Every girl on every missing persons flyer has mattered more than me." Even though an epidemic that causes silver blisters and memory loss might seem farfetched, the epidemic of children who grow up and aging out of in foster care is very real. Find Me reminds us of the children who often get lost inside the system and may never make their way out again.
Joy finds herself in the position of survivor, though she can't quite figure out what she did to earn that spot. Once a girl who worked a convenience store and drank stolen Robitussin to get by, Joy finally asks herself what kind of person she wants to be. In choosing to remember her past, and to forgive what she can, Joy presents the reader with a final image of hope. Even in this dark world, a girl can find herself, and she can survive.