Sorrow by Catherine Gammon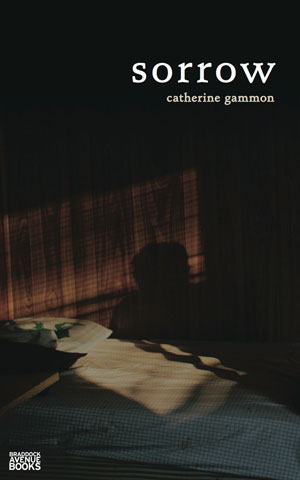 Fiction
Sorrow
by Catherine Gammon
Braddock Avenue Books
2013
304 pages
ISBN: 978-0-615-80861-1
Review by
Mike Hampton
Catherine Gammon's second novel Sorrow is a dense exploration of the interior lives of characters who exist on the brink. Readers are invited to enter the shattered life of Anita Palatino and connect the shards of her past, her present, and ultimately, her mind. They are asked to consider what choices they would make if they were immigrant refugees from a civil war who suddenly had to speak with the police. They are charged to walk with a nun who doubts her ability to help and considers her faith a consequence of chance. They are left to explore whether passion is an escape from despair or solely a trap sprung when hurting gets too much to bear.
The novel's protagonist Anita is buried under the shame of her nightly excursions, the pain of sexual abuse, anger, and her inability to be only one person. In the night she is often overtaken by base urges which transform her into an allegory for lust, rage, and fear. The results of her actions during these periods leave her to hide or reconcile what she's done when she was a different shade of herself.
While Anita's actions set the narrative in motion, those who inhabit her world are just as richly rendered and conflicted and each has a secret singular mourning. Anita's mother has a lifeless existence and is a prisoner in her apartment which she remains. Cruz Garcia and his cousin Tomas bear the wounds of the El Salvadorian civil war as they try to care for Anita and avoid the unwanted attention and grief she brings. Her poor community of refugees and lost souls feels at once threatened by her and desperate to come to her aid as best they can, if only because she represents their lives in a sense: locked by the past, surviving, and praying for deliverance. Sister Monica speaks of this communion even when Anita's guilt grows clearer, "We seemed so alike in those days…Alone in our hearts, secrets, and hungry for meaning, for mystery—some more truthful way of life, an otherworldly but still human love." Though in this passage Sister Monica speaks for herself, it is a shared sentiment for many who know her.
More than sorrow though, Gammon's writing explores the hardships endured by deeply fractured individuals who try to do what they know is right, despite their inclinations to do otherwise. This often is represented in passages where Anita, Tomas, and especially Cruz Garcia battle their inward sexual desires, as if letting them out, as Anita does, would expose a buried self that would destroy them. It is also present in the attempts made to adopt Anita's crime by a man who knows the truth.
One of the most engaging aspects of this novel is that, even though it is heavy with language, paragraphs go on for pages or more at times, the most prominent struggle its characters face is an inability to speak. This damning muteness can be found when Tomas' lack English prevents his opening up to Anita, "He would tell Cruz about his father, and Cruz would tell Anita; he would tell Cruz about his mother, his brothers and sisters, and Cruz would repeat it…" and more frequently when characters are unable to share what is in their hearts as when Anita struggles to confess to Tomas, "She wanted to tell him, to tell him." This paradox of characters unable to speak truly in a novel so intense with language heightens both the characters' fight to exist an honest way, and the readers' imprint of how inwardly barred each is as he or she attempts to free themselves from the scars on their souls.
Sorrow, like Crime and Punishment, succeeds by raising moral questions it refuses to answer. Simple moralizing is barren when compared to the richness found by exploring characters forced to live through a multitudes of lives no matter how painful.