Wandering Time by Luis Alberto Urrea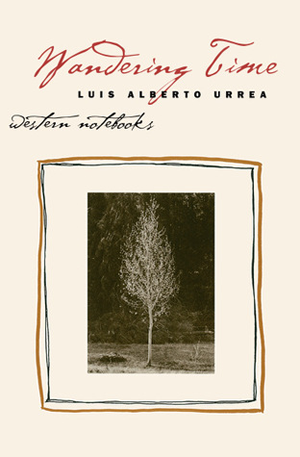 Nonfiction
WANDERING TIME
BY LUIS ALBERTO URREA
The University of Arizona Press, 2015
130 pages
ISBN: 978-0-8165-0282-0
by
Hector Duarte Jr.
Luis Alberto Urrea went through one of the most visceral, real things someone could go through. After splitting with his wife, he set off for the American Southwest and kept track of all the unusual spots visited, odd characters encountered, and existential knowledge gained.
He is a fan of writer's journals: "I am more drawn to Cheever's journals, for example, than to his fine stories…I think writing students can learn 100 times more about writing from a writer's diary than from a writer's Pulitzer Prize novel."
There was reticence on my part going into reading his own journal Wandering Time. Writer's notebooks can sometimes feel self-indulgent and far too abstract. That reticence quickly faded about fifteen pages in when I realized he was pulling off a clever double time, indulging in musings on nature, travel, and the people he met along the way but also providing incredibly useful writing advice: "It seems to me that a good writer must excel at two things: poking around and paying attention. The whole world is your filing cabinet."
From the start, Urrea gives us the goods. He's gone through a tough divorce and decided to pull a Christopher Candless/Alexander Supertramp, making off for the southwest. He picks up a stray cat he names Rest Stop after the spot he found her. She joins him in the car and across many states, only to be ironically snatched off his front porch once back home in Tucson. That is the metaphorical theme to the book. Once he is back home, things become foreign and strange. He is bored because at his very core he is a wanderlust.
"I like to keep moving," he writes. "Running streams can't get stagnant. I hope." Urrea is a shark, chronicling every step, focusing on and embracing even the smallest things his domestic life seems to have distracted him from. If he stops moving, he ceases to exist.
His attention is most rapt by aspens:
Even if you're just walking around the park. Even if your wild country drive is merely the Express Bus or the subway. Even if you're just soaking in the tub after a long day of work. If you listen, you'll hear the aspens—they may be drunk; then again, they may be praying.
Urrea balances the book with writing advice, musings on nature, and encounters—sometimes very disturbing ones—with regular, every day people. Like this diamond from Ben Frank's restaurant in Hollywood:
I sat at the counter. When she put down my silverware, it was covered in frost. "Maam?" I said. "Is this fork frozen?"
"Yeah," she said. "I put it in the freezer."
"Why?"
She leaned over the counter and breathed, "I just wanted to watch it stick to your lips."
Wandering Time is split into five sections, spring through winter, with an extra spring thrown in at the end. It's interesting to see how Urrea's excitement and energy peak and wane in time with each season. So, for example in spring and summer he is at his most energetic and explorative but once fall comes he starts, by necessity, to slow down.
Fittingly, it's the winter section that provides the most insight into Urrea's writing practice because it is then that he, "must be part marmot: winter comes and [he] burrows in, barely writes, eats chili and stares at televangelists, wondering when the next snowstorm is coming."
This is where Urrea really delves into that feel of a writing notebook. Hunkered down for the winter, he writes about all his heroes, dispenses literary advice, as if to keep his mind agile, to prevent boredom.
Wandering Time pays homage to Urrea's literary heroes from Basho to Brautigan and Bukowski. It provides a great balance of stream of consciousness, slice-of-life anecdotes, and valuable writing advice. None of which come across self-indulgent or pedantic. He is not trying to be overly clever or astute. He is just trying to be, and write. As a reader, it's fun to poke around his thoughts and find the flashes of genius scattered throughout.