The Americans by David Roderick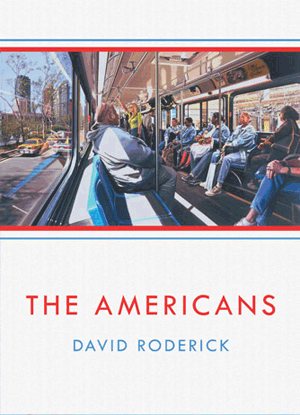 POETRY
THE AMERICANS
by DAVID RODERICK
University of Pittsburgh Press
2014
88 pages
ISBN: 978 0 822963 12 7
At the Height of Empire by
Gareth Spark
With this collection, Mr. Roderick, whose first book of poems, Blue Colonial, won the APR/Honickman Prize, attempts to document the entirety of American life, both past and future, dream and bitter reality, in a remarkably lucid and, one could say almost Academic poetry.
The persona present in poems such as "Letter to Shara in Amman" "Landscape with Tyrian Purple," et al. is that of an affable, well travelled academic perhaps slightly isolated, always watchful, but one riven with an aloof kind of despair. The poems traverse the mountains of Morocco or the ancient streets of Naples or Japanese Bullet trains, but the eye is always on the lost time of an imagined golden suburbia.
There is a particularly chilling line in the former poem when, after contemplating the 'tree of despair' and the 'welling materials' around himself, the poet, in comparison to the titular Shara admits:
'That communion, that awe - I crave it / but all I can do is watch football...'
Moreover, it is in the capture of this elusive, 21st century and particularly American despair that, I think, the collection succeeds in its aim. This is Imperial poetry, regarding itself from a myriad of foreign shores and perspectives and seeing that:
'being an American isn't like being from one of the old nations.'
(from 'Terra Incognita')
"The Americans" contains 6 poems entitled "Dear Suburb" that run as counterpoint to the Poet's more global considerations but this isn't the elitist view of Suburbia being some kind of cultural desert. Roderick tells us in the first "Dear Suburb" poem,
'I'm not interested in sadness / just a yard as elder earth, a library of sunflowers/battered by night's rain.'
Nevertheless, the sadness persists. This is an America that is all border with no center, defined vaguely and only by confrontations with the other, be that cultures, history, dream, religion, but that comes back to those white picket fences, golden lawns, the dream of a place that perhaps never was, the great American dreamland of endless roads that lead to no place in particular.
In that sense, the collection is a success in that it underlines the disinterest of the Imperial for the colonial, and clearly displays the unease between that suburban plenty and the Militarism that provides and sustains it:
'I think of the Enola Gay parked in the Smithsonian, / where a woman smashed a jar of blood on its wing. / When I signed my mortgage, I also signed / for the peonies and for the shield of my yard's / tall trees.'
(from "In My Name")
The key poem in this collection is "As When Drought Imagines Fire":
'hove my heart / free from its hived booth / though I know your smoke, / its black blossom, / is a substance I'll never become...'
Mr. Roderick writes admirable poetry; technically flawless and wrought with exceptional skill that flickers with powerful and, sometimes, startlingly original images, but it is a poetry that works best in the more lyrical pieces. "35 Miller Drive," for instance is a reflection upon that American hunger for a suburban, pre-adolescent clarity, and it works perfectly, evoking the desire to
'revive / that garden, channel its water, / and tend it like a mother who stays / with her dead child...'
(from "35 Miller Drive")
Exactly so.
Gareth Spark