Words We Might One Day Say by Holly Karapetkova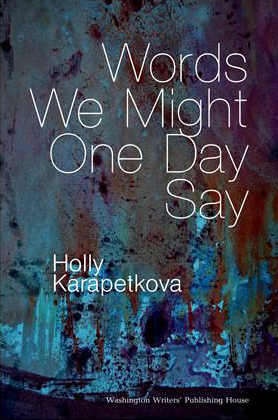 Poetry
Words We Might One Day Say
by Holly Karapetkova
Washington Writers' Publishing House
2010
84 pages
ISBN 978-0931846953
Review by
Stephanie Nikolopoulos
There is a common phenomenon where adults exclaim they want to eat their young: "You are so cute I could just eat you up!" Scientific research suggests these aggressive remarks stem from one being completely overcome with emotion. Holly Karapetkova unfurls the cult of cute and stereotypes of femininity to respond to a slew of other highly-charged feelings about the circle of life in her 2010 book of poems The Words We Might One Day Say, published by Washington Writers' Publishing House. In this forceful collection, she births the fears of mothers who cannot provide for their children, creates babies who eat their mothers, describes toddlers who seize control of the earth—or at least a globe—and remembers adults who never felt enough love.
The book's title The Words We Might One Day Say suggests evolution—of language, of self, of relationship—as language begins with a child learning to express himself through words and extends to adults communicating through nonverbal means. The title simultaneously brings to mind a longing for the type of intimacy in which one feels comfortable to speak her mind, yet also a fear that with time one might become less cautious and sensitive with one's words. If we look at the title from the context of the poem from which it's torn, "Before Language," found in the third and final section of the book, we read: "The clouds pass over us like words / we might one day say to one another; / we have no use for them." In these stanzas we face the fleeting nature of spoken words and the need for substance. That the book title is melded together over a line break signifies both disruption and unity, and this tense dualism is the premier issue that Karapetkova—who teaches writing at the University of Marymount in Arlington, Virginia, and also translates Bulgarian works—grapples with as she address life and death, childhood and adulthood, war and peace, and verbal and nonverbal language.
The book opens with "The Woman Who Wanted a Child." This poem deals with life and death both in subject matter and form. In the poem, a woman so desperately wants to have a baby that she begs a white tern to help her become pregnant. She wakes up "vomiting feathers." However, when she is unable to feed the baby that was once a "flutter against my ribcage," she turns herself into a fish, and her baby "swallowed me whole." Mother and child change physical positions and caretaking roles. This cyclical nature is echoed in the poem's structure. Only the first line of each of the two stanzas—paralleling the two characters—begins with a sentence opening, and since this is not indicative of Karapetkova's style throughout the collection it alerts us to her theme. Here, sentences end and new ones begin mid-line, stimulating a feeling of continuity. It is the circle of the life of a sentence all within a stanza.
While all three sections in the collection touch on themes of life, death, and language, Karapetkova puts the section dealing the most with death—with a focus on suicide—in the middle, smartly addressing the continuum of humanity and words. In "Cadaver Room" we meet a woman with multiple piercings in her ear and the word "home" tattooed in Chinese on her body and sense that she has spent a lifetime lying and that the scalpels that thrust into her "cadaver, an empty house" go "deeper than her lovers ever dared." In "End of Myth" Karapetkova writes: "it is no longer a matter of life and death. / Only a definition of terms." Not one to mince words, Karapetkova writes poems that plunge straight to the heart.