Hill William by Scott McClanahan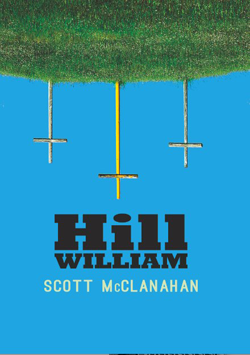 Hill William by Scott McClanahan
Tyrant Books, 2013
$14.95, 162 pages
ISBN 13: 978-0-9850235-5-3
Reviewed by Natalie Sypolt
Scott McClanahan pulls no punches and makes no apologies. He doesn't ask the reader to like him; he doesn't placate or pander. He tells his story and, love it or hate it, by the time you're done reading, you are sure to feel something. In our culture of sensationalism and overstimulation, creating a real, genuine emotion in a reader might just be the most valuable—and difficult—thing a writer can do. There is a heart here, painfully bleeding all over the page.
Hill William, McClanahan's new book out from Tyrant Books, could be seen as a companion to last year's critically acclaimed Crapalachia: A Biography of Place. Again, here is a narrator named Scott who lives in the Southern West Virginia community of Rainelle. There are unmistakable similarities between the narrator and the author, which brings up questions about genre and "truthiness". Prompting these questions, and others, seems to be McClanahan's raison d'etre, and makes him a writer who is both exciting and confounding. Just try to categorize him. McClanahan dares the reader to put him snuggly in one camp or another, then laughs when they try.
To call Hill William purely fiction or purely biography would not only be inaccurate, but would do the book a disservice. McClanahan is a master of blurring the genre line—or perhaps of willfully ignoring genre lines—and instead says to the reader, "This is my truth." That truth might be a collaboration of real, imagined, misremembered, and forgotten. Perhaps all novels are this way, and maybe all pieces of nonfiction too. This is how we live, so it makes sense that our literature can be this way as well.
Through stark prose at once simple and lyrically complex, McClanahan explores what it is to live in Appalachia. The cast of characters—including Scott (narrator, not author)—have an intense relationship with the land. Throughout the book the reader is offered description after description of mountains being destroyed—mined out, torn down, ravaged by logging. Scott and his neighbors live at the base of these tortured mountains, and wake to the sounds of destruction every day. Scott says, "This is the place I am from. This is a place like no other. This is an outer space Mars called Appalachia."
There is a tearing down within as well as without. Scott's mother suffers from depression (which we later learn may have been passed on to her son). Outside of the home, Scott and many of his young neighbors are sexually victimized by an older boy, who Scott simultaneously fears and reveres. Much of this book explores the conflicting feelings that arise from this relationship with Derrick—love, fear, shame, guilt, confusion—in both Scott the boy and Scott the man. There is disillusionment and a hero like Batman is really just a smoker in rubber suit who was, "...just as afraid as I was, and...I lived in a lost place inside my own heart, where even Batman couldn't help me." Both the people and the landscape are marred, damaged, chipped away, but all manage to survive (albeit in a slightly different form) as they must. There is no other choice but to do so.
In many ways, McClanahan's writing is about transformation. While his stories and landscapes might seem bleak—and at times are certainly dark and painful—he never lets the reader forget that there is something else, some better place—mental, physical, or emotional—that is possible. Sometimes, as in Hill William, that place can be reached through acceptance, and through love. It's a hard journey, and you might feel like punching yourself in the face (as Scott often does in the book), but it is possible.
This is dangerous writing. Nothing about Scott McClanahan's prose says safety or comfort. He asks the reader to be brave, too, to face these ugly and dangerous things, and to come out on the other side, with him. In the end, Scott (maybe both Scotts) says, "And even though I'm far away by now, I have a new name too. My new name is you. My new name is you. My new name is you, and I'm whispering something to you. I'm whispering...I love you."