Down from the Mountaintop: From Belief to Belonging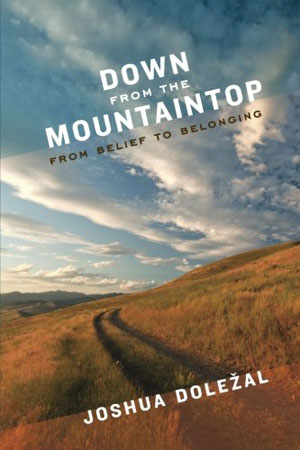 Down from the Mountaintop: From Belief to Belonging
Memoir by Joshua Dolezal
University of Iowa Press, 2014
$19.95
181 pp
ISBN-13: 978-1-60938239-1
by
Natalie Sypolt
In many ways, Joshua Dolezal's childhood was typical—perhaps even idyllic. He lived in a small mountain town in the west, played sports, went to school, and had a sister and parents who loved one another. They had dinner together every night. They read a Bible verse before eating, even if the food got cold; for Dolezal's family, their beliefs—which some might see as extreme or even cultish—became the centerpiece of their lives. Even as a child, Dolezal could not feel completely at home in the space his religious community provided. In Down from the Mountaintop, Dolezal explores his path from a childhood of expected belief and service to an adulthood of spiritual belonging.
The story of a young person questioning beliefs once he leaves his small town for college is not a new one. For Dolezal, his college classes gave him freedom to explore the tickles of doubt he'd always felt. While he marched around his hometown with his parents and their church friends, trying to bring the word of God to non-believers, he said the words, but didn't necessarily feel them in his heart. Early in the book, Dolezal tells us, "After two degrees and travel abroad, I no longer share my parents' faith." That, however, does not mean that he has abandoned his family, or that the road was easy. He says:
"For years I searched for that certainty, wandering the Tennessee hills, the lowlands of Uruguay, the Idaho wilderness and the corn-covered plains. By now I know that birth is no guarantee of belonging, that some yearnings long for what never was true. Still, I am thirsty with memory. I keep following that road up the mountain, hoping it will lead me home."
This memoir speaks to something universal and relatable: the desire to belong. While our stories are not all the same, who is not searching for the place—literal or metaphorical—where they are most themselves? Dolezal searches in the physical, first through weightlifting and later through running; he searches in people and is usually disappointed when they don't live up to his expectations, or are not able to give him what he desires (this includes his parents, who while they love him, will never really be able to understand his distance from God). Finally, Dolezal finds his best self in both nature and in literature.
Dolezal tells us that it was first his mother and then Willa Cather, who showed him that places like Nebraska could be beautiful and interesting, and her book My Antonia that inspired his love of books and of reading. Many years later, Cather came back to him. In the original introduction for My Antonia, the one not commonly read, there is an alternative ending. Dolezal writes, "Before Jim gave his version of Antonia's story to his unnamed friend, whom I now imagined as myself, he asked, 'Now, what about yours?'" Dolezal felt he was being asked, now, to find his own narrative—his own storyline. So often it feels as though the story is already written; Dolezal realized then that his story had not been written—not by his parents who had named him "Joshua" in hopes he would follow in the steps of his Biblical namesake; not by his hometown; maybe not even by God. He would write his own story.
The later sections of the book take us through Dolezal's trip to Uruguay, back to the US where he spent time working for Forestry Services and as a firefighter, and eventually on to Iowa to teach university students. Much of this book was previously published in different forms in literary journals, which unfortunately becomes evident towards the end when the pieces feel more like standalone essays than as chapters of a book. The writing it at its strongest when Dolezal moves from contemplative and into narrative scenes. For example, when he describes fighting a forest fire in Alberta, the writing is alive and engaging.
The book might feel sectioned and in some ways disjointed; however, it does mirror the stages of a human life, from childhood, through the transformative college years, and into the first phase of adulthood: married and expecting a child. Dolezal's story is unique and eccentric enough to hold the reader's attention, while also still being relatable. Though circumstances might be different, many readers would be able to see their struggles with belief and belonging reflected in Dolezal's. He is still writing his own narrative—the story of his life—and subtly encourages readers to begin crafting their own.