Quality Snacks by Andy Mozina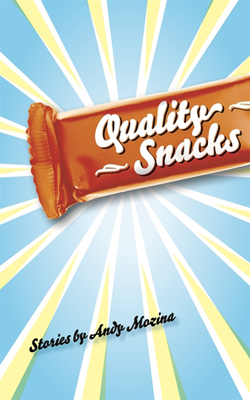 Short Story
Quality Snacks
by Andy Mozina
Wayne State University Press, 2014
205 pages
ISBN 978-0-8143-4015-8
Andy Mozina's
"Quality Snacks" by
Gareth Spark
X
About Gareth Spark
Gareth Spark's short fiction and poetry has appeared in Shotgun Honey, Line Zero, Ink, sweat and tears, Out of the Gutter, Line Zero and Deepwater Literary Review, among others. He is the author of the poetry collection "Rain in a dry land" (Mudfog Press, 2008) and is currently working on a novel. He lives in Whitby, Yorkshire.
"Quality Snacks" (Wayne State University Press, 2014) is the second collection of Andy Mozina's short stories. His first, "The Women Were Leaving the Men" won the Great Lakes Colleges Association New Writers Award, and his fiction has appeared in numerous reputable journals.
"Quality Snacks" is a collection of 15 stories, one should say fables really, the majority of which deal with the disintegration of the masculine ideal and the attempt at redemption, with particular regard towards the crack-up of relationships and the concomitant loss of spiritual value. I guess, for me, this is fiction attempting to replace that value, as in the story that gives the collection its title, where the attempt is to perfect the Doritos recipe to the level of Art -
"It occurred to me, as I pondered these judgments, that while Americans had overcome the challenges inherent in producing quality snacks, we were not as good at fostering quality human relationships"
Sometimes the stories veer too far into a kind of faux naïf fabulism, as in "No joy in Santa's village", in which Santa Claus plays baseball against the back drop of Elfish civil unrest-
"His dugout was filled with elves. Some never moved, some never sat still—whittling a piece of wood into a bat, whittling the bat into baseballs, whittling the baseballs into tiny bats, which were whittled into still tinier baseballs. Some were incontinent, some respired entirely through their pores, like plants. Some rooted for Santa, some cast spells against him."
The stories I preferred were the quieter ones, the ones filled with a kind of iron, such as "Helmet of Ice", a very short story recounting a son's desire to win the approval of a stentorian, almost mythical, father figure. The tone here is perfect, unsettling, inhabiting a nowhere world that could be anytime, past or future, where hypnotic and unnerving dialogue that is peculiarly timeless, defines the people:
"Do all sons hate all fathers?" he asked. "I have always thought so, and this is why I must sit quietly for days at a time." Every eye avoided every other eye. "Do you fathers have any hobbies?" He continued. "My favorite is to lie still with a helmet of ice on my head. I find this helps me to master difficult thoughts and feelings."
The ice helmet, that shuts down difficult thoughts, being the perfect metaphor to describe certain weltanschauungen prevalent in publishing today.
Mr. Mozina writes a deadpan prose that works best when delineating the angst of disillusioned, disconsolate, self-absorbed, or frantic men; prose leavened by a facetious humor that occasionally wears thin, but only occasionally. There is no denying his talent, and these are accomplished stories expressing an utterly individual spirit, stories, furthermore, by a writer clearly in control of his materials and meticulously constructed. I only wish, somehow, that they weren't quite so painstaking, that they breathed and were a little wilder. That the atmosphere wasn't quite so claustrophobic in these tales of middle-aged middle America and the search for a fantastic ecstasy that has to come from without.
As the author states in "My Non-sexual affair"-
"Our adventure was singular, and as a result it is something to be cherished."
The impetus for change in these people's lives is dependent upon the action of an external agency, be that corporate, canine, in Elvis Presley's bedroom or in a Motor lodge, and it is this essential passivity that, I think, I found so stifling, so icy.
Mr. Mozina's work is first rate and fans of Carver, Saunders and a certain kind of Marquez-esque fabulist literature will find much to like in this collection.