I Think I Am in Friends-Love With You by Yumi Sakugawa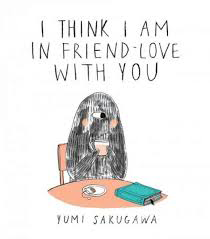 Humor
I Think I Am in Friend-Love With You
by Yumi Sakugawa
Adams Media
128 pages
ISBN: 978-1-4405-7302-6
by
Stephanie Nikolopoulos
Have you ever fallen in love with a friend? Not in a romantic way, of course. That might be weird. But maybe you have a super cool friend in your life. Someone who always knows about the best indie bands before anyone else has heard of them. Someone whose taste in art makes the world seem brighter. Someone whose Facebook profile you obsessively stalk. Someone you have a major crush on . . . a platonic sort of way. Maybe you've been wishing so badly you could tell your friend how much he or she means to you, but you're worried the object of your affection may misunderstand your intentions as amorous
Until you discover Yumi Sakugawa I Think I Am in Friend-Love With You, a gift book for your nonsexual crush.
No genders are assigned in I Think I Am in Friend-Love With You, but it appears to be a case of opposites attract: a phallic-shaped, hairy Cyclops with bashful, pink cheeks that goes by the Twitter handle @MEvilGen1us, who might just as well go by the nickname One-Eyed Monster, confesses it is in "friend-love" with @YOUnicornPowerr, a hairless lemur-like creature who has a solid black oval, like a hole, for a face. In the past few years, the terms "bromance" and "girl crush" became as annoyingly grating as "yolo," but Sakugawa's notion of "friend-love" supersedes this, sounding genuine and mutual.
Instead of embracing the vulnerability of love, though, @MEvilGen1us immediately begins backpedaling, feeling the need to make it exceptionally, awkwardly clear that this is not romantic love—"Because that would be weird." In fact, @MEvilGen1us is so adamant about driving this point home that only a few pages later, it says it wants to hang out "in a platonic way, of course." The "of course" is particularly striking diction because rather than denoting an obvious truth, the phrase exaggerates the narrator's intentions to make them appear to be a given truth. A few pages after that, it says, rather crudely, "And when we do hang out, I don't want to swap saliva."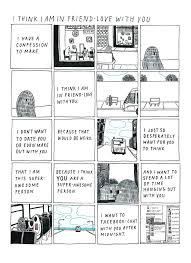 Our culture has become so romance– and sex-obsessed that expressing any other sort of love now must come with a caveat, with a "do not touch" sign. In the Ancient Greek, there are four distinct words for love: agápe means a "spiritual" type of love that is unconditional; éros means a passionate love that is "physical"; storgē means a familial-like "affection"; and philía, "mental" love, is a general type of love that speaks to loyalty, sharing, and friendship. Sakugawa's main character aspires to philia, and @MEvilGen1us' sentiments sound sincere and beautiful in such comments like: "Because what you find to be beautiful, funny and heartbreaking in this world is what I find to be beautiful, funny and heartbreaking in this world." As the main character comes off as a tad too desperate and superficial–@MEvilGen1us' implores @YOUnicornPowerr to "surprise me with pokes on Facebook"—while also exhibiting some immaturity in tactlessly rebuffing any advances that have not even occurred, one wonders how their relationship will evolve.
From S. E. Hinton's The Outsiders to Stephen Chboksy's The Perks of Being a Wallflower and from Amy Tan's The Joy Luck Club to Kazuo Ishiguro's Never Let Me Go, many books have tackled the complexities of friendship. Yumi Sakugawa I Think I Am in Friend-Love With You is a reminder of how sticky friend-love can be.
The repetitive insistence not to misunderstand the nature of the love suggests a range of possible motives: paranoia (did @YOUnicornPowerr hit on @MEvilGen1us at some point prior to this and make their relationship uncomfortable?), egotism (what makes @MEvilGen1us so sure @YOUnicornPowerr would jump to that conclusion and want to initiate something more than friendship?), and that "the lady doth protest too much," as Shakespeare might quip (if anyone is pining, it's @MEvilGen1us). Even if @YOUnicornPowerr has no inclination to think of @MEvilGen1us in that way, the constant, tactless rebuffing is hurtful because it suggests a lack of trust and understanding.
@MEvilGen1us envisions a friendship of posting Yoko Ono quotes to one another, swapping Malcolm Gladwell and Charles Burns books with each other, giving long hugs—"But never so long that it becomes a romantic thing"—and having "never-ending conversations" in cafes. Yet @MEvilGen1us' desire comes across as desperate when the Cyclops says it will follow the lemur-like creature to its "favorite food truck," will laugh at its humorless jokes, and immortalize their time together with "bad Photoshop drawings" because "I just so desperately want for you to think that I am this super-awesome person..." @MEvilGen1us, in turn, wants the object of its affection to bolster its self-esteem and reblog @MEvilGen1us' Tumblr posts, "surprise me with pokes on Facebook," and "randomly e-mail me weird blog links that remind you of me."