ESSAY 2:12 A.M. by Kat Meads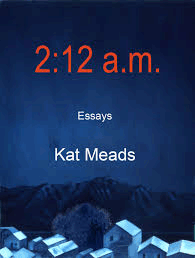 ESSAY
2:12 A.M.
by Kat Meads
Stephen F. Austin University Press. 2013
170 pages
ISBN 978-1-6228-8039-3
Review by
Winnie Khaw
X
About Lisa Winnie Khaw
Winnie Khaw is an English graduate student at the University of Wisconsin-Eau Claire.
Rita, window greeter and cashier for Las Vegas wedding ceremonies held at the Little White Chapel, calls to visitors, "Darlings! This is a drive-through, not a drive-by event. Turn off the car engine (77)."
Saccharine emphases aside and taken completely out of context, Rita makes a good point. I can't skim through Kat Mead's sleepless stories with bleary eyes at, say, 2:12 a.m. and hope to fully appreciate the skill that went into crafting what can be described as creative investigative journalism, accentuated with lyrical musings on life in addition to varied biographies of familiar figures, famous (Patty Hearst) or not (Glenn Brinkley), and insightful autobiography.
"Why amuse/torment the self with retrospective tabulations of progress or lack thereof (32)?" This question applies to The Rise and Fall of Sheriff Glenn Brinkley, but is equally, I think, applicable to the stories overall. Why, indeed, should the past tales of a chronic insomniac, ranging from Southern funerals to nuclear testing grounds in Nevada to the Insomnia Drawings by Louise Bourgeois, be of interest to those fortunate people who find sleep easy?
The answer to the first part, perhaps, is that Meads is an excellent writer, challenging and empathetic, drawing her readers along with her in a broadly-based adventure that is unabashedly fun and simultaneously thoughtful and witty. Meads' writing style is difficult to categorize, flattening in places with transcripts, bristly as she brushes by the ridiculous with a sardonic comment, pinprick stark as she observes the interesting makeup of nighttime travails and journeys.
The answer to the second is a little tricky, depending on reader expectation and perspective. Is there progress, or rather a lack thereof? Putting linear narrative aside, where does Meads end up after all her travels? What is the reader left with, once the road trip is over? I could say, for the average sleeper, a fenestella (oval or circular opening; to allow light into a dome or vault) into the otherwise obscured craziness and diversions allowed to an insomniac.
A possible caveat, after all this praise, is the deviating (inherent?) nature of these pieces, though I certainly appreciate that Meads does not allow the reader to fall asleep by means of spelling out the lesson of the day. Meads often succeeds in bringing back the story to an overarching theme, but (here I'm likely missing an important connection) how is an essay on Patty Hearst in any way can find a link to an essay on the Salton Sea?
Nevertheless, Meads' consistently well-written and poignant collection of prize-winning essays, which includes Best American Essays notables and Pushcart Prize nominees as well as the Drunken Boat's Editor's Choice nonfiction award, will poke you insistently awake.