Life Cycle Poems by Dena Rash Guzman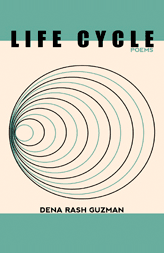 Review of Life Cycle Poems by Dena Rash Guzman
Poetry
Dog On A Chain Press
Pages 110
ISBN 9780985529130
Reviewed by Karen Bowles
X
About Karen Bowles
Karen Bowles is the founder, publisher, and editor of the arts and cultural publication Luciole Press (www.luciolepress.com). She graduated from San Francisco State University with a B.A. in Literature and loves photography, theatre, sci-fi movies, and arguing with bossy blue jays. Find her at www.facebook.com/BowlesKaren.
Dena Rash Guzman offers up a most unusual palette in her new collection, Life Cycle Poems—none of the pages are numbered and all of the poems bear the title of "Life Cycle." It paints a most charming and cohesive path to follow down, with innumerable insights revealed as readers chart their journey through a landscape blessed with determination:
our lives veer from need to elegy
we are born worth not a thing
but our own sweet hell-bent will
with which we force out first cries
or absolute goodbyes
Guzman starts the book off with a quote from Margaret Atwood's The Handmaid's Tale: "Nolite te bastardes carborundorum," which roughly translates to –"Don't let the bastards grind you down." Life Cycle Poems is Guzman's fulfillment of that promise, for she verily steps forth through any and all travails that her life cycle throws her way "country after century / banality or greatness." She deftly deals with living as a fully-fledged creature of sensitivity mixed with steel, a woman who can change diapers or minds all the while flashing "battleships for eyes."
Bearing a voice that is unusual and remarkable in many ways, Guzman shows both an unapologetic edge for being who she truly is, mixed with a soft heart that shields and protects those who seek shelter under her umbrella. She knows all too well that many will be dashed apart on unyielding seas:
There is no word for that,
for women and children alone at sea,
the tyrannical hag with one leg taking an aside
because of a book she read.
That whale must be here somewhere. Harkening,
she raises her oar, and drowns hysterical.
Life Cycle Poems, published by Dog On A Chain Press, is filled with tempestuous seas and fathomless revelations, deep from the author's heart. No reader will drown hysterically amidst these cycles, as Guzman's narration pulls them forward through the maelstroms and into the warm kitchen, the tender embrace, the idea that hope is not discount merchandise left on the floor after a holiday sale. There is sass, edge, and knowingness melting around the perimeter of each poem, as readers get the sense of Guzman as "a space pilgrim cherry / flailing shooting star," hand on hip and comeback on lips. Perhaps there is a little Mae West in Dena Rash Guzman, a modern woman who won't bend for silly norms. "I'm no patient cow. I'm a shrunken secret."
Readers who immerse themselves in Life Cycle will infiltrate a world within our larger one; melded to it, shining as a dual star in glorious strobes with a pace that sets it spinning faster than our twenty-four-hour cycle. Take this passport and enter into its passionate rotation, and do not shrink from any of its secrets revealed, nor find yourself ground down by those professing not to understand, as you see:
it's not the darkness at all
it's the electricity
the static colors
coming neon out of your mouth
love is not frivolous... it burns
and I could never
reach it without you.