Review of Empire in the Shade of a Grass Blade by Rob Cook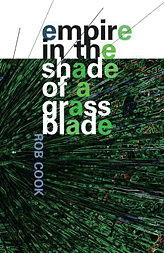 Poetry
Empire in the Shade of a Grass Blade by Rob Cook
Bitter Oleander Press
120 pages
ISBN 9780988352506
Reviewed by Gareth Spark
X
About Gareth Spark
Gareth Spark is the author of three collections of poetry, including Rain In A Dry Land (Mudfog), the Novel, and Black Rain (Skrev Press) and has had numerous short stories published on the internet and in small presses. He lives in Whitby, UK.
It has taken time to work out how to approach this review, as Mr. Cook's "lurking, indefinable country" is presented to us through a series of contrasting pieces, with sometimes unequal tone, that forbids any facile appraisal. Mr. Cook has titled his collection Empire in the Shade of a Grass Blade and this overarching theme gathers disparate yet equally compelling poems.
Modern America is considered from the shade of Nature's cutting blade, and it's easy to see how Cook's work has been compared with Wordsworth's; both are concerned that, in the contract of our culture, we lose more than we gain. Only, in Cook's case, the concern is urgent. One leaves the collection impressed by that urgency, which veers at points towards the frantic, as in "Seasons of Indian Shadow Survival:" Burger King moods of death camas, prairie false indigo/ bible signals between houses/ listening for rapes along / the cedar river."
I prefer the quieter moments in the collection, when the poet turns his gaze from the "Tortures and whispers in twilight America", takes off his prophetic mantle, and experiences something simple and true and powerful, as in "Five Autumn Moods", where he allows himself room to admire "Early Drizzle Searching the Leaves."
Cook writes admirably rhythmic poems, For instance, "After the Psalms Have Gone":
there is a door
and a book of gold
and a road made of light
and mountains blowing
among the windy fallen stars
The beat of the line mirrors the revelations that are the subject of the poem and his easy and unembarrassed contemplation of the spiritual is refreshing. His tying of the intimacies of personal experience into a larger cosmic picture gives his work a profundity that might not be apparent at a first glance. Surrealistic imagery such as "Someone forgets to wake the snow/before it turns black" from "Six Winter Myths" seem sometimes a little too playful, but then you have the admirable clarity of "The Book of Iowa":
I climb out of bed, listen
to you digging a cold space
under the crows and cities of corn.
One has overall an impression of a poetry fuelled by melancholy and dismay, which disdains easy conclusions and simple joy.
The vigour of his language and the startling freshness of his imagery are undeniable, as is his talent. However, the title promises a reevaluation of our machine world from the vantage point of some kind of Eden, a battle between the imperial qualities of a technological culture and the natural, yet seems to speak entirely out of the former. The collection has been set up in opposition to itself. If one is to be a Jeremiah, then one should represent an alternative. Cook's "castrated Hymns" are just that and when, in "Digital Pastoral," he refers to "a poem that says there were never any trees or hills or valleys." One wonders if he is referring to a poem of his own.