Regina Derieva, In Memoriam by
Frederick Smock
X
About Frederick Smock
Frederick Smock's newest collection of poems is The Bounteous World (Broadstone Books). His essay "Pax Intrantibus: The Search for Peace in the Poetry of Thomas Merton" was translated by Regina Derieva and published in Russkaja Mysl. She also translated his Selected Poems (Ars-Interpres, 2002).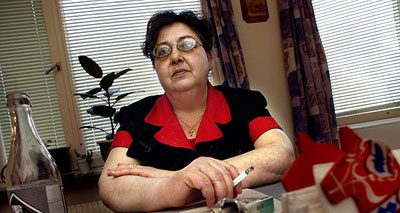 The Russian-born poet Regina Derieva, who passed away several months ago, lived an intriguing life. In the old Soviet Union, Regina's poetry earned her the disapproval of state authorities. The KGB kept tabs on her. She was accepted into the Union of Writers only upon the advent of glasnost, Mikhail Gorbachev's policy of 'openness.' Her work attracted the attention of Joseph Brodsky, who was the first to encourage Regina (with a hard g) to leave the USSR.
Jewish by birth, she converted to Roman Catholicism in 1991, and then emigrated to Israel. However, Israel's Law of Return, which governs the right of Jews to settle in Israel, specifically excludes any Jew who has converted to another faith. If, on arriving in Israel, she had simply declared herself a non-believer, she would have been allowed to stay; or had she remained Jewish, and obtained Israeli citizenship, she would then have been free to convert to Catholicism.
But, as she said in an interview with the New York Times, "I thought it was shameful to hide my faith. It was the only important choice I ever made."
We perhaps see a refraction of this in her poem "An Experience" –

The man with a gold earring
has bent over
the ancient fountain near to me.
What does he search for there?
Another's small coins?
Meanwhile, I lose
my face broken in the water
by his grasping hands.
For several years after her emigration, Regina, her husband Alexander and their son lived in a state – not of exile, per se – but of limbo. The Soviet Union had collapsed in the interim, so they could not be sent back to Russia. Kazakhstan, where they used to live, would not re-admit them, because they are not ethnic Kazakhs. For a time, they lived in an Arab suburb of Jerusalem. Eventually, they received asylum in Sweden.
We perhaps see a refraction of this in her poem "Useless Occupation" –
I do not have enough good impressions
to begin to collect them.
To collect. Useless
occupation. Might as well
collect clouds. However, why not?
This cloud, for example, I just
met on the toad from Jerusalem
to Bethlehem.
Gold and azure of the pre-Raphaelites,
it got stuck at the checkpoint.
Regina and I met through the ether, when she found and translated an essay of mine on the poetry of Thomas Merton, which she published in the Russian intellectual weekly magazine Russkaya Mysl. She also translated a book of my poems into Russian.
Then it was my turn to translate a small book of her poems. Soon after, she and I presented a joint reading of our poems in New York City, at a Russian émigré cultural center. The audience was mostly men. Serious, unsmiling men. Regina read her poems in Russian, and I read mine in English. When we finished, the men applauded politely, but remained in their seats. One of them said, "More."
We read some more. When we finished for the second time, the men applauded politely, but again remained in their seats. One of them said, "We want to ask you some questions."
They asked questions of us both. When asked about my own early poetic inspirations, I answered, honestly, among a few other poets, Yevgeny Yevtushenko, whose Stolen Apples was one of the first books I ever bought; at the time I knew little if anything of current Soviet events. I just liked his poems, especially the one asking, To whom does God pray in times of sorrow? Of course, Yevtushenko is widely viewed in the Russian émigré community as an apologist for Soviet repression. There came some grumbling from the men in the audience, but, thankfully, they remained in their seats.
Through it all, Regina reigned supreme. Her regal presence, her serenity of spirit never flagged, even after we all decamped to a downstairs warren of rooms, and someone broke out cheese sandwiches and jugs of red wine, and the talk continued rapid-fire. Most of the talk now was in Russian, and Regina seemed to handle each question as though it was a bonbon exquisitely unwrapped just for her. I cannot report to you the substance of these questions; no one translated for me.
A confession: I do not know Russian. But Regina chose me anyway. Her husband Alexander sent word-for-word transliterations of her poems to me with this instruction: Turn these into poems in English. Drafts flew back and forth until we agreed on versions.
I developed an intuition about Regina's poems. Hers are short, imagistic, and epiphanic; my own try for the same qualities. Much of her work, like mine, deals with division vs. wholeness. Though I have not endured nearly the vicissitudes that Regina endured, I nevertheless found a quick empathy for her life and work.
That evening in New York City, I very much enjoyed the spectacle of Regina seated like a queen in our midst, crazy Russians coming and going, eating and drinking, arguing (it seemed) quite jovially, calling out loudly to one another. Many toasts were raised. There was a warmth of great cheer in the warren.
One fellow – gaunt, with what looked like bandages on both wrists – I was told, by someone who seemed to be in the know, was Pushkin's great-grandson. I had no reason to doubt it.