Enchantment Lake by Margi Preus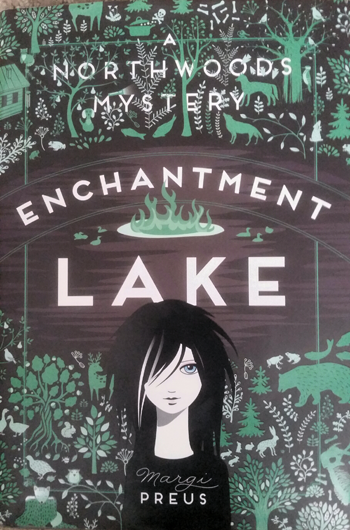 YOUNG ADULT FICTION
ENCHANTMENT LAKE: A NORTHWOODS MYSTERY
BY MARGI PREUS
University of Minnesota Press, 2015
200 pages
ISBN: 978-0-8166-8302-4
by
Carol Dowd-Forte
Francie Frye's not really a detective, but she played one on TV.
So when the body count rises on Enchantment Lake, an enigmatic phone call from her great-aunts—made even more cryptic by bad cell reception and a woman's tendency towards the wacky—propels seventeen year-old Francesca (aka Francie or Frenchy) out of a Manhattan theatre audition and into the woods of northern Minnesota. Locals in the town of Walpurgis (population 2,020, and dropping) are succumbing to deaths of both the natural and accidental ilk at an alarming rate, and Francie's aunts are sure they'll be next. Since Francie once solved mysteries on a kids' television show, aunts Astrid and Jeannette believe their niece is the person to deduce what's happening to long-time residents on the island, where the ersatz sleuth spent many a childhood summer.
The fact that Francie isn't really a New York detective, but everyone she encounters believes her to be, is a running gag throughout the book. Her aunts' eccentricities notwithstanding, Francie's return and subsequent inquiries uncover opaque connections between the deaths and seemingly unrelated events in the otherwise tranquil enclave.
This is the first mystery from New York Times-best-selling author Margi Preus and, aside from genre, its contemporary setting is a departure for the author, whose previous works of historical fiction and nonfiction for young people include West of the Moon and the Newbery Honor-winning Heart of a Samurai. Preus lives in Minnesota, and her love of its northwoods region is evident in the definite sense of place she creates in scene and mood. This is where her narrative voice is at its strongest. The story is Francie-centric and moves along at an economical pace, with likeable secondary characters waiting to be explored further, moderate tension and suspense, and multiple storylines (some resolved, some not - perfect for the first book of what's sure to be a series).
Francie is an easy protagonist to hang with. You'll want to investigate her life further, which is a good thing because there's a lot going on here. Disbelief does need to be suspended, considering the protagonist is a seventeen year-old with vaguely-referenced means of support who lives with three other girls in a New York apartment and can take off to Minnesota at a phone call's notice, dodging her presumptive benefactor grandfather's questions in the process. The writing is engaging, the prose lyrical at times, with spunky dialogue and enough backstory to keep readers interested, but there are several clichés (i.e. a racing pulse and a box that holds her heart) and tropes (Francie has a natural grey streak in her hair a la Harry Potter's scar, and a hunky, god-like love interest named Nels). Overall, the voice is rather inconsistent, vacillating between too old for Francie's years and too young for her words.
Billed as a YA read, the overall tenor of Enchantment Lake feels much more like a middle grade work, with short chapters (32 of them), limited backstory, clever wordplay (fwapped, tripptropped), and actions by the protagonist older readers would question, but younger readers may not consider dubious; which, when you think about it, would mirror the unpredictability of a hormonally-challenged teen, if crafted on purpose. At one point, after some overt grilling of a tippling suspect, at a cocktail party hosted by the island's resident faded Broadway star, Francie leaves with the possible perp and goes out on the lake with him, at night, in a boat, alone…leaving both her cellphone and common sense elsewhere.
Clues to the villain's identity are veiled enough to conceal the whodunit, and though the ending ties up the frayed bits of the main mystery nicely, enough detritus remains of Francie's unanswered personal questions to demand a sequel: What really happened to Francie's parents? Did she imagine the silver box at the Fredrickson's? Will Francie stay in Walpurgis? Is love interest, Nels, too good to be true? And, perhaps most intriguing, how can someone who grew up summering in Minnesota and now lives in New York not know what a Dairy Queen is?