Crosstalk by Connie Willis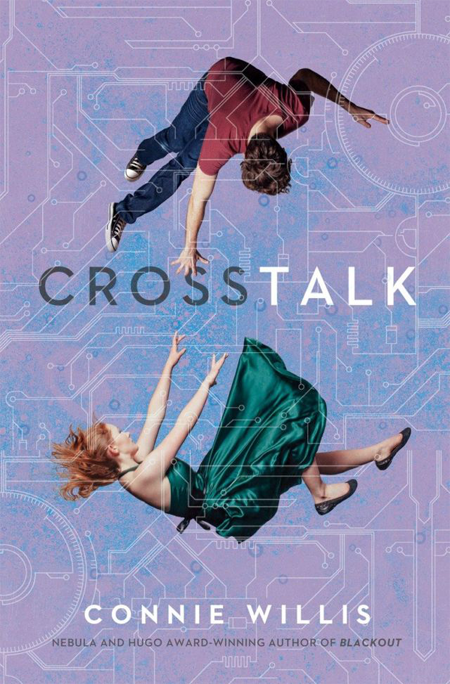 November 05, 2016
Fiction
Crosstalk
by Connie Willis
Del Ray, 2016
512 pages
ISBN: 978-03-455406-7-6
by
Chris Gramuglia
Connie Willis' new novel, Crosstalk, examines the growing obsession in modern society with social-media and technology and how, at times, these advances can ironically inhibit our ability to truly communicate. Through the eyes of the protagonist, Briddey Flanagan, Willis places the reader in a setting that is fueled by a strong preoccupation with being connected and the speedy delivery of information. Each character in the novel is in some way infatuated with digital communication and like addicts, require constant contact with those in their lives. From Briddey's overbearing Aunt Oona meddling in her personal life, to her work associates spreading rumors via text message at astounding speeds, poking fun at society's need to be constantly in the know is what fuels the narrative.
The driving plot element behind the story is a trendy new procedure called an EED that allows couples to hear each others thoughts. Endorsed by celebrities and by many of the tech-obsessed supporting characters, the EED is presented as the cutting-edge when it comes to connecting romantically with a partner. Briddey and her boyfriend of only six-months, Trent, have decided to get the procedure for themselves. While nearly everyone at the telecommunications company Briddey works for are supportive and even congratulatory leading up to the operation, one disheveled, messy-haired employee named C.B. Schwartz unabashedly tries to talk her out of it. Part underdog, part voice of reason, it becomes a little too clear early on that C.B.'s main objection to the EED is that Briddey is having it done with another man instead of him. However, through C.B.'s attempts at convincing her to call off the EED, Willis shows us something about society as a whole and how we have begun to lose touch with our basic ability to connect without technology. "Connect emotionally?" protests C.B. "Whatever happened to kissing? Whatever happened to hooking up?" Briddey dismisses him and goes through with the EED. Strangely, when she wakes up in the hospital it is not Trent that she hears speaking to her in her mind, but rather, C.B. This sets in motion a joint attempt by Briddey and the man that, at first, she has no interest in, to find out exactly what went wrong.
Overall this novel does speak volumes about how reliant human beings have become on technology to communicate with one another, and it does so in a humorous, accessible way. In her attempt at drawing attention to our over-reliance on technology, Willis seems to nail it, but her characters sometimes feel a bit too archetypal to be interesting. While Briddey's irreverent perspective on family and the people around her does give her a bit of pizzazz, the struggle she goes through as a woman just trying to "figure it all out" romantically feels a bit formulaic. The same vibe arises in C.B. It becomes too obvious, too quickly that he is desperately trying to escape Briddey's "friend-zone" while simultaneously competing with the archetypal prince charming of the novel, Trent. Strangely enough, some of the more enjoyable figures are the ones that have less prominent roles. The employees at Commspan (Briddey's place of work) and the way they obsess about things like the new Iphone leaving them jobless makes them function as an effective collection of satirical characters.
Crosstalk is nonetheless a fun read that draws attention to something about modern society that has become increasingly more difficult to ignore. Parts of it (mainly the EED) are well-constructed metaphorically as well as comically, and Willis seems to have crafted it that way intentionally to make her point. While the main characters don't exactly leap off the page and are a bit too easy to categorize, they are just well-painted enough that the bigger picture of the novel remains clear and intact.