box of blue horses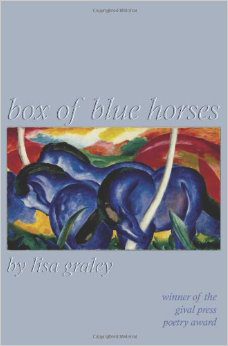 Poetry
Box of Blue Horses
by Lisa Graley
Gival Press
88 pages
ISBN: 978 1 928589 86 0
by
Christina M. Rau
Within the genre of nature poetry falls the small category of horse poems. The one outstanding poem in this niche is Joy Harjo's anaphora-filled "She Had Some Horses," in which the speaker references horses of all types, propelling forth metaphor and allusion. Harjo comes to mind with Lisa Graley's book-length poem, box of blue horses, the winner of the Gival Press Poetry Award for 2013. As an ode to the power of horses and what they represent, this forty-four-part poem works. However, it unfortunately falls short, leaning on overused images and repetition.
The sensory details at the start succeed in closely describing these creatures. Included are references to grunting, huffing, and "hoof-beating, bullying, / ancient grind of bone and gristle / split shins and shattered patellae" (Section 6). Unfortunately, it grows to be expected and repeated throughout. This repetition of image is not as successful as the parallelism of specific lines in certain sections that create the cadence of possibly the animals' gait.
The success of that cadence becomes undermined by an element in a lot of contemporary American poetry: questioning. Some sections question, "Who has not loved" some aspect of these horses. Another section asks, "What can we say of them"... "What was it... / / What chance have you..." followed by another section that uses the medieval ubi sunt topos of asking about loss: "Where have they gone?" over and over. The questions become a crutch in these sections; the cadence gets lost.
Two ekphrastic pieces appear after two paintings by Franz Marc that may have been the inspiration for the collection. While the sections could have been used as bookends or at the beginning as foundation, they appear seemingly at random within. In bringing in this outside world, the place of horses she has built now contends with the new one from the paintings instead of working together.
The most powerful aspect of this poem is its seamless combination of history, myth, and nature. The speaker observes, "These are the tricked sons of Troy" (Section 29), references Sexton in Section 43: "Come, blue horses, all my pretty ones"; and nods to Whitman in the final section: "Tonight, I sing of blue horses."
Within some sections are bright lines of brilliance: "It is better the blue of ink perhaps / in old ballpoints and squid" (Section 3); "for days, weeks, . . . / same unslaked thirst, / / hospitality of the nomads, / chicory and bergamot in your cup" (Section 8); in Section 16: "In the blue of midair / you spun a Ferris fortune / took a ride on the carpet, / learned it wasn't the magic / you thought but twisting / tortuous, woven from nightmare / anguish-strung" and from one of the ekphrastic pieces, " They have pulled through / pieces of themselves" (Section 12).
box of blue horses shows the same kind of admiration Bishop shows for nature in her short poem, "The Fish," and the same attempt to be all-encompassing in the aforementioned Harjo poem. The little glimmers of purely new image and language shine in this poem. Perhaps the rest is meant for those who hold nature poetry and this niche genre most dear.