Murder by Danielle Collobert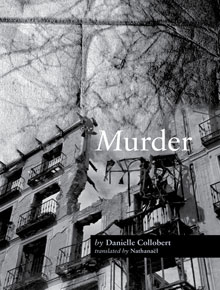 Fiction
Murder
by Danielle Collobert
Litmus Press
2013
104 pages
ISBN: 978-1-933959-17-7
Review by Karen Bowles
X
About Karen Bowles
Karen Bowles is the founder, publisher and editor of Luciole Press (www.luciolepress.com). She gained the nickname "Firefly" from a friend for her enduring love of the glowbugs in the South; "Luciole" means firefly in French. She graduated from San Francisco State University with a B.A. in Literature and loves photography, reading, writing, theatre, and painting. After spending many years moving around, this military brat has laid down roots in Northern California, where you can find her gazing at stars and arguing with the bossy blue jay in her backyard. (www.facebook.com/BowlesKaren)
Translated by Nathanaël
Complex and haunting can describe both author Danielle Collobert and her first novel, Murder. Collobert saw much in her short life; the daughter of fighters in the French Résistance during World War II, she moved to Paris as a young woman before becoming a political exile in Italy due to her involvement in fighting for independence in Algeria. After Murder was originally published in 1964, in France, Collobert traveled across the globe for six years before taking her own life on her 38th birthday.
Murder is an unusual novel in both form and content. It was stirringly translated by Nathanaël from French, keeping its experimental poetic prose form and unusual usage of punctuation intact. It may be safe to say that the majority of readers who come across Murder will have never read anything quite like it; nor are they likely to do so again anytime soon. It may not make for the easiest book to read, in the sense that it follows no usual structure and does not appear to have the familiar narrative pattern of beginning, middle, and end in service of a definable plot. It can indeed feel like Collobert opened up her emotional floodgates and allowed a stream-of-consciousness to spill into the room:
All of this has the appearance of a drifting ship, quiet and
without importance, but we are not completely confident...
Collobert manages to sum up her own work in her many observations on life and suffering. It is clear to the reader that she was a person who felt and defined herself as an individual set apart from the world, examining it and making notes that would lay in a vault, gathering potency that "doesn't immediately allow the transformations, gigantic metamorphoses" that the reader awaits. Instead, one can sense Collobert's detachment as one of an external eye warily appraising anything in its field of vision:
this eye, doesn't know whether it's looking into the emptiness, into the
air, into the other, or into a distant landscape, which it brought to
life, like a memory, a wanted decor, chosen, an elemental power,
that could be the background of its life.
Collobert is a writer who has immersed herself, willingly or not, into the details and sufferings of those around her. While she seems to appeal for "the power, or better, the strength, to divine things," she is instead clearly often left in a more passive state when she seeks action, and agitated from lack of control:
Caught in a trap—we've been caught in a trap... Fear. All the possibilities
for destroying us. They have all the possibilities, against us. Our
powerlessness--our voiceless howls—our too burning flesh, too
entangled. A single breath... To kill us all—or else to refine our torture,
to kill only one—to show us.
In Murder, Collobert is trying to show readers so much. The protracted battles she has witnessed both internally and externally give rise to an unusual treatise on pain and survival. She hangs on through an experience of life that is not influenced by a modern era of sound bites and selfies; rather, it is a message in a bottle from a mind acting as a bridge to another era, where the potency of conflict has walled those around Collobert into masses backed into a corner, and is turning relentlessly like "the wheels of a machine." In this way, perhaps comfortable modern readers may get a true taste of what it is like for those in our world currently suffering the torments Collobert witnessed, just beyond our physical reach yet calling to us, needing our restless eyes to stop roving and truly see what is happening to them. Stopping long enough to listen, be it those who witness Murder or wish not to be ground apart by machinations, we may find solace and hope as well. Collobert raises many questions without easy answers, but she is like her readers, who tread a path seeking redemption and solidarity, while asking the question of knowing how—to appease oneself.